Signs of Parkinson's Caregiver Burnout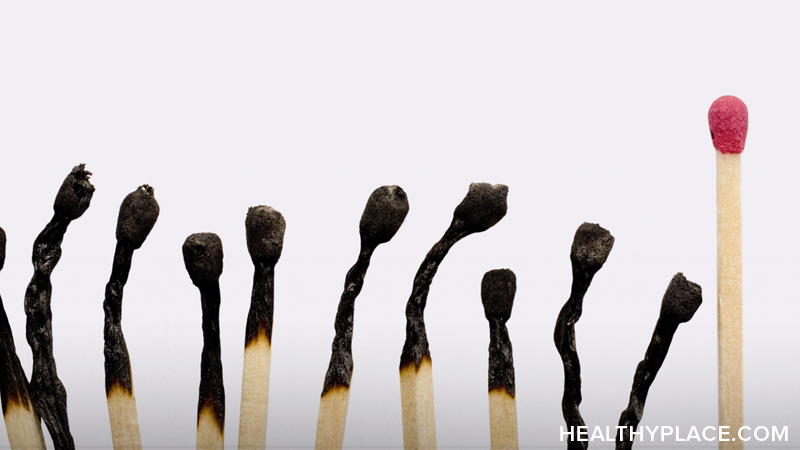 Parkinson's caregiver burnout is a reality for many people – especially those caring for someone in the advanced stages of the disease. We all know we should find time for ourselves, but how is that possible when someone we love has such complex needs? Unfortunately, if burnout goes unchecked, you could get sick yourself. Therefore it's in yours and your loved ones best interests that you get the help and support you need. Learn how to spot the signs of Parkinson's caregiver burnout and what to do when it strikes.
What Is Parkinson's Caregiver Burnout?
Caregiver burnout refers to a state of physical, mental and emotional exhaustion. It often occurs when caregivers try to do more than they are able. Sometimes, caregiver burnout comes with an extreme change in attitude – you might go from optimistic and hopeful to feeling very cynical and uncaring in a short space of time. This doesn't mean that you're a bad person or that you're not cut out for caregiving. It may just be a sign that you need to slow down.
Signs of caregiver burnout include:
Withdrawing from friends and family
Losing interest in social events, hobbies and activities
Feeling depressed, anxious or both (Parkinson's caregiver depression and burnout have similar symptoms)
Increased feelings of stress
Fatigue and/or difficulty sleeping
Reduced immunity – getting sick more often
Changes in appetite and/or weight
Irritability
General feelings of exhaustion
Sometimes, caregiver burnout and stress makes people feel like they want to hurt themselves or the person they're caring for; this is usually a result of depression or anxiety brought on by the burnout. However, you should always report these kinds of feelings to your doctor, as you may need immediate mental health support.
What Causes Parkinson's Caregiver Burnout?
Parkinson's disease caregiver burnout is simply the result of doing too much. When you care for someone else – particularly someone with complex needs – it's easy to neglect your own mental and physical wellbeing. You may not be eating or sleeping correctly or exerting yourself more than you should. You may also struggle with the emotional impact of loving someone with Parkinson's disease.
As a caregiver, you are more likely to experience burnout if:
There is role confusion: If you're new to caregiving, it can be tough to adjust to the role.
You have financial stress: Becoming a caregiver can have all kinds of financial implications. Worrying about money adds to what is already a very stressful time, making you more prone to burnout.
You have lost your independence: As a new caregiver, you might resent the loss of your freedom or feel like you've lost control of your life. This can lead to anxiety and depression, which are common signs of Parkinson's caregiver burnout.  
You place unrealistic expectations on yourself: Many caregivers expect way too much of themselves, or else they believe that their care will have a positive impact on their loved one and make them better. Parkinson's can progress quickly despite proper treatment, medication and care, and there is only so much you can do to help the person you love.
Caregivers: What to Do When Burnout Strikes
Parkinson's caregiver burnout is a sign that your body and mind need a rest. You won't do anybody any favors by not addressing your burnout, so it's important to stop and take note of your symptoms. Here are some tips to help you overcome caregiver burnout:
Ask for help: In the first instance, you should see your doctor so they can help you deal with your burnout. You might also decide to ask friends or family members to help with your caregiving duties so you can recover.
Consider additional help: If you're struggling with the demands of caregiving, it might be time to bring some extra support into the home. Discuss other care options with your healthcare providers.   
Find your own support system: Caregivers need support too, so make that a priority. Whether you lean on friends or family members or join a local Parkinson's caregiver support group, make sure you have somewhere to go when you need practical or emotional help.
Don't stop your own life: Although you may not have as much free time as you used to, nobody benefits if you stop doing the things that make you happy.
Look after yourself: Keep to your medical appointments and be sure not to neglect your physical or mental health.
Seek positive endorsement: Many caregivers get frustrated because their loved ones are unable to give them the positive feedback they need to feel their efforts are worthwhile. People don't get better from Parkinson's disease, and this can be hard to accept. Therefore, you may need to seek positive endorsements from elsewhere, such as from a caregiver's group or guidance counselor.
See Also:
5 Helpful Tips for Parkinson's Caregivers
Help for New Parkinson's Caregivers
APA Reference
Smith, E. (2021, December 28). Signs of Parkinson's Caregiver Burnout, HealthyPlace. Retrieved on 2023, October 1 from https://www.healthyplace.com/parkinsons-disease/caregivers/signs-of-parkinsons-caregiver-burnout
Last Updated: January 27, 2022