Is Happiness Real, or is it Just Fluff?
HealthyPlace Mental Health Newsletter
Here's what's happening on the HealthyPlace site this week: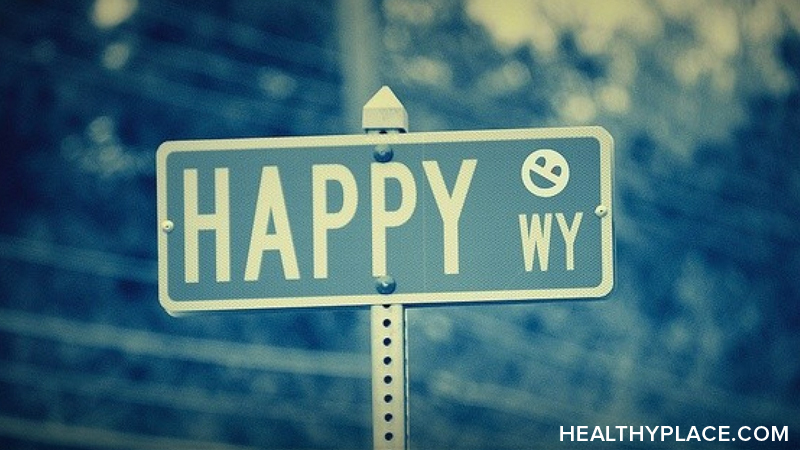 Is Happiness Real, or is it Just Fluff?
When it comes to mental health and wellbeing, not only is happiness real, it's in reach of absolutely everyone. One definition of mental health is someone's emotional well-being despite life's problems—including mental illness. Happiness doesn't mean the absence of mental health challenges. Happiness is real, and it's for everyone.
Happiness isn't fluff. Happiness doesn't mean pretending mental illness symptoms don't exist or faking smiles (although the act of smiling itself has been proven to positively affect the brain and to release endorphins). Happiness is about our strengths, our thoughts, our perspective, and our resilience.
How to Achieve Happiness
The field of positive psychology is the science of happiness. Researchers devote their attention to studying happiness, including how it's achieved, who can attain it (hint: everyone), and how it can be applied. Other fields, too (cognitive-behavioral therapy, solution-focused therapy, and more) teach us how we can all achieve true happiness, the feeling of joy and contentment despite even severe difficulties. Here are just a few tips on how to bring happiness into your life:
Create good moments every day to cultivate happiness.
Focus on the positive. List good things in your life and use the list to take action.
Embrace your strengths and traits instead of letting your symptoms define you.
Happiness isn't an artificial, fluffy concept. It's real, it's realistic, and it's in reach of everyone.
Related Articles Dealing with Happiness
Your Thoughts
Today's Question: What do you do to enhance your inner happiness even when life or mental illness tries to smother it? We invite you to participate by commenting and sharing your feelings, experiences and knowledge on the HealthyPlace Facebook page and on the HealthyPlace Google+ page.
---
---
Share our Stories
At the top and bottom of all our stories, you'll find social share buttons for Facebook, Google+, Twitter, Pinterest and other social sites. If you find a particular story, video, psychological test or other HealthyPlace feature helpful, there's a good chance others in need will too. Please share.
We also get many inquiries about our linking policy. If you have a website or blog, you can link to any page on the HealthyPlace website without asking us beforehand.
Most Popular HealthyPlace Articles Shared by Facebook Fans
Here are the top 3 mental health articles HealthyPlace Facebook fans are recommending you read:
If you're not already, I hope you'll join us/like us on Facebook too. There are a lot of wonderful, supportive people there.
------------------------------------------------------------------
From the HealthyPlace Mental Health Blogs
On all our blogs, your comments and observations are welcomed.
Feel free to share your thoughts and comments at the bottom of any blog post. And visit the mental health blogs homepage for the latest posts.
------------------------------------------------------------------
Stand Up for Mental Health
Thousands Have Joined the Stand Up for Mental Health Campaign
But we still need you. Let others know there's no shame in having depression, anxiety, bipolar disorder, trichotillomania, OCD, ADHD, schizophrenia or any other mental illness.
Join the Stand Up for Mental Health campaign. Put a button on your website or blog (buttons for family members, parents, mental health professionals and organizations too). We also have covers for Facebook, Twitter and Google+.
------------------------------------------------------------------
Latest Mental Health News
These stories and more are featured on our mental health news page:
Oxytocin Level In Pregnancy Predicts Postpartum Depression Severity
People With Intermittent Explosive Disorder Are More Than Twice As Likely To Have Toxoplasmosis
Losing Weight With A High-Protein Diet Can Help Adults Sleep Better
Brain Stimulation May Reduce Symptoms And Improve Decision-Making In People With Anorexia
Smoking Cessation Benefits Persist In Spite Of Weight Gain In Patients With Mental Illness
Exercise In Older Age May Protect Memory And Thinking Skills
Social Media Use And Depression Linked In Large Study
Calcium Waves In The Brain Alleviate Depressive Behavior In Mice
That's it for now. If you know of anyone who can benefit from this newsletter or the HealthyPlace.com site, I hope you'll pass this onto them. You can also share the newsletter on any social network (like facebook, stumbleupon, or digg) you belong to by clicking the links below. For updates throughout the week:
APA Reference
Peterson, T. (2016, June 3). Is Happiness Real, or is it Just Fluff?, HealthyPlace. Retrieved on 2023, December 10 from https://www.healthyplace.com/other-info/mental-health-newsletter/is-happiness-real-or-is-it-just-fluff
Last Updated: June 3, 2016