How To Take Your Mind Off Problems
HealthyPlace Mental Health Newsletter
Here's what's happening on the HealthyPlace site this week: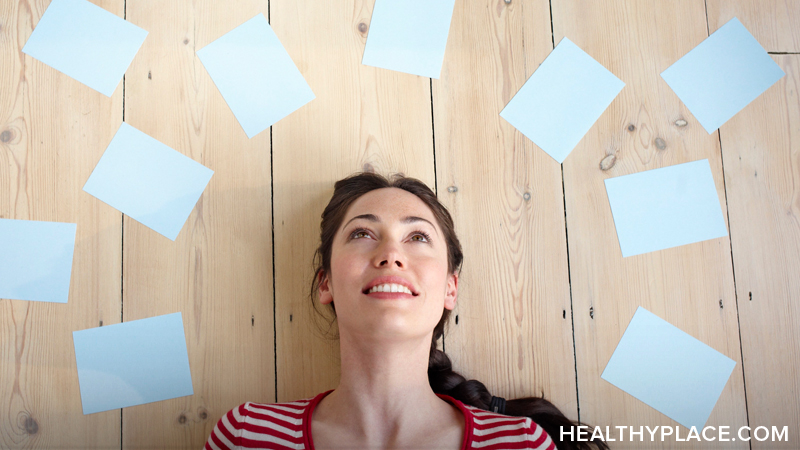 How To Take Your Mind Off Problems
Mental health difficulties such as anxiety disorders, mood disorders, trauma disorders, obsessive-compulsive disorders, and more are notorious for causing people to overthink things and ruminate over problems seemingly nonstop. Thinking about problems too much can interfere in daily life. It's possible to take your mind off problems and find relief from ruminating and over-thinking. Here are ways to do it:
Do something you enjoy. When you actively engage in an activity you love, your mind has something to do. When your mind is distracted with other things, your thinking shifts away from your problems.
Get physical. Regular exercise, even a 10-minute daily walk, energizes both body and mind, and it has a positive impact on the brain that extends to the way it thinks.
Be mindful. Practicing mindfulness means being fully aware, through all of your senses, on what is going on in each moment. The brain can't think about problems and be engaged in the moment at the same time. Again and again, turn your attention to your present moment. Over time, mindfulness will be natural, and you will no longer overthink problems.

Purposefully engaging your mind in positive activities will help you take your mind off your problems—and keep it off.
Here are some more ideas to stop overthinking from our anxiety blogger, Tanya Peterson. Take a look.
Related Articles Dealing with Thoughts and Overthinking
Your Thoughts
Today's Question: What do you do to take your mind off problems in a healthy way? We invite you to participate by commenting and sharing your feelings, experiences and knowledge on the HealthyPlace Facebook page.
---
---
Share our Stories
At the top and bottom of all our stories, you'll find social share buttons for Facebook, Google+, Twitter, Pinterest and other social sites. If you find a particular story, video, psychological test or other HealthyPlace feature helpful, there's a good chance others in need will too. Please share.
We also get many inquiries about our linking policy. If you have a website or blog, you can link to any page on the HealthyPlace website without asking us beforehand.
Most Popular HealthyPlace Articles Shared by Facebook Fans
Here are the top 3 mental health articles HealthyPlace Facebook fans are recommending you read:
If you're not already, I hope you'll join us/like us on Facebook too. There are a lot of wonderful, supportive people there.
------------------------------------------------------------------
From the HealthyPlace Mental Health Blogs
On all our blogs, your comments and observations are welcomed.
On all our blogs, your comments and observations are welcomed.
Feel free to share your thoughts and comments at the bottom of any blog post. And visit the mental health blogs homepage for the latest posts.
------------------------------------------------------------------
Stand Up for Mental Health
Thousands Have Joined the Stand Up for Mental Health Campaign
But we still need you. Let others know there's no shame in having depression, anxiety, bipolar disorder, trichotillomania, OCD, ADHD, schizophrenia or any other mental illness.
Join the Stand Up for Mental Health campaign. Put a button on your website or blog (buttons for family members, parents, mental health professionals and organizations too). We also have covers for Facebook, Twitter and Google+.
------------------------------------------------------------------
Latest Mental Health News
Mental Stress May Cause Reduced Blood Flow In Hearts Of Young Women With Heart Disease
Too Much Activity In One Of The Brain's Key Memory Regions Is Bad For Your Memory And Attention
Psychosis Associated With Low Levels Of Physical Activity
Disruptions To Sleep Patterns Lead To An Increased Risk Of Suicides
Marijuana Use Leads To Laziness, Study Suggests
In Unstable Times, The Brain Reduces Cell Production To Help Cope
People With Alcohol Dependency Lack Important Enzyme
PTSD And Cognitive Decline Linked In 9/11 Responders
These stories and more are featured on our mental health news page:
That's it for now. If you know of anyone who can benefit from this newsletter or the HealthyPlace.com site, I hope you'll pass this onto them. You can also share the newsletter on any social network (like facebook, stumbleupon, or digg) you belong to by clicking the links below. For updates throughout the week:
back to: HealthyPlace.com Mental-Health Newsletter Index
APA Reference
Peterson, T. (2016, September 15). How To Take Your Mind Off Problems, HealthyPlace. Retrieved on 2023, December 11 from https://www.healthyplace.com/other-info/mental-health-newsletter/how-to-take-your-mind-off-problems
Last Updated: May 8, 2017