How to Communicate More Easily with Someone in Psychosis
Here's what's happening on the HealthyPlace site this week:
---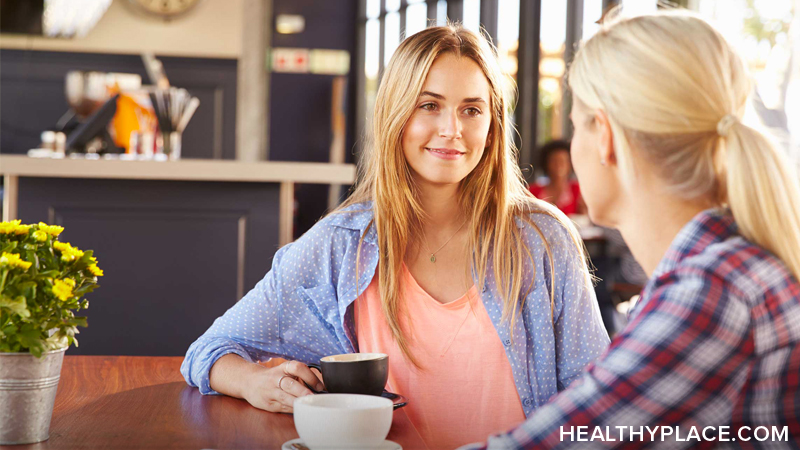 How to Communicate More Easily with Someone in Psychosis
Do you have someone in your life who experiences psychosis? If so, you might have discovered that communication can become very difficult. There are ways to communicate with someone having a psychotic episode that will reduce stress—both yours and the person you need to talk to.
Psychosis, which is a separation from reality involving hallucinations (sensing something that isn't there)  and/or delusions (firmly believing something that isn't real), can be frightening, intimidating, confusing and overwhelming for everyone involved. Trying to talk to someone experiencing delusions or hallucinations can be challenging because you're both living in different worlds. Try these tips to improve communication when talking to someone in psychosis:
Keep your statements short, simple, and clear
Use a calm voice and steady tone
Give the person physical space rather than crowding them
Acknowledge what they're experiencing and how they might be feeling
Don't argue with or challenge the delusions or hallucinations
But don't pretend to believe them yourself
Be neutral but not placating—give matter-of-fact statements acknowledging that their experience is real to them
Ask them to help you understand what they're experiencing
Communicating with someone in psychosis this way helps them feel heard and supported while not overwhelming, arguing, or leading them to believe that their imagined reality is accurate. Your conversations can become less frustrating.
Related Articles Dealing with Communication and Psychosis
Your Thoughts
Today's Question: If you've had conversations with someone in a psychotic episode, what made the conversation successful (or unsuccessful)? We invite you to participate by sharing your thoughts, knowledge, and experiences on the HealthyPlace Facebook page.
From the HealthyPlace Mental Health Blogs
On all our blogs, your comments and observations are welcomed.
Feel free to share your thoughts and comments at the bottom of any blog post. And visit the mental health blogs homepage for the latest posts.
------------------------------------------------------------------
From HealthyPlace YouTube Channel
I'm Hannah. I Have Bipolar 2
6 Common Myths about Bipolar Disorder
There are so many myths about bipolar disorder and that's what fuels bipolar stigma. Those bipolar myths also prevent those of us living with bipolar disorder from getting the help we need and allowing us to feel good about ourselves. (Watch Hannah and subscribe to the HealthyPlace YouTube channel for more great mental health videos.)
------------------------------------------------------------------
Most Popular HealthyPlace Articles Shared by Facebook Fans
Here are the top 3 mental health articles HealthyPlace Facebook fans are recommending you read:
If you're not already, I hope you'll join us/like us on Facebook too. There are a lot of wonderful, supportive people there.
------------------------------------------------------------------
Mental Health Quote
"Staying quiet doesn't mean I have nothing to say. It means I don't think you're ready to hear my thoughts."
Read more abuse quotes.
------------------------------------------------------------------
That's it for now. If you know of anyone who can benefit from this newsletter or the HealthyPlace.com site, I hope you'll pass this onto them. You can also share the newsletter on any social network (like facebook or stumbleupon) you belong to by clicking the links below. For updates throughout the week, follow HealthyPlace on Twitter or become a fan of HealthyPlace on Facebook. Also, check out HealthyPlace on Instagram, YouTube and Pinterest, where you can share your mental health pins on our Share Your Mental Health Experiences board.
APA Reference
Peterson, T. (2019, April 16). How to Communicate More Easily with Someone in Psychosis, HealthyPlace. Retrieved on 2023, December 5 from https://www.healthyplace.com/other-info/mental-health-newsletter/how-to-communicate-more-easily-with-someone-in-psychosis
Last Updated: April 16, 2019