Connecting with Others, Friendship Enhance Mental Health
Here's what's happening on the HealthyPlace site this week: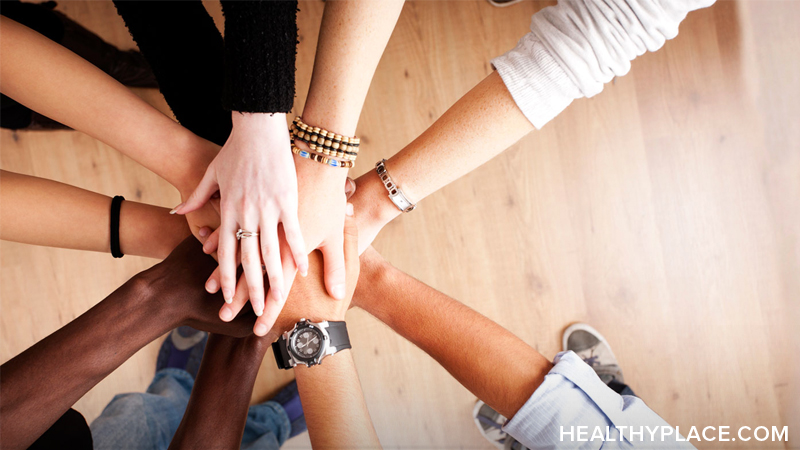 Connecting with Others, Friendship Enhance Mental Health
A powerful way to enhance mental health is through human connection and friendship. Connecting with others in a positive, meaningful way can improve both thoughts and emotions (Friendship and Mental Health: Priceless). Friendship boots other treatments like medication and therapy, and it helps increase positivity and wellbeing for people experiencing mood disorders, anxiety disorders (yes, even social anxiety), trauma-related disorders, psychotic disorders, personality disorders, and more.
Connecting with people, though, is sometimes difficult. Living with mental illness wreaks havoc on self-confidence, drive, and trust in others. Still, forming friendships is possible when done in small steps. Here are three ideas to get you started:
Attend a support group.
Join a community organization that relates to one of your interests.
Identify one person (coworker, neighbor, parent of one of your child's friends, etc.) that you'd like to know better. Start a simple conversation. Have more conversations.
Human connection is so important and effective because it breaks through the isolation and loneliness common among people living with mental illness. Connecting with someone else allows people to share their humanity, to exchange stories, to celebrate life's joys and to empathize through life's sorrows. Friendship also motivates, inspires, and encourages. While it might be difficult to take the first step, it's a step you'll be glad you took on your life's journey.
Related Articles Dealing with Friendship, Human Connection, and Mental Health
Your Thoughts
Today's Question: How have you been successful in forming connections or friendships with other people, even when it's difficult? We invite you to participate by commenting and sharing your feelings, experiences and knowledge on the HealthyPlace Facebook page.
------------------------------------------------------------------
Most Popular HealthyPlace Articles Shared by Facebook Fans
Here are the top 3 mental health articles HealthyPlace Facebook fans are recommending you read:
If you're not already, I hope you'll join us/like us on Facebook too. There are a lot of wonderful, supportive people there.
------------------------------------------------------------------
From the HealthyPlace Mental Health Blogs
On all our blogs, your comments and observations are welcomed.
Feel free to share your thoughts and comments at the bottom of any blog post. And visit the mental health blogs homepage for the latest posts.
------------------------------------------------------------------
That's it for now. If you know of anyone who can benefit from this newsletter or the HealthyPlace.com site, I hope you'll pass this onto them. For updates throughout the week:
APA Reference
Peterson, T. (2016, June 3). Connecting with Others, Friendship Enhance Mental Health, HealthyPlace. Retrieved on 2023, September 28 from https://www.healthyplace.com/other-info/mental-health-newsletter/connecting-with-others-friendship-enhance-mental-health
Last Updated: February 6, 2023