Psychiatric Hospitalization, Fear, and Hope
HealthyPlace Mental Health Newsletter
Here's what's happening on the HealthyPlace site this week:
----------------
HealthyPlace is now on Instagram. Follow us for exclusive mental health videos and inspirational quotes ... and, of course, we hope you'll share your thoughts and comments.
----------------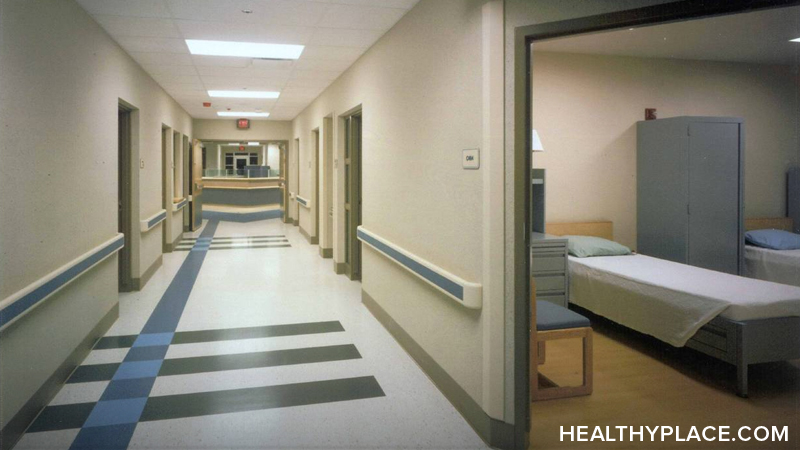 Psychiatric Hospitalization, Fear, and Hope
Living with mental illness can mean living with fear, including the fear of psychiatric hospitalization. Whether they're called psychiatric hospitals, mental health hospitals, or behavioral health hospitals, they're often shrouded in mystery. People don't always know what to expect from these fear of the unknown, and fear of the unknown causes significant anxiety.
Today's mental health hospitals bear no resemblance to the "mental wards" of One Flew Over the Cuckoo's Nest. Behavioral health hospitals exist to help treat people by diagnosing mental illness, determining an effective course of treatment, and helping people develop coping skills. (What is It Really Like to Stay in a Mental Hospital?)
Few people want to experience psychiatric hospitalization; however, many people enter inpatient treatment voluntarily because they are struggling with mental health challenges in their daily lives and are seeking help to overcome these difficulties (When Do You Need Inpatient Treatment for Bipolar Disorder?). It takes a great deal of strength and courage to seek the help and support psychiatric hospitalization offers. It's also is a sign of hope and positivity: imagine feeling overwhelmed and hopeless because of the effects of mental illness, yet part of you knows that things can and do get better. Psychiatric hospitals exist to diagnose, treat, and help people not just manage mental illness but live well and mentally healthy despite mental illness.
Related Articles Dealing with Psychiatric Hospitalization
Your Thoughts
Today's Question: Have you or a family member ever required psychiatric hospitalization? What was it like (pros and cons)? We invite you to participate by commenting and sharing your feelings, experiences and knowledge on the HealthyPlace Facebook page and on the HealthyPlace Google+ page.
---
---
Share our Stories
At the top and bottom of all our stories, you'll find social share buttons for Facebook, Google+, Twitter, Pinterest and other social sites. If you find a particular story, video, psychological test or other HealthyPlace feature helpful, there's a good chance others in need will too. Please share.
We also get many inquiries about our linking policy. If you have a website or blog, you can link to any page on the HealthyPlace website without asking us beforehand.
Most Popular HealthyPlace Articles Shared by Facebook Fans
Here are the top 3 mental health articles HealthyPlace Facebook fans are recommending you read:
If you're not already, I hope you'll join us/like us on Facebook too. There are a lot of wonderful, supportive people there.
------------------------------------------------------------------
From the HealthyPlace Mental Health Blogs
On all our blogs, your comments and observations are welcomed.
Feel free to share your thoughts and comments at the bottom of any blog post. And visit the mental health blogs homepage for the latest posts.
------------------------------------------------------------------
Stand Up for Mental Health
Thousands Have Joined the Stand Up for Mental Health Campaign
But we still need you. Let others know there's no shame in having depression, anxiety, bipolar disorder, trichotillomania, OCD, ADHD, schizophrenia or any other mental illness.
Join the Stand Up for Mental Health campaign. Put a button on your website or blog (buttons for family members, parents, mental health professionals and organizations too). We also have covers for Facebook, Twitter and Google+.
------------------------------------------------------------------
Latest Mental Health News
These stories and more are featured on our mental health news page:
Researchers Have Uncovered The First Human Gene Mutation That Is Directly Linked To Seasonal Depression
Television Exposure Directly Linked To A Thin Body Ideal In Women
Chocolate May Boost Cognitive Function
Couples' Lifestyle Choices Impact On Obesity Risk, Study Finds
Losing 5% Of Your Body Weight Is Enough To Reap Significant Health Benefits
Money Worries Drive Physical Pain, Study Finds
Rutgers Study Indicates That Violence Diminishes Learning And Reduces Maternal Behaviors
Exposure To Air Pollution Increases The Risk Of Obesity
That's it for now. If you know of anyone who can benefit from this newsletter or the HealthyPlace.com site, I hope you'll pass this onto them. You can also share the newsletter on any social network (like facebook, stumbleupon, or digg) you belong to by clicking the links below. For updates throughout the week:
APA Reference
Peterson, T. (2016, June 3). Psychiatric Hospitalization, Fear, and Hope , HealthyPlace. Retrieved on 2023, December 3 from https://www.healthyplace.com/other-info/mental-health-newsletter/psychiatric-hospitalization-fear-and-hope
Last Updated: July 5, 2016