Are Mental Illness Diagnostic Labels a Good Idea?
Here's what's happening on the HealthyPlace site this week:
---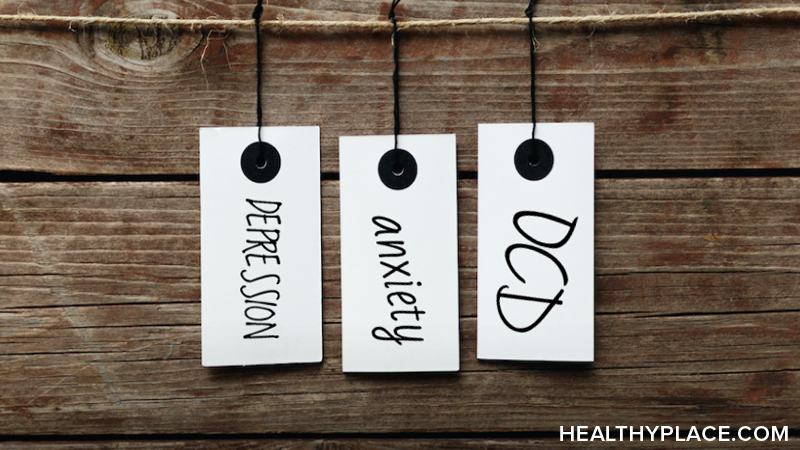 Are Mental Illness Diagnostic Labels a Good Idea?
When people seek professional help for mental health challenges, they might—if they meet the diagnostic criteria for a mental illness —receive a diagnosis such as major depressive disorder, obsessive-compulsive disorder, etc. Whether or not these terms are a good idea is debated among lay persons and professionals alike (Removing the Labels of Mental Illness).
To be sure, there are disadvantages to slapping people with mental illness diagnostic labels.
That said, there are advantages to using diagnostic labels.
They describe what's happening. Having a term to explain mental illness symptoms can be encouraging. Knowing exactly what the symptoms mean can help people take effective action to treat them.
They allow for efficient communication between everyone involved in someone's care, including the person herself.
Diagnostic mental illness labels will likely always be used. They have a function, just as do medical diagnostic terms such as cancer and diabetes. Use them for what they are—tools for communication and improvement. Just don't let them become a term for who you are.
Related Information about Labels
Your Thoughts
Today's Question: How have mental illness diagnostic terms and labels (He's bipolar.) affected you? Positive, negative, or a little of both? We invite you to participate by sharing your thoughts, knowledge, and experiences on the HealthyPlace Facebook page and on the HealthyPlace Google+ page.
---
---
From the HealthyPlace Mental Health Blogs
On all our blogs, your comments and observations are welcomed.
Feel free to share your thoughts and comments at the bottom of any blog post. And visit the mental health blogs homepage for the latest posts.
------------------------------------------------------------------
From HealthyPlace YouTube Channel
Bipolar Disorder and Creativity: I'm No Van Gogh
Regardless of the evidence that proves or disproves the link between bipolar disorder and creativity, it is reasonable to suggest that people with bipolar disorder have a distinct way of thinking. The way I processed and distributed information was considered a real problem, especially when I was younger. In school, I could not thrive according to the standard curriculum. It was an issue that threatened my future and forced me to utilize my "substandard" mind.
------------------------------------------------------------------
Most Popular HealthyPlace Articles Shared by Facebook Fans
Here are the top 3 mental health articles HealthyPlace Facebook fans are recommending you read:
If you're not already, I hope you'll join us/like us on Facebook too. There are a lot of wonderful, supportive people there.
------------------------------------------------------------------
Mental Health Quote
"Behind my smile is a breaking heart, behind my laugh I´m falling apart, behind my eyes are tears at night, behind my body is a soul trying to fight."
Read more mental health quotes.
------------------------------------------------------------------
That's it for now. If you know of anyone who can benefit from this newsletter or the HealthyPlace.com site, I hope you'll pass this onto them. You can also share the newsletter on any social network (like facebook, stumbleupon, or google+) you belong to by clicking the links below. For updates throughout the week, circle HealthyPlace on Google+, follow HealthyPlace on Twitter or become a fan of HealthyPlace on Facebook. Also, check out HealthyPlace on Pinterest and share your mental health pins on our Share Your Mental Health Experiences board.
APA Reference
Peterson, T. (2017, June 12). Are Mental Illness Diagnostic Labels a Good Idea?, HealthyPlace. Retrieved on 2023, December 9 from https://www.healthyplace.com/other-info/mental-health-newsletter/are-mental-illness-diagnostic-labels-a-good-idea
Last Updated: June 13, 2017