How to Deal with a Depressed Girlfriend: I'm Scared for Her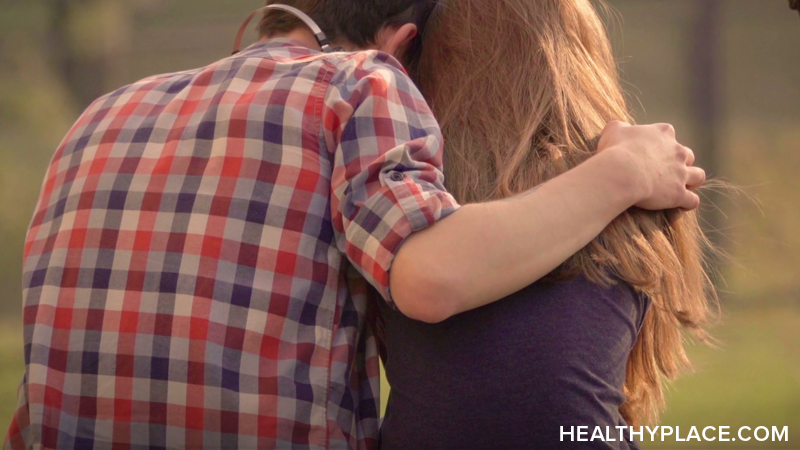 If you're wondering how to deal with a depressed girlfriend, you may be scared or uncertain about her wellbeing. Mental illness can be debilitating for those affected, but it is also stressful and worrying for people on the outside – especially when you feel you should be doing something to fix the situation. So, what's the secret to dealing with a depressed girlfriend without upsetting her? How do you know when it's time to seek help? Here are some tips on how to deal with a depressed girlfriend.
How to Deal with a Depressed Girlfriend When She Needs Help
Not knowing how to deal with a depressed girlfriend can be a lonely experience. You might barely recognize your girlfriend when she's depressed, and you may struggle to know when to seek help. You may even blame yourself for your girlfriend's depression or get frustrated that you can't help your girlfriend with depression. Dealing with a depressed girlfriend is hard, but depression is an illness. It's nobody's fault, and it's certainly not your job to fix it.
Knowing how to deal with a depressed girlfriend depends on a number of factors. If she has a reliable support system and there are others who know about her depression (such as family, friends and perhaps a counselor), then you do not need to do anything but listen and treat her with compassion. If your girlfriend doesn't have much in the way of support or you're the only one who is aware of her mental illness, you will need to increase your understanding and gather your resources. This way, you'll know when and where to get help if her depression becomes a crisis.
How to Deal with a Depressed Girlfriend Who Is Suicidal
Knowing how to deal with a depressed girlfriend who's suicidal is a huge responsibility, and it's not one you should face alone. That said, people with major depression will often hide thoughts of self-harm or suicide from others, so the extent of her suffering may not be evident.
If your girlfriend talks about repeatedly being a burden on others or wanting to "end it all," you can call the National Suicide Prevention Lifeline (1-800-273-8255) 24 hours a day for free and confidential support. You should seek advice even if you're not sure she will act on these thoughts. You will never know exactly what's going on in the mind of someone else – particularly someone who's depressed – so it's better to err on the side of caution when dealing with a depressed girlfriend so you can make sure she is safe.
If your girlfriend is acutely suicidal (i.e., threatening to harm herself or making plans to), you should call 911 or your local emergency service immediately. Don't try to "talk her down" or deal with the situation yourself. If your girlfriend is suicidal, she needs urgent treatment from medical professionals.
Dealing with a Depressed Girlfriend While Helping Yourself
Mental illness can take its toll on any relationship, and there may be times when you feel helpless and exhausted from it all. It's important to set healthy boundaries when wondering how to deal with a depressed girlfriend. Be clear about what you can and can't do, and make sure you have somewhere you can go to for support when it all gets too much. If you're at the end of your rope, you may even consider ending the relationship to save yourself from depression.
Many people find it helpful to talk to a counselor when someone they love is depressed. Speaking to a professional will help you make sense of your emotions and find strategies to help your depressed girlfriend. You could also research support groups in your area for loved ones of people with depression. You can find online and real-time peer support through the Depression and Bipolar Support Alliance, as well as wellness tools, podcasts and help in a crisis.
APA Reference
Smith, E. (2022, January 4). How to Deal with a Depressed Girlfriend: I'm Scared for Her, HealthyPlace. Retrieved on 2023, December 10 from https://www.healthyplace.com/depression/relationships/how-to-deal-with-a-depressed-girlfriend-im-scared-for-her
Last Updated: January 12, 2022