Introduction to August Queue, Author of 'The Life: LGBT Mental Health'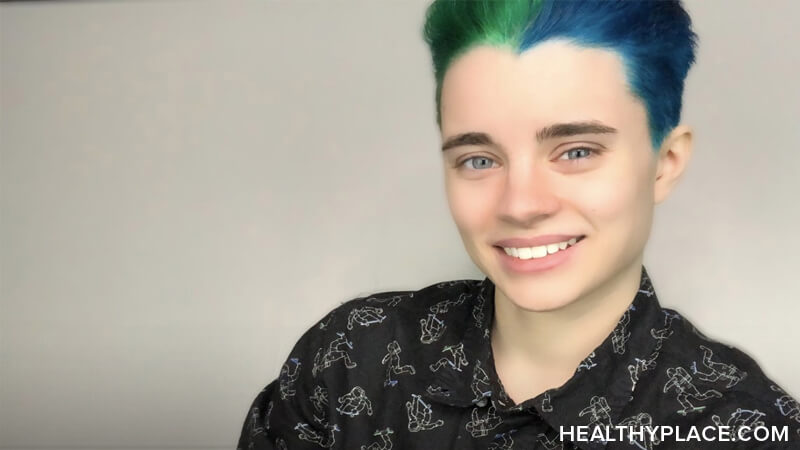 I'm August Queue, and I am a transmasculine, nonbinary, queer person. My pronouns are they/them and sometimes he/him. I'm going to be writing for The Life: LGBT Mental Health, and discussing my experience with mental health and the lesbian, gay, bisexual, queer, transgender, intersex, asexual, plus (LGBTQIA+) community. I have been diagnosed with a slew of different things, including posttraumatic stress disorder (PTSD), generalized anxiety disorder (GAD), obsessive-compulsive disorder (OCD), attention-deficit/hyperactivity disorder (ADHD), bipolar disorder, borderline personality disorder, and schizoaffective disorder. After turning 24 and spending four years in therapy, I discovered that I had autism.
Life Without a Mental Illness Diagnosis
I started experiencing symptoms when I was a very young child. Night terrors, insomnia, meltdowns, sensory overload, food aversion, anxiety, and depression were a part of my life since I was a small child. At seven, I asked my dad if it was normal for people to have so many sad thoughts all the time. As a burned-out 10-year-old, I confessed to my mother that I dreaded every day of school. Enduring another 12 years of schooling sounded like a nightmare. Middle school was particularly stressful. Middle school was marred by painful, icepick headaches that started behind my eyes. After a computerized tomography (CT) scan, an electroencephalogram (EEG), a magnetic resonance imaging (MRI) scan, and a scope shoved up my nose, my doctors chalked it up to stress.
Living in the Queer Closet
Stress has been ever-present in my life. By the time I got to high school, I had started questioning my sexuality. My best friend was crushing on the Jonas Brothers while I was crushing hard on her. Dressing androgynously made me feel better, but it aggravated my mother. I experienced multiple traumas throughout my life, and coming out was one of them. Keeping all my feelings from spilling out was causing my symptoms to become more and more complex.
After experiencing a sexual assault in college, my sense of self was rocked completely. Who was I dressing in these heels and skirts for? My wardrobe was certainly not for me. No longer did I care if I catered to the male gaze. I cut my hair as short as I wanted it to, dated whoever I wanted, and changed my name. I could be whoever I wanted to be. Coming out as transgender (trans) and queer felt like skydiving into a new life. The only thing standing in my way was that nagging mental illness that wouldn't leave me alone.
Proudly Autistic and Queer
Learn more about August Queue in this video:
Learning to appreciate how my brain functions was liberating. After a lifetime of struggling with friendships, bullying, and feeling out of place, I understood why I was this way. I was able to understand my neurodivergent brain and come up with steps of self-improvement. I learned to appreciate every part of my identity. One day, I hope to love all of those things about me. One of those steps will be documenting my thoughts through this blog, The Life: LGBT Mental Health. I hope this blog will be helpful to any queer, mentally ill, or disabled person, and to anyone who fits all of those criteria like me.
APA Reference
Queue, A. (2020, May 21). Introduction to August Queue, Author of 'The Life: LGBT Mental Health', HealthyPlace. Retrieved on 2023, December 5 from https://www.healthyplace.com/blogs/thelifelgbt/2020/5/introduction-august-queue-author-life-lgbt-mental-health
Author: August Queue
Welcome, August! It is a pleasure to see you in this forum. So looking forward to reading future posts from you. This was such a joyous statement to read: "Learning to appreciate how my brain functions was liberating." How liberating, indeed! Glad to have you here.
Hi, Lizanne! Thank you so much for your comment! For me, learning more about mental illness really helps me appreciate my strengths and weaknesses. Mental health advocacy also taught me to appreciate others for who they are, and I'm learning to be a more empathetic person in the process. I'm happy to be here! Looking forward to interacting more with wonderful comments like this one.
Leave a reply