Should People with Mental Illness Have Children?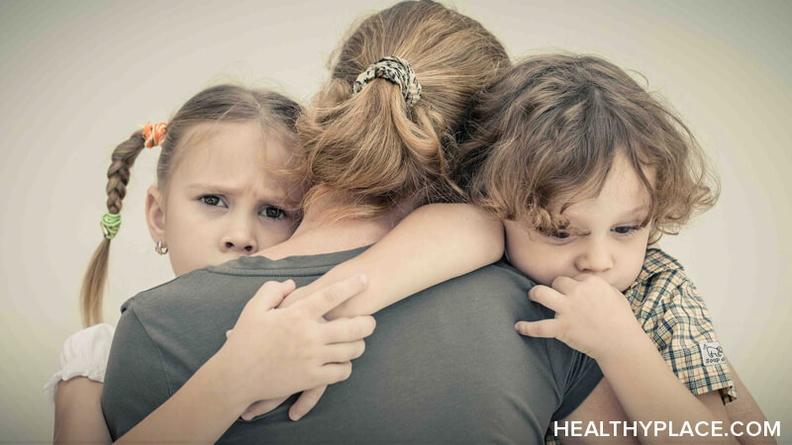 The quest for a GOP presidential candidate has raised a lot of brouhaha concerning reproductive rights in America. Whether certain politicians aim to force everyone to spawn or limit childbearing rights to a particular set is unclear. The debate, however, brings to mind the question: should people with mental illness have children?
I'm sure I've caused jaws to drop by merely asking, but I'm not the first to do so. Various subsets of the population have had their reproductive rights rescinded since we humans figured out where babies come from. Involuntary sterlization is a very real part of our not-so-distant history--people suffering from psychiatric illness have been subject to the practice even in my lifetime. With an individual's right to birth control currently under fire, how far are we from returning to this obscene practice?
Problems When People with Mental Illness Have Children
Should people with mental illnesses be allowed to be parents? After all, psychiatric illness, when untreated or improperly managed, can be completely disabling. Consider the single mother, unemployed and often bedridden as a result of severe depression. Or the father who lashes out in violent rages due to borderline personality disorder. Are these people "good" parents? Have they done society a disservice by reproducing? Should their right to reproduction be limited moreso than, say, a neurotypical person who doesn't like or want children?
Beyond the child's welfare, supporters of the practice believe it necessary to rid ourselves of mental illness (not to mention mental retardation and/or whatever other unpleasantries hinder polite society)--effectively wiping the genetic slate clean. (Holocaust, anyone?)
The Truth About Parents with Mental Illness Who Have Children
If the only concern is how a child with mentally ill parent(s) fares, the truth is: parents with psychiatric illness can and do have and raise healthy, happy children, just like "normal" people. Mentally ill parents may also have children with mental illness--just like "normal" people. They may also, unfortunately, mistreat or endanger their children--just like "normal" people.
In my 20s, I made the decision to not have children--period. I doubted my ability to effectively parent, and I feared passing on my imperfect brain chemistry. At 28, however, I had Bob, who demonstrated signs of psychiatric illness early on. Was it difficult to be a "good" parent while managing my illness, Bob's, and his father's? Yes, and I still regret some decisions I made during Bob's early years. I like to think we made out okay. Raising Bob, managing his illness (and my own) and raising his neurotypical half-sibling has been infinitely easier with the support of my husband, family and friends. (It really does "take a village.")
Which is why, if ever I am asked whether I believe mentally ill people should have children, my response will be:
"Should anyone?"
APA Reference
McClanahan, A. (2012, March 19). Should People with Mental Illness Have Children?, HealthyPlace. Retrieved on 2021, June 24 from https://www.healthyplace.com/blogs/parentingchildwithmentalillness/2012/03/should-people-with-mental-illness-have-children
Author: Angela McClanahan
My other question is should my granddaughter be able to see her parents or be involved with her at some point. Her psychologist says no. Is this best for her mental stability. We have always been honest with her and she is aware of her parents disability.
My granddaughter has two parents that have an IQ below 70. My granddaughter does not see her dad and her mother is getting ready to go in a group home . They cannot take care of my granddaughter and her father still lives with his parents and can't keep a job and her mother is pretty much in the same boat. We are wanting to adopt my granddaughter. We feel this would be best for her. What is your opinion?
I have four members of my family who suffer from MI, including my mother.
Schizophrenia most of them.
Anyways, I grew up without a father from birth, raised by my grandmother and mother, low income family.
I'm 29 now, working never had any real bad issues, just normsl kid stuff.
I will be attending college for the first time in my life, engineering major.
Never did drugs, never been drunk, never violent (unless you were a douchebag)
:) I'm doing more than well, do not miss the chance to raise a child, unless you are completely and utterly crippled by your disease.
I worried about passing on my schitzoaffective disorder to my child or not being a good parent. I think it is important to distinguish between someone who is very unwell, without social and medical support and someone whose illness is well managed and who has good support. My father suffered from depression which was tough for our family at some times but he is the most wonderful dad. I know that I am a great mum and my husband and I are expecting our second son in a few months. I am fortunate that I have been able to continue my medication while pregnant and nursing my son.
I would not have had children when my illness was very severe but I have been well for many years. I still have bad days but I know that I have the responsibility to care for myself so that I can be the best mum for my son that I can be. I can't be sure that I won't become ill again in the future but no parent can ensure that they won't develop any illness in the future.
Parents have the responsibility to get the best treatment they can for their illness just as a parent with cancer would. But let's not blame people for their illness and make assumptions. Many of the most difficult effects of mental illness are caused by stigma and fear of mental illness, causing isolation and ineffective treatment.
I am very sorry for people who have suffered due to a parent's illness but I have known many people who have suffered because of their parent's personality, drug or alcohol problem, incarceration, physical illness, etc. Let's support parents to be the best parents they can be.
This is an issue that has recently come up in my (relatively) recent marriage, and I'm struggling to find helpful resources.
I have a history of mental illness on both sides of my family (though only on my mother's is it admitted to and treated).
I suffer from anxiety and depression (though I've recently discovered the latter is caused by the former in my case) - both of which are now well controlled through CBT and not allowing my anxiety to permit me to procrastinate on things until I end up in a paralyzed, depressed state.
My mother and one sister also suffer from depression (as does my father, who has never sought treatment), but I have a second sister suffering from bipolar depression - which was diagnosed in her teens and required dramatic Outward Bound style treatment.
My wife's family exhibits some mental illness (though most is not readily admitted to), and she has grave concerns about having children (mostly due to the more open and overt nature of such issues in my family).
While I worry myself about not only my own long-term mental well-being and the seemingly high likelihood of similar traits being passed to the next generation, I like to think that the sensitivity to such mental problems I now possess would make a happy, healthy (with early intervention when/if required) childhood quite possible despite any genetic disadvantages.
I'm strongly against any "Gattica" style genomic cleansing, but is the chance (certainly above average in this case) of hereditary mental illness (taking into account any number of other problems possible when having a child) reason enough to dismiss the idea outright?
I think people that have true mental illness, not learning disabilities, should not have children. My poor husbands' mother has PTSD,depression and who knows what else. She is a good hearted person but was a terrible mother. Not abusive just so wrapped up in her own problems she couldn't parent. He really suffered and went through a lot. I don't know that she shouldn't have had children but she should not have been permitted to parent.
I think if someone has a diagnosed mental illness,and they don't do well in caring for themselves then not they should not have children or if the do they should not be permitted to parent.
Hi there all,
What a controversial and heated topic. I have suffered depression all my life-I am now 36 and nobody has dared have a child with me. This eats me up inside and makes me feel suicidal as having my own baby is a life long dream. It is so unfair that somebody else can stamp you as 'mentally ill' and you go through life and miss out on everything, anyone who has been through this should understand. Seeing other people getting on with their lives and mine slipping by and nothing changing it is the most horrendous and gut wrenching feeling.
Absolutely NOT!! My mother had schizophrenia and bipolar, she was deathly afraid of getting pregnant and she asked her doctor (back in the 1960s) if mental illness
was passed on genetically. Quack doc either didn't know or lied. My mother was hospitalized most of my terrifying childhood. I was raised by my eccentric grandmothers and my
father (who ALSO has OCD). I have had OCD since 4 - my mom died of cancer when I was 35. Im 46, on Paxil and Klonopin and can barely make it out of bed. My "life" has been Hell On Earth!!!!
Please adopt or just take care of yourself!!!! I beg of you!!
NO CHILDREN! Absolutely not! So many mentally ill individuals can't care for themselves!!!! Why should innocent children be subjected to neglect? That is SO WRONG!
I can say from experience that mentally ill parent I believe that you shouldn't have children. I want to say that I love my mother very much and she is mentally stable and usually takes care of us very well but when she has her breakdown it was really unbearable for us as kids and even now. I have really low steam and I blame it on embarrassment caused by mother shouting and running across the neighborhood. I believe that mentally ill parents have absolute disastrous impact on the personality development and we simply cannot ignore the role early childhood plays in the our mental development and even my younger sibling shows signs of mental disorder and suffers from anger issues and he has absolutely no empathy for anyone. I hope others don't suffer from same fate that almost made me consider suicide when I was young and I absolutely believe that mentally ill people shouldn't be allowed to become parents. The whole right to procreation doesn't justify the experiences that the children of mentally ill people go through..
I believe if you suffer from a mental illness and are unable to work and live off the government, no you should not have babies. The cycle has to be broken. I am a better person knowing that I have saved a child from what I have to go through. Being institutionalized I've seen parents and their children (whom have same issues as their parents and live of the government and will do so all their life).
I chose not to have a child with my ex-husband. He has Borderline Personality Disorder and my decision wasn't because of this but because of the violence and abuse that permeated our home. I knew how I felt and there was no way I was going to bring an infant into that environment.
I'm out now, and too old to have a baby but hope to be able to foster or adopt soon.
I have depressive disorders and suffer from chronic fatigue syndrome, and was myself raised in a very unhealthy environment. My kids father has Aspergers. We are no longer together, but trying to co-parent across state lines. I have full custody. What I have found is that we each bring strengths and weaknesses to their lives. If we could work together it would be for the good of the kids, but we haven't been able to achieve that so far.
I struggle with day to day tasks, getting their homework done every day, laundry, dishes, etc. Sometimes my house is really messy, to the point of being filthy. Most of the time it is ok.
He doesn't struggle with these things, or more accurately, his new wife takes care of these everyday things and he doesn't have to worry about it. When the girls have lived with him in the past they have done well in school, homework done every day, etc. But he is emotionally and mentally abusive.
My main failing is the ability to cope with everyday tasks. I know I have healthy boundaries with my kids, i don't depend on them to make me feel better or anything like that. Nor have I ever been abusive toward them.
He likes to think that because they do well in school when they are with him that I am a bad parent. But they are more emotionally happy when they are with me.
I feel guilty about my shortcomings as a mother, but I defend my decision to not have them be in his home full time. It seems to really mess them up when they are.
which is worse? a poor physical environment? or a poor emotional environment?
We can discuss it in an ethical sense. "Ought parents with mental illness have children?". But the suggestion they should somehow be stopped from doing so is dangerous.
This article pointed out, accurately, that people require support. If people with mental illness could be prevented from having children or have their children taken away, they would be less likely to access support services that could help them, or access psychiatric care - putting children in more danger.
Also, pre-emptive parent selection is dangerous. I have no issue with children being removed from households where there is violence, abuse or neglect. However, stopping people from having children because they suffer from depression for example, is pre-emptive and would have to be based on some statistic that depressed parents are more likely to be abusive or neglectful. But what if I did a study that showed that certain ethnic groups were more abusive and neglectful than others? Studies have shown that lesbian couples raise better adjusted children than hetero or gay male couples. i am all for gay people having children, but should we use that statistic to ban fatherhood?
its insane. i would imagine we would get to the point where only neuro-typical, mentally and physically healthy lesbian asian women from upper middle class backgrounds could raise families (which they should. i simply made up that group because i would imagine they statistically don't produce messed up kids. but when you start looking at it like that, are these the only parents that we want? don't we want a whole bunch of different people creating our new world?)
oh and imagine custody battles if any evidence of mental illness could be considered to lose you the right to see your child.
starting pre-emptive punishments, even for the right reasons, is so dangerous because we have to consider how much we really trust our authorities to start a program of eugenics? where on earth would that end? hell i think.
I have Borderline Personality Disorder and Dissociative Identity Disorder. I have a mix of rapid mood swings, psychosis, blackouts. My conditions frighten me, I can't imagine how they would be for a child to experience. I don't believe that people with a mental illness or conditions like mine should have kids. I'm getting steralised as I'm terrified biology will take over and I'll get pregnant. The rights of my 'potential child' is more important than my need to breed. All children deserve a stable home environment and the best chance in life. I couldn't live with myself if I raised my child in an unstable environment or if I abused them. Having a child, knowing you have a MI or unresolved trauma issues, you are responsible for what happens to the child. I see women in my therapy group abuse and neglect and terroroise their kids due to their condition, expect them to care for their ill parents. It's totally unfair, these kids have no life at all and they seem to be developing a mix of mental illness and trauma disorders of their own as a result. The cycle needs to stop!
The definition of abuse is when an adult uses a child for their unmet needs or expects them to do things they are too young to cope with. It's not about being a 'good' parent, it's about not messing up your kids!
Anywhere, the question of having children, if anybody suffer from mental illnes exhibits many medico-social problems as well as unpredictable psychosocial consequences. Furthermore, when it is wellknown fact that person with mental disorder have got limited and compromised life skills. At the same time, parenting is very hard and responsible job. On the other hand, children for parent with mental disorder indicate a supportive and stimulative psychosocial factor. These counterdictive momments imposse diferent dilemas on parenting of psychiatric patients. However, I agree with Your opinion that psychiatric patient might to have children, like person without mwntal illness.
And as for passing genes on, there are lots of problems and illnesses that can be passed on from mothers, whether genetic or through misconduct whilst pregnant. Then there's poverty and all sorts of other terrible situations that children are born into. There are enough supposedly 'normal' people who are bad parents, and plenty of mentally ill people who are good parents, and vice versa, so I don't believe there is any clear cut answer to this question. Children have no choice about being born into this world which is full of problems anyway, and unfortunately for some, they are born into terrible situations - but mental illness is just one of thousands of those issues - a drop in the ocean. I do, however, want to see children protected from real danger as that is just not fair but we can't try to control everything. We have human rights, and I feel they should not be taken away - they are not in Africa in terrible famine, so perhaps they shouldn't be in America, the UK or anywhere else! But that is where it gets tricky and I am not going to go into all that...
My Mum suffered with catatonic schizophrenia for over 20 years, in which time she was hospitalized on and off for lengthy periods. She had my three brothers during the worst phases, spending my eldest brothers first two years in Hospital while my Great Aunt looked after him. My Dad worked, and stood by my Mum, then I was born and my mum came out of hosptial for the last time when I was six. I saw and heard it all, quiet, fights, shouting, slamming, outbursts, but my mum and dad are still together now. I spent quite a few years resentful and questioning why on earth I was born to please my mother, but after therapy I learnt to forgive her. I have now spent 3 years writing my memoir, going through all my past, delving into the ins and outs of our circumstances as a family and I came to the conclusion that it was fine to have us children. We all have issues of a sort but hey doesn't everyone? I turned out to have borderline personality disorder, depression, OCD and anxiety issues and got quite disturbed whilst going through my past but with therapy I got through and now I realize that having the family I have taught me to be patient, strong, forgiving, understanding, thoughtful and to appreciate what I have. And now my mum and I have come out the other side, I can say that I see and feel and enjoy life better as well as, perhaps better, than most 'normal' people, since my illness really took me on a roller coaster journey of adventure :-) Whilst 'not being myself' I did refrain from becoming a mum, for fear that I couldn't cope with the responsibility, and now at 38 it might be too late now but at least I feel better :-)
Yes, I believe that certain mentally ill persons should not be able to pass along their genes to offspring. But only by court order should it be done. Perhaps that is being done today, but I am not aware of such court orders. I sometimes think that my mother should not have had offspring because of her instability. I am prejudiced here because I am the only one of her four offspring to have suffered a severe mental illness. And it was probably a combination of genetics and early environment with early environment being by far the most influential aspect. Should I have been desterilized? No, because of the chance of recovering enough to be able to raise healthy children. I have had to live my life with a handicap, and I have never told anyone, even family. I could not have raised healthy children in my condition. So I have not passed on my condition to another, and that is a good thing.
MY choice to have a child changed over the years. For a VERY long time I did not want a child because I feared the genetics I would bring. After years of reevaluating my beliefs and options, here is what worked for me.
I got real with myself. I divorced myself from my specific illness and thought about it as though it was any other serious heritable medical condition. Finding a compatible mate is hard enough without the additional worry of genetics.
So, I found someone with no mental illness in his family. We even tried to make the romantic thing work. Unfortunately, our marriage was short-lived, largely due to his realization that he just couldn't and wouldn't cope with my bipolar disorder for the rest of his life. However, the decision I made to have a child with someone who brought some different genetics to the mix and who is a good father (though crappy husband) is one that I am still confident I would make again. It was a rational, patiently considered decision.
I am reminded how much I am blessed every time I look at my son. And since I get a lot of compliments on what a great mother he has, I am starting to see through other's eyes that he is blessed as well.
I forgot to mention that I am Bipolar with Schizoaffective Disorder which I've been since I was a teenager. My mom was a paranoid schizophrenic as was two of my sisters. Another one of my sisters was Bipolar. Yes, I believe it's hereditary - those three sisters committed suicide. They were not managed by Psychiatric help and I believe I will live a long and happy life, since I am well managed with medical assistance. I miss my dear sisters but we loved each other and cared for each other and when enduring my mothers behavior.
You raise a significant point. I believe that parenting is a learned behavior and hopefully not only from our parents but from books to assist us. My daughter is 31 years old and an only child. She is demonstrating signs psychiatric illness now. She has a very bad temper and lashes out at me and her father. She's fairly good with her work associates but her friends suffer from her behavior. But her friends are so near and dear that they help her through her outbursts. She's not screaming loud or anything she just states very directly, her anger. Do I think that I should have had her? Well, I thought about not having children like three of my sisters but I don't regret my decision to have her at all. She is beautifully precious and smart and thoughtful most of the time. She will have to face her own battles with the help of Psychiatric assistance when she is ready. As for government involvement - keep them out of our homes!
Leave a reply