Anxiety and Overthinking Everything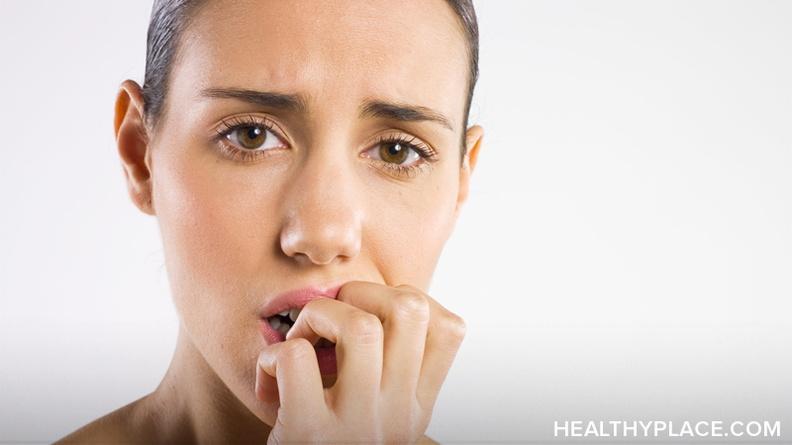 Anxiety and overthinking tend to be evil partners. One of the horrible hallmarks of any type of anxiety disorder is the tendency to overthink everything. The anxious brain is hypervigilant, always on the lookout for anything it perceives to be dangerous or worrisome. I've been accused of making problems where there aren't any. To me, though, there are, indeed, problems. Why? Because anxiety causes me to overthink everything. Anxiety makes us overthink everything in many different ways, and the result of this overthinking isn't helpful at all. Fortunately, anxiety and overthinking everything doesn't have to be a permanent part of our existence.
Ways Anxiety Causes Overthinking
An effect of any type of anxiety is overthinking everything. There are common themes to the way anxiety causes overthinking. Perhaps this generic list will remind you of specific racing thoughts you experience and help you realize that you're not alone in overthinking everything because of anxiety.
Obsessing over what we should say/should have said/did say/didn't say (common in social anxiety)
Worrying incessantly about who we are and how we are measuring up to the world (common in social and performance anxiety)
Creating fearful what-if scenarios about things that could go wrong for ourselves, loved ones, and the world (common in generalized anxiety disorder)
Wild, imagined results of our own wild, imagined faults and incompetencies (all anxiety disorders)
Fear of having a panic attack in public and possibly thinking that you can't leave home because of it (panic disorder with or without agoraphobia)
Worrying about a multitude of obsessive thoughts, sometimes scary ones and thinking about them constantly (obsessive-compulsive disorder)
Thinking -- overthinking -- a tumbling chain of worries, vague thoughts, and specific thoughts (all anxiety disorders)
Result of Anxiety and Overthinking
With anxiety, not only are these thoughts (and more) running through our brains, but they are always running through our brains, non-stop, endlessly. Like a gerbil hooked up to an endless drip of an energy drink, they run and run and wheel around in one place, going absolutely nowhere. Day and night, the wheel squeaks.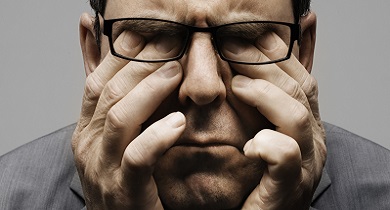 Anxiety and overthinking everything makes us both tired and wired. One result of the thinking too much that comes with anxiety is that we are often left feeling physically and emotionally unwell. Having these same anxious messages run through our head everywhere we go takes its toll.
Further, another dangerous result of anxiety and overthinking everything is that we start to believe what we think. After all, if we think it, it's real, and if we think it constantly, it's very real. Right? No. This is a trick anxiety plays. Anxiety causes overthinking, but with anxiety, these thoughts aren't always trustworthy.
You have the power and the ability to interfere in anxiety's overthinking everything. It's a process that involves many steps, but a step you can take right now to slow down that gerbil is to have something with you or around you to divert your attention. Rather than arguing with your thoughts or obsessing over them, gently shift your attention onto something else, something neutral. By thinking about something insignificant, you weaken anxiety's ability to cause you to overthink everything.
I explain this further in the below video. I invite you to tune in.
Let's connect. I blog here. Find me on Facebook, Twitter, LinkedIn, and Pinterest. My mental health novels, including one about severe anxiety, are here.
APA Reference
Peterson, T. (2015, December 31). Anxiety and Overthinking Everything, HealthyPlace. Retrieved on 2023, December 11 from https://www.healthyplace.com/blogs/anxiety-schmanxiety/2015/12/anxiety-and-over-thinking-everything
Author: Tanya J. Peterson, MS, NCC, DAIS
Hello,
this is hard for me to explain, but I'm worried about my best friend (14). We used to talk, laugh and do everything together, but recently she's been very quiet and distant. However, this only happens when we're in a certain friendship group because when we hang out with other people in school she suddenly becomes her bubbly self again. When she's distant, she seems to try to avoid any conversation and is always on her phone (she never used to do this) . So, I asked her what was wrong because I couldn't handle not knowing any line her. She says she just overthinks everything, such as other people's reactions, and she worries too much. However, she won't tell me exactly what's going on with her. She mentioned that she looks at web pages to educate herself on what's bothering her, but it makes her even more upset. She also told me that some days she'll be alright, but on others she won't. I've tried being a supportive friend by giving her advice, but I don't really know what I should be doing. She said she's really stressed about everything and she definitely didn't look very happy when we were talking. I'm worried about her because I don't want her feeling bad and overthinking anything, I want her to go back to her normal happy self. Any advice?
Thank you,
Alyssa.
hi Tanya.
I'm 19 and a student.
Currently i have this one friend. To me, he's a very good company. both of us met about 2 months ago. but actually we were in the same kindergarten years ago. we seemed to be very closed to each other. we had dinner together everyday, tried every new foods in our college, walked to class together (even though we're not in the same class and program
) and do almost everything together. Im very grateful to have a friend like him.
however, lately i realised that he's distancing himself from me. we do have dinner together, participate volunteering works together. but we dont talk much like we used to. i dont like that.
so, what happened was, last night, i asked him what's wrong?
He said that i am too clingy that everywhere i go, i always wanted him to be with me and he couldnt bear with it anymore.
i admit that i am a person like that. some people like it and some dont. dont they? so, i apologised and told him that i'll fix that. it was that actually i dont quite understand him, since we've just knew each other.
i think i've got influenced by the movies i watched where two best friends usually do things together, go everywhere together, go on a travel together, understand each other etc.
so, i expected him to do the mentioned things above. my bad.
and the conversation continued..
i told him that there's one thing that i couldnt control when i'm with him or with my other closed friends. that's Overthinking.
i used to think lots of unnecessary thoughts. like you said above, about things that i shouldve said, done and what not. but sometimes some thoughts like how my friends feel about me do came across my mind. However, i knew that these thoughts are just nothing. they're just there. so, i ignored them. i made myself busy.
but the longer i tried to ignore them, the more that i got hurt. what do i do? i really hope that you can help me, tanya.
Hello, I'm a mother to a 15 yr old teen. For the past three months he has been experiencing a lot of anxiety he also over think everything and questions everything. He questions the existence of life on a daily basis he question coincidences he questions absolutely everything and he feels like he needs the answer to everything. He is currently seeing a therapist. But he feels is not enough and as the days go by it gets bigger and a new though pops up. I can't imagine how exhibe must feel. My husband and u are very patient with him but sometimes we don't even know what to do and what to say anymore it exhausting for us too. We don't know what to do. Please advise what techniques we as parent can do to help him out.
Hi Tanya, I'm a 35 year old man and in February 2017 until October 2017 I had a large chalazion on my left eye which really affected my self confidence. I stayed strong and tried to not let it get me down. Then November 2017 I start developing this forehead rash, which has also affected my self confidence just a month after feeling better about myself. This is an ongoing issue, I've tried creams from the doctor but no such joy as of yet. To top things off I now have an issue with my prostate. Doctor said it wasn't cancer, it's prostatitis. I'm in a lot of pain and I'm also suffering with erectile issues. I broke down last week. I haven't cried since I was young. It's all getting on top of me. I'm trying to not let it affect my wife and kids too much but I'm constantly thinking about 'what if'. What if This forehead rash never goes, what if this prostate problem remains after the anitbiotics, what if I can't have sex anymore. I'm so down, I can't get to sleep, then when I do, I always wake up after a few hours. How can I get stop overthinking and worrying?
Thanks for your time
Hello. I'm 18 years old and currently I'm still waiting for my result. These days i keep thinking and worried so much about my result because I'm afraid that I might be failed. If I failed then I will not get any chances to continue my studies to any University. Plus, I'm so worried that I might be dissapointed my parents as well. So last night, suddenly i was thinking about my result so I cried because I was so worried about it. And I try to crying but can't then I try to calm myself but still my brain keep thinking and worried about it so I just let myself to cry non stop because I feel like it will be more better if I let everything goes like that way. But suddenly I feel so lonely and I really need someone to talk with but I can't. Whenever someone asked me about my problems I litteraly just can't explain it because I feel like it's so hard me too. I don't know what to say but it's hurt me so bad when i cried because thinking of something and worried about it. This is not my first time having this kind of problems. I've been through a lot but still I remind okay because I don't want make things become worse but when suddenly I think it back, I'll started to crying non stop until I calm down myself. So, am I suffer of depression or anxiety? If so, tell me what should I do because I'm so confused. :') and sorry about my grammar, I'm so bad with my English
Hi,
I'm a 26 year old and I was moving in my new house with my boyfriend. I really was looking forward for this change but all of a sudden anxiety kicked in. I fear tk move and until my anxiety gets better I am not willing to move. It's been over a month worrying and fearing that this anxiety wont leave me in peace. I am always asking myself why I suddenly changed my mind from moving. I am in the cycle that I am anxious about my anxiety.
Hi, i've suffered with anxiety for many years. last year for a second time i was prescribed citalopram (celexa) and had the dose increased. 6 months on i'm feeling a whole lot better, life feels less stressful, i have more energy and most of the negative thoughts don't bother me any more.
My biggest problem at the moment is the chatter/overthinking which has gotten better since the medication but i'm still having a problem switching off to relax. my head just keeps chatting, checking to see if i'm relaxed or "in the moment" it's especially bad when i try to relax and watch films or tv. i'm a big big film fan and its important for me to be able to get lost in a film and relax. i just get constant questioning and checking but also my head will also at times repeat words being spoken on the screen or start of thinking what i'd say to other people about the film or tv.
Everyone tells me it's classic anxiety and it will fade over time but i keep thinking "what if it's something else" "this will never go"
I just can't seem to get out of this cycle.
Thanks for any help
Hi,
I'm 14 years old and honestly worry about everything way too much. I'm in high school and whenever I have a test or assessment coming up i always way overthink it. Last time in a maths exam I knew I got 1 question wrong and literally cried for hours because I though that having 1 Mark taken off my test would lead me to having no job, no future etc. After I realised I was so silly and so annoyed at myself for getting so upset about it. And recently I've been feeling physically sick every time I come home because i am worried about a friend who doesn't eat all that much but the truth is really he's fine. I really need advice on this it's stressing me out so much and I know this is the age that these kinds of things start to take over you. Please help me with any advice you have
My best friend since high school (we are in our 40s), is dealing with having to put her Father's illness. He is in a great facility now, and has ample funds to pay for it, but it was certainly stressful for awhile for her. She has not worked outside of the home in years, but she is a great Mom to three young kids, and while she was always a worrier, it was never all that bad. Since this happened she has developed crippling anxiety and I do not know how to help her. She texts me incessantly with wild scenarios and what ifs. If everything is fine (which it is now) she actually looks for things that could go wrong. I almost feel like she is only comfortable if she is worrying! And none of these things are realistically ever going to happen, and if by some wild chance they did, they are beyond her control. She worries so much it is exhausting for me and for her, and she is struggling to care for her kids. She is very negative like "Oh my kids are going to hate me, and I am going to lose my husband," because she is taking time to help her Dad. She is constantly worried about being sued, having to pay for her Father, etc. I am a lawyer, and I went through this with my own Father, but nothing I can say can reassure her. To make matters worse, I am the other extreme. I think worry is a waste of time, and am very much the type of person that says if it happens it happens. She is taking an anti anxiety drug that she was put on recently, but clearly it is not working. This has been going on daily for four months. Nothing I say helps her. I have tried just saying it will be okay, just letting her talk, rationalizing with her, but NOTHING works. I am starting to go a bit insane myself. She is like a broken record over and over the same thing. How can I help her? Thanks
Hello... I do have a questions...
If I'm overthinking like my girlfriend is mad at me because I think I do something wrong even I didn't do anything.
I also feel going nuts if my girlfriend didn't text me wholeday.
I also think that I'm not good enough for her and all the negative is already in my mind.
I encounter this kind of issues when I was 14yrs old. I can't breath, heart racing, sweating if I'm doing a reporting, reciting. Is this a anxiety??? Went don't have that here in the Philippines
Hello, I've been trying to overcame this anxiety for about over a month now. I have had it in the past and it was much, much worse. I moved to a new state and got married all in a matter of three months. My physical well being has been awful which took a toll on my mental state. Everyone I reach out to says I should seek help, I wake up everyday thinking it's going to be a struggle. What should I do? Helllp!
I have a problem or issue, i don't know how to call it, anxiety related.
I will be very short in details and it goes like this:
1) i am a very logical, rational and resonable person
2) everything i say, do or someone else says or do i ANALYZE
3) this analyze is very very stressfull and it blocks me from doing the important things in life.
4) When i analyze i mean: syntactic analyze, rational analyze, logic analyze and so on...
What are your suggestions about this?
Hi
I have been overthinking for 3 months and I have problems with my family, friends and boyfriend. I was moody and so many emotional, I have been crying for 3 months because sometimes I get emotional to no reason. It's hard for me because when overthinking that how people treat me and make me hurt even more. I don't know who am I. I still hurt for what people hating me. Because I fight with them and fight with for no reason because I was angry and hating myself too much. But I don't understand why I have been emotional and overthinking for past 3 months because I never had like that before. I really need help to how get over with emotional and overthinking. I just want to go back to normal life.
Hi Neelam,
It sounds like you are a very caring, compassionate person. Those are wonderful strengths to have and can help you have strong, close relationships. You don't want to give that up! But like all strengths, these can get in your way, as you are seeing. You are already a step ahead because you recognize that this is happening and how it's interfering in your life and happiness. Now you can focus on shifting your thoughts. Having anxiety about the health of people you care about is actually common -- you're not alone. I actually wrote an article addressing this very thing. It might have ideas that will help you. Here is the link: https://www.healthyplace.com/blogs/anxiety-schmanxiety/2015/11/anxiety-over-a-loved-ones-…
Hello.ma'am
I m addicted to over thinking when it comes to heath issues of anyone in my family.. I just reach to the maximum wid very little of anything.. last month my Lo was not well for 10 days.. I was going through very tensed situation where she had small viral infection.. now when after 15 days she got cold now mild fever again and my thoughts are skyrocketing as why she fell ill within 15 days.. my very tensed and feel lost in my bad thoughts..
This habit is killing me and my wonderful present not future..
Ma'am plz advise. How to cope up with this
Idk what I'm doing, but ok, so I'm 19 years old, and I have been living my life with some problems that I try to explain, but can't. At times I've wanted to do some things that I don't want to mention, but I realize how I always overthink about anything that is not to big of a deal. (for some reason I'm shaking right now) My whole life I've been trying to go out and be heard, but I get too shy and feel down when I try. I'm always "on the low," don't talk much, always listening to music, by myself, rarely go out, can't deal with strangers much or crowds. Have tried working as a server twice, but unfortunately got fired twice for the same reason (not showing up, calling "sick") but went back to delivering. I just don't know what to say. But I give what I can think of.
I have my eyebrows bones little exposed within two weeks of over thinking for the left one it is old one the right eye brows bones it is exposed more recently .
Is it cause by anxiety ?because I have many issues .
I'm only 21 but looking back i have always had negative thoughts, circeling in my head so fast its every second lately. I feel trappes in my head and the things I think about is actually always worrying about what other people think about me while I am actually doing stuff, I am thinking like that even about my friends and family. It is probably because Im insecure in general but lately the more I stop to think about it, the heavier the tboughts get. Its like my mind is constantly racing
Good video. Does a therapist notice anxiety and over thinking? Mine has never mentioned it. Only one has ever acknowledged the dissociation. But we never worked on anything to stop it. I get my Mental Health care through the Veterans Admins., in the USA, so I don't think they are equipped to handle dissociation or to do therapy to help anxiety or overthinking. Sessions are usually 6-12 weeks apart :(
Is it possible that such things are genetically passed? My mother has problem with anxiety. He never starts conversation with "how are you", instead she says "is everything OK" assuming that it's not and she wants me to prove her wrong. Why is that I always think obsessively about something even thought it's already clear. to me? I For example I know that I still have time to do something, yet I worry it will be too late. Why is that I seek confirmation from many sources and even when I am sure about something I still have this kind of feeling "what if....". I often ask the same questions and people get angry about it. It affects my relations with my girlfriend. She says I am obsessed and annoying. Then I worry...that I am too annoying and I keep asking her "am I not annoying you". Then of course, she gets angry. It's like I want to go somewhere in April and I know that I can make final decision in March but I feel like I have to do it now, I don't know where this feelings comes from. I know it's overthinking and anxiety. I keep telling myself "stop" or "it's OK, you already know that" but it does not seem to work. What can I do? I can't concentrate on everyday stuff, simple things.
Hello I am 21 years old, my name is zach, I recently just started having anxiety/overthinking issues in my life. I have so much blessings in my life and not really having nothing to complain about: I'm going to trade school and working to be an electrician, I keep a good relationship with my family and my friends, and about 2 months deep into a relationship with a wonderful woman. Shes is very mature and very understanding about a lot of things. So recently I started getting really anxious and start overthinking my actions around her. I keep playing scenarios in my head over and over again thinking "she's going to leave me she's in a bad mood." Basically almost making it believable that she's going to leave me because I'm thinking lesser of myself. Does that make sense? Our relationship is going really well and she has no intentions of leaving. She knows I have this problem and wants to help the best she can. Whenever I get into this anxious/overthinking mood it gets so bad I do not want to eat and I just get this heavy feeling in my chest. All because my mind plays scenerios that ARENT true. I just want it to stop. It's stopping me from being myself around the people I love
Hello Tanya. i'm 21 years old girl and i have been having a lot of axiety lately. I have decided to make do certain things during the day in order to be productive, for example, studying french 2 hours, piano 1 hour, seweing 1 hour in the evening, reading, etc. When i wake up in the morning my brain is calm for some time but after 2 hours i start thinking about how the time won't be enough, that i will feel tired or lazy, how i won't progress as much as i would expect and so on, i overthink and i think that negatively affects my performance. I started having anxiety about 2 and a half years ago because i had a teacher that was very tough, i even had panic attacts at night but the it all went away but now, i just think about me not being able to be as productive as i would like to, i get tired very soon now and also, i'm from Venezuela, my country is in chaos, everywhere you go you see poverty, lack of opportunities so it is somehow a very sad environment, i don't know if that could have something to do with it too. Today, i had a awkward social interaction with someone (i'm a very shy person) and then i came home could not stop feeling bad about it and thinking it too and i'm never like that, i mean, if something like that happens i just think "whatever, it already happened, i can't change it" but this time was not like that. Something else, i suffer from metabolic syndrom and had already had hypothyroidism.
Leave a reply