How Multiple Calendars Can Track Mood and Schedule
Let's talk about calendars. We all have calendars of one form or another and some of us actually use them. I use multiple paper calendars. One is set aside for my doctor, therapy and other health-related appointments. The second is for work and work-related schedule. My third is for personal, family, birthdays and vacation time. Although it may sound overly complicated, dividing up appointments, etc. into various categories allows me to quickly look in a specific place for a particular type of event. I can check into therapy sessions to see if I am sticking to a fixed meeting schedule. If there are any trends, good or bad, I can spot them. If my mood is really good sporadically, I may find out that this good mood happens the day I visit the therapist. A bad mood may happen after I just had my truck repaired.
The same works for business and calendars. Each project has an individual scheduling calendar. These calendars carry deadlines, finish dates, progress tracking and time spent on the project. As a contract writer and engineer, I bill my actual time spent. If you invoice by flat rate or per job, you can track time spent to know if it is a profitable doing this job or not. I can also see if I am breaking the job down into small enough tasks. Too small a task and you may not function efficiently. Too large a task and you might get overwhelmed, procrastinate and not start the task.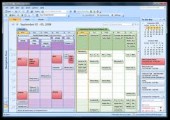 The calendars I create are photo-copies of a printed calendar page. I use the original as my personal calendar and the copies for the others. Colored copy paper helps in sorting of the calendars. You can also use a Day Timer or other personal time assistant.
You may find out over time you may not need all these calendars. Or you may not break all your projects apart and leave them on one calendar. You see you might already be using more than one calendar. You may also be filling out daily mood charts. These mood charts, when compared to your other calendars, can show visual evidence that maybe you should not travel on Mondays. A long meeting made you skip lunch. You had a schedule with three deadlines in one week. All proved to be too disruptive to your mood. This is all done by analyzing your mood charts with your other calendars. Knowing yourself with this chart information can help your moods over time.
(P.S. HealthyPlace has a great, easy-to-use online mood journal, mood tracker for tracking your moods.)
APA Reference
Zawistowski, P. (2010, October 4). How Multiple Calendars Can Track Mood and Schedule, HealthyPlace. Retrieved on 2023, December 11 from https://www.healthyplace.com/blogs/workandbipolarordepression/2010/10/work-and-multiple-calendars
Author: Peter Zawistowski
What about online calendars? They can be printed too.
Thanks for your ideas. My therapist used to get me to plot my mood on a graph at the beginning of each session. Annoying but helpful.
From my research, I have found that depression is a frequent cause of weight gain. Knowing that, I preach to everyone I talk to about weight loss, that you first need to get your mind healthy. Once your mind is healthy, your body can follow. Check out Best Way To Lose Weight Fast for a healthy way to lose weight.
BTW - Deb, I just checked out the mood tracker online tool you shared and I LOVE it. I'll be sharing it with my counselor, life coach, twitter, and Facebook! Thank you.
Thanks for this post - I've been trying to figure out the best and most interesting way to track my moods. I'm ADD (inattentive) and I'm trying to be more disciplined and create a schedule and mood currently is all over the place. Great idea - thanks.
Great blog, Peter. Welcome to HealthyPlace!
Great reading thanks for sharing, I've added this to my mixx bookmarks.
i use the ones at www.medhelp.org---then go to 'trackers' and invicidualize the ones you want.--i use one for mood (b/p), one for anxiety, one for wt, one for sleep. my docs love them. keeps perspective for me--'i've been great for thee weeks' (no, its only 5 days), or vice versa.
you can get email reminders for whenever you want...ie i only get the wt one weekly, while the sleep is nightly. they're color coded, and awesome.
Another great blog post! I shared this one on Facebook - you should consider adding a "like" button to your articles.
Just curious. What application/software is featured in the screen shot? I think it is Excel. I would love to get the template for it.
Hi Peter,
Because I have Dissociative Identity Disorder time and memory are very slippery things. I try to outsource memory as much as possible to things like calendars, cell phones alerts, etc. I decided to use your idea of multiple calendars. I created four: personal, blogging, and two for my other job. So far I really like it.
I never thought of tracking things related to my disorder (e.g. mood) but that makes a lot of sense.
Thanks for the tips.
Holly
Leave a reply