Depression: What to Say: I'm Sorry Things Are Hard for You
Last summer on a girls' beach trip, I decided to talk to my three nieces, young women in their teens and early twenties, about my depression and the collateral damage that can result. They've grown up knowing me mostly as fun Aunt Jenny who plans outings and understands fashion emergencies. But they've also seen me sitting alone at family gatherings, curtly rejecting company, crying at parties for no apparent reason and, most puzzling to their childhood sensibilities, seeming totally disinterested in them and their feelings. They've also seen me very depressed.
What to Say to Someone with Depression
With the enforced intimacy of a long drive, I discussed how depression is not sadness, trying to articulate the sense of unworthiness that sometimes prevents me from feeling lovable or loving. I encouraged them to share times they'd felt hurt by my behavior, about missed birthdays and bedtime stories refused. I explained what a gift their love and loyalty was. We talked candidly about topics we had previously tiptoed around, and, as caring individuals, they wanted to know how they could best help. The earnestness in that car (windows open so we wouldn't miss the moment when the air started to smell like the ocean) was uplifting, and I suggested that during anyone's rough patches, it helps to simply acknowledge their pain. We laughingly agreed on a go-to script of, "I'm sorry things are hard for you."
"I'm Sorry Things Are Hard for You"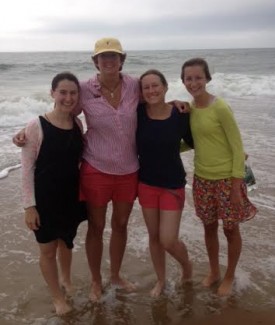 In silliness and seriousness, we practiced the script all week. After Gracie's sun-drenched adolescent confidences: "I'm sorry things are hard for you." After Trish's spilled milkshake during a junk-food orgy: "I'm sorry things are hard for you." After Clare's sunburned nose, my broken flip-flops, and every feminine insecurity: "I'm sorry things are hard for you." Although the phrase was funnier each time, there came to value its merit. One morning, Gracie identified the frustration when well-meaning adults offer automatic solutions to teenage woes without really listening; she just wanted recognition that things were hard for her! When Clare shared a late-night story about academic struggles, her sisters responded with complete sincerity. "Poor thing, that must have been so hard for you!" Only afterwards did they recognize the catch-phrase and dissolve into giggles.
The line became more natural with each recitation. Whenever problems were shared, the girls refrained from interruptions or advice, and squelched inclinations to relate their own experiences. "I'm sorry things are hard for you." As they validated one another's challenges (from bikinis to boyfriends) they found that their listening more alert, and their empathy less pro-forma. "I'm sorry things are hard for you." Even as we laughed, the antenna between these young women became tuned with fresh sensitivity. It was a week for conversation, closeness and a subtle absorption of beach healing.
And it taught us all a lesson. When a person is troubled, or even depressed, one of the best things you can say to a person who is depressed is: "I'm sorry things are hard for you." It's validation people seek and not proposed fixes.
This article was written by:

Jennifer Tillman was born and raised in Maryland, where she has worked in retail, in various shapes and sizes for 30 years. She loves baseball, used bookstores, and the beach, not necessarily in that order, and is learning to be open about her depression and the lessons it continues to teach her. Find Jennifer on Facebook.
To be a guest author on the Your Mental Health Blog, go here.
APA Reference
Author, G. (2015, February 18). Depression: What to Say: I'm Sorry Things Are Hard for You, HealthyPlace. Retrieved on 2023, September 22 from https://www.healthyplace.com/blogs/yourmentalhealth/2015/02/depression-what-to-say-im-sorry-things-are-hard-for-you
Author: Guest Author
So well written and simple. I love it. I will use it and remember it. Good luck x
Leave a reply