A Mother's Effect On Her Daughter's Self-Esteem
Mothers need to be deeply aware of what they convey to their daughters through the attitudes they model about their own relationship to their bodies, their self-talk about how they look or "ought to" look, and how secure they seem in their choices. When a mother is battling low self-esteem or not even battling because she's unaware it's a root cause of frustration within her life, her daughter is likely to carry this burden as well. If a woman has spent her lifetime locked in a cycle of dieting, hatred of her own body and carries a sense of inadequacy, her daughter will understand that that is an acceptable way to consider oneself, although it's not. This will inhibit a girl from feeling positively about her own body and she may even come to believe that negative talk is a way to bond with her mother or that being positive about herself is a form of unacceptable bragging.
Modeling Positive Self-Esteem for Your Daughter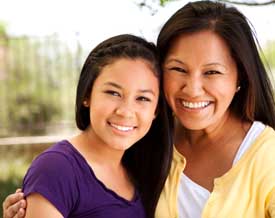 So what's a Mom do? Assess your own issues. Are there lingering body image problems or even eating disorders that have haunted you since your teenage years? Try to address these subjects, potentially with a counselor or a support group. Use the opportunity to give your daughter a healthier outlook as a chance to heal your own past hurts. Yet, beware of trying to re-live your high school years through your daughter.
Put an emphasis on being healthy rather than being a certain body weight. Go for walks together or a run or a hike or even a yoga class, whatever you both like. But don't use an emphasis on health as a ploy to get your daughter to lose weight. Chances are being in an environment outside your home will have the added bonus of opening up a new channel for talk. Discuss food with a focus on nutrition and enjoyment, rather than calories. Talk about the aspects of yourself that you feel good about; a job you know you're good at, the way a scarf sets off the color of your eyes, or a sense of competence at fixing something at home or making a special dish.
Remember that your daughter's ideas about her body or her fashion sense might not match your own. Avoid dressing in a similar style to your daughter. Chances are what might seem like fun to you will be difficult for her. Let her have her own space and style.
Don't get caught up in a sense of competition with other mothers about how either you or they look or the appearance of your daughters. Dispel talk that disparages other girls' looks if you hear your daughter engaging in this and don't do it yourself. Think about how comparisons are hurtful, even if whoever is being talked about never hears a word. This kind of conversation leads girls to wonder who might be talking about them and fosters insecurity.
This quote from Oprah sums it all up:
"You can't fix the girls and the self-esteem until you fix the mothers. As Naomi Wolf said so beautifully, 'A mother who radiates self-love and acceptance actually vaccinates her daughter against low self-esteem.'"
Consider where you're starting from and consider where you want your daughter to end up.

Dr. Carol Langlois is a former University Associate Provost and Dean, trained therapist, researcher, and author. Presently, she is working on a book called Girrl Up! which is a compilation of interviews with teen girls on the topic of self-esteem.
Dr. Langlois hosts a blog, Self-Esteem Coach for Teens and Young Women, to offer practical advise and guidance on self-esteem issues as a tool for parents and teens. You can also find Dr. Langlois on Twitter tweeting articles, tips and blog posts related to self-esteem.
To be a guest author on the Your Mental Health Blog, go here.