Schizophrenia and Relationships: What You Need to Know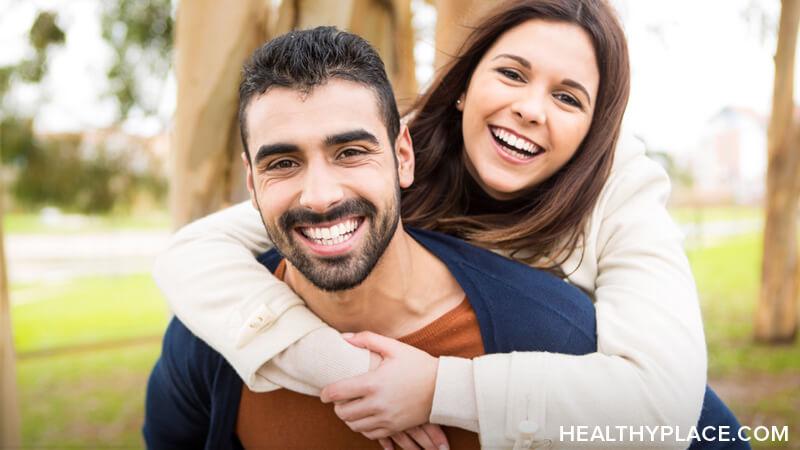 Relationships with schizophrenia are complicated. When I was diagnosed with schizophrenia, a lot of things suddenly made sense and a lot of things were instantly out of place. For instance, my relationship with friends and family got complicated. As first, I didn't know if I should tell them. I was afraid of how they might react. The same was true for meeting new people. When do I tell them? Should I tell them? What if I scare them away? The word "schizophrenia" carries a stigma after all. Stacked on top of this was the fact that I have always been more of an introvert by nature. Being told I was schizophrenic didn't help. Instead, it became a justification for me to withdraw and refrain from being social. My relationships have been altered by my schizophrenia.

I'm better about it now.
Understanding what's happening and why and having the unconditional love and support of my family, really gave me the courage to get over everything and be really open about it. As it turns out, I am not alone. If you have been diagnosed, or know someone who is schizophrenic, the following might help helpful.
Studying the Facts About Relationships and Schizophrenia
You see, I happen to be one of 2.2 million adults who suffer with this brain disorder. That means I am one part of a large number of people who at times experience these schizophrenia symptoms:
Cannot easily distinguish what's real from what is fantasy
Have trouble managing their emotions
Find it hard to make decisions
Have a hard time thinking clearly
Find it generally difficult to relate to people
And yes, while it can be debilitating, schizophrenia is treatable. I have found that I can manage schizophrenia best with the support of my doctor, friends and family. Nurture relieves the pressure and stigma attached to the disorder.
At the time of my diagnosis of schizophrenia, I was also in a relationship. My girlfriend at the time didn't understand what was happening to me. So, this encouraged me to find out more about how schizophrenia generally affects relationships and actually write about it.
My girlfriend didn't understand why I seemed to become more and more antisocial.
Social Skills Relationships and Schizophrenia
The first thing you must understand is that schizophrenia drastically affects our social skills.
We become introverted to the point where we would rather not speak to anyone.
We could notice extreme changes in our behavior. (For instance, we might have trouble with everyday tasks like bathing and dressing.)
We can be very irritable at times.
We lack motivation with no reason attached.
Sometimes we experience hallucinations or delusions
While my relationship ended after a while – probably because I was too young at the time – the fact that she stayed around helped a lot. I cannot really imagine what it must feel like to be the partner in a relationship with a schizophrenic.
However, if you are that person, then you need to understand what helped me and probably my girlfriend, too, was to communicate openly, to share and express our feelings and to make sure our mental health was as balanced as possible.
While it can be challenging to be in a relationship with someone who is very unpredictable, and, at times, unstable, many schizophrenics, such as the brilliant Elyn Saks, have held loving long-term relationships.
Relationships with Schizophrenia Are Possible
Don't let schizophrenia wilt your existing relationships or keep you from pursuing new ones. It doesn't have to. There are many examples and great resources available to help you on your journey. So long as you are willing to put in the work and accept help when offered, you have nothing to fear.
This post was written by:

Mike Jones is a blogger and healthy living promoter. His own struggles have ignited the spark to move past negative diagnostics, stigma, and rejection and focus on natural remedies and a great fitness routine. To learn more about the condition affecting not only his mental health but each and every relationship he had, Mike put together SchizLife.com. Find Mike on Twitter.
To be a guest author on the Your Mental Health Blog, go here.
APA Reference
Author, G. (2017, July 18). Schizophrenia and Relationships: What You Need to Know, HealthyPlace. Retrieved on 2019, September 14 from https://www.healthyplace.com/blogs/yourmentalhealth/2017/07/schizophrenia-and-relationships-what-you-need-to-know
Author: Guest Author
I'm going through the exact same things and I want to support him but I don't believe when he says he loves me because he once told me he wasn't afraid to lose me and that everyone is scared of being alone so is he using me? Idk maybe, should I take time on this
Hi Lola. I'm studying a degree in psychology.
I don't believe that your ex-boyfriend has schizophrenia. I'm no medical doctor, however, I do think that he may have borderline personality disorders (BPD). Symptoms include paranoia, emotional detachment (including from himself), confusion, impulsive behaviour and contradictory feelings such as his drastic shift on his beliefs on sex, telling you that he loves you then shortly after degrading and portraying intense negative feelings towards you etc. He also displays intense, short-term anxiety, hostility, irritability, insecurities and identity issues. People with borderline personality disorders are often in poor, Intense, and unstable abusive relationships. The fact that he admitted to lying about his girlfriend liking you may be indicative of his fear of being abandoned in the sense that he may be trying to put in the effort to not lose you or he may simply fear loosing both you and his girlfriend to each other. Feeling rejected, neglected and relationship conflicts can trigger fear of abandonment. This results in the individual with BPD creating a negative perception of the other person, fighting and sometimes begging and threatening self-harm.
That being said really helped i didn't know how to handle it or what to do with my bf but what you said really help put it in perspective
Bless you ladies for putting in the time and effort to help those that have schizophrenia. If you ever decide it's too much, don't feel bad... just to love someone with schizophrenia is heroic. But one has to wonder... Do people with schizophrenia get better? We actually do get better if we take our meds and see a therapist. The key word here is "better." There is no cure for schizophrenia. To put it bluntly, our brains are simply impaired. I've taken antipsychotic and antidepressant medications for 16 years. I'm stable, but I still have a hard time with relationships and being social. Just recently, I realized that the medications I take make me sexually dysfunctional. I mean, I've known for a couple of years that a significant side effect of my medications is sexual dysfunction, but I didn't realize how much involvement it had in severely blocking me from being social. We know that sexuality has a major part in everyday life (for those whose parts are in working order). Without it, we're not healthy. This horrible side effect from the medications may explain a lot to those in struggling relationships. The solution? I don't know for sure. There are many different supplements out there that increase a person's desire for sex, libido, stamina, etc. I wish that there were medications out there that can make me as stable as I am now, but don't cause sexual dysfunction. Does anyone know for sure?
Leave a reply