How Multiple Calendars Can Track Mood and Schedule
Let's talk about calendars. We all have calendars of one form or another and some of us actually use them. I use multiple paper calendars. One is set aside for my doctor, therapy and other health-related appointments. The second is for work and work-related schedule. My third is for personal, family, birthdays and vacation time. Although it may sound overly complicated, dividing up appointments, etc. into various categories allows me to quickly look in a specific place for a particular type of event. I can check into therapy sessions to see if I am sticking to a fixed meeting schedule. If there are any trends, good or bad, I can spot them. If my mood is really good sporadically, I may find out that this good mood happens the day I visit the therapist. A bad mood may happen after I just had my truck repaired.
The same works for business and calendars. Each project has an individual scheduling calendar. These calendars carry deadlines, finish dates, progress tracking and time spent on the project. As a contract writer and engineer, I bill my actual time spent. If you invoice by flat rate or per job, you can track time spent to know if it is a profitable doing this job or not. I can also see if I am breaking the job down into small enough tasks. Too small a task and you may not function efficiently. Too large a task and you might get overwhelmed, procrastinate and not start the task.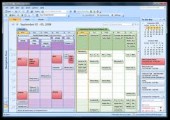 The calendars I create are photo-copies of a printed calendar page. I use the original as my personal calendar and the copies for the others. Colored copy paper helps in sorting of the calendars. You can also use a Day Timer or other personal time assistant.
You may find out over time you may not need all these calendars. Or you may not break all your projects apart and leave them on one calendar. You see you might already be using more than one calendar. You may also be filling out daily mood charts. These mood charts, when compared to your other calendars, can show visual evidence that maybe you should not travel on Mondays. A long meeting made you skip lunch. You had a schedule with three deadlines in one week. All proved to be too disruptive to your mood. This is all done by analyzing your mood charts with your other calendars. Knowing yourself with this chart information can help your moods over time.
(P.S. HealthyPlace has a great, easy-to-use online mood journal, mood tracker for tracking your moods.)
APA Reference
Zawistowski, P. (2010, October 4). How Multiple Calendars Can Track Mood and Schedule, HealthyPlace. Retrieved on 2019, August 22 from https://www.healthyplace.com/blogs/workandbipolarordepression/2010/10/work-and-multiple-calendars
Author: Peter Zawistowski