Is There a Difference Between an Anxiety and a Panic Attack?
I could just say yes but that would make this very short. If this seems a bit 101 it may be but I was asked and I thought it worth the post.
Panic attacks are well-defined things. It isn't a notional concept. The terms anxiety attack and panic attack are not synonymous. For all that they're commonly conflated (I'm guilty), they are distinct; In nature, process, treatment, and consequence.
An anxiety attack is a generalized thing. The term covers its bases, whereas panic attacks have specific DSM-IV criteria. What you experience either meets those criteria or it doesn't -and in that case it's more likely an anxiety attack or something in the nature of a broader issue.
Panic attacks may or may not feature as part of an anxiety disorder.
All of the above isn't to say one or the other is more serious. It's all shrink-talk really but it helps to have the knowledge, floating around somewhere. Helps when you're communicating with doctors, or when Googling for the mountain of research it takes to keep from having a panic attack about the fact that you have an anxiety disorder to treat. (Tongue firmly in cheek.)
Panic, complications, comorbidity
People who have panic attacks, uncomplicated by other mental health issues, tend to be prescribed straight-up CBT; Do not pass Go, do not shell out $200 dollars for meds, get thee to a cognitive behavioral therapist. Anxiety attacks are a little dirtier. CBT will probably be a first line treatment but there tend to be more cards to lay on the table. Neither scenario is as simple as the above flowcharting makes it sound.
From talking to people and from my own experience, these things aren't cut and dried. People tend to experience a bit of both, depending on when you ask. I do know for scientific fact that more people than not will experience a panic attack at some point in their lifetime. It may be 'out of the blue', or in the context of traumatic life events/crises. Hence the CBT.
Treating anxiety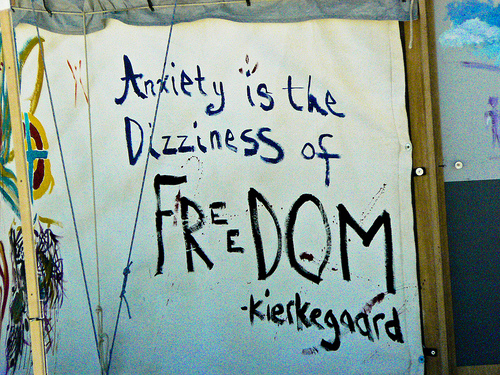 There's a skill-set for anxiety treatment that is almost as well-defined as the criteria for a panic attack. But again that's the uncomplicated version. The one where Mr X shows up, things aren't going well at home, maybe he's recently unemployed, and the way that shows up is in panic attacks. Not uncommon. Not easy, but not something he'll have to contend with over the long-term provided he can learn some ways to cope and express what's going on.
Most of what I talk about on this blog is the complicated version.