Mental Illness and Other People's Standards
On acceptance, anxiety and guilt
Life with mental illness isn't always fun. Not just because I have a real illness, and that real illness really does affect my life but because some folks have trouble accepting this. I'm not entirely sure why except they don't like the thought that someone with mental illness can "zomg, look just like them," and still be quite unwell.
That's the thing about invisible illness: Once revealed, people around you may feel conned, manipulated, lied to. Even though you've done nothing wrong.
Yeah, I'm guilty of being unwell in the general vicinity, of having mental health issues and having a life anyway. Sorry about that. Next time I'll wear my "mentally interesting" t-shirt so you can detect the crazy, before it gets in your Coke.
*passes the tin-foil hat*
Candy-colored unicorns aside, a brief flirtation with reality tells me that mental health stigma gets all up in there; One of the painful necessities of recovery is confronting, and accepting, that.
Mental illness means working harder to achieve the same stuff as other people. Even harder to have it valued in the same way, and then some more to hold onto that in a meaningful sense.
But it's all down to positive thinking, obviously.
The anxiety of passing for normal (whatever that is)
A lot of people with mental illness can pass for 'normal'. This makes having periods in which one is unable to cope with relatively simple things difficult to comprehend (by Other People's Standards).
Of course it couldn't just be that complex neuropsychological disorders exist across a spectrum of vulnerabilities and causation which make it tricky to predict the outcome on any given day? Nah, best assume this mental illness gig is one big plot dreamt up by psychiatry, or even better, something I invented for my own amusement.
That's totally it.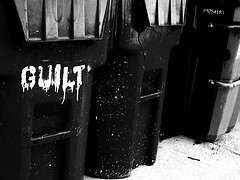 Meanwhile, by the power of acceptance, compassion, and not using other people's standards, I shall go about having either a good or bad day. Exactly as I always do. Which is exactly as it should be, and how dare anybody suggest otherwise.
If folks don't like the fact that they can't see my mental illness because -wait for it- it's happening to me, I find it hard to care anymore; Too busy trying to piece life together between panic and fatigue to give a carp about Other People's Stuff.
I truly don't believe having a mental illness that sometimes gets in the way of my appearing as normal as Other People think they do, and I could, is a costly imposition on other people's...
Other people call them character flaws, therapists call them symptoms of anxiety, and I call them life:
So my hands shake, I can't always think straight, sometimes I'm late because I spent the morning wishing the nightmares and anxiety away. That's probably frustrating, for you. Living a life wherein I'm judged by Other People's Standards™ is pretty frustrating for me, too. Probably because I find being patronized frustrating, no matter if it's usually headed "concern for my health."
I don't care how many good intentions that road is paved with, ascribing moral judgment to the fact of mental illness pisses me off -because it can and has and will keep far too many people from getting help.
Worse, it will keep them humiliated, in pain, isolated, and willing to tolerate the use of Other People's Standards™ against them: in a court of law, in the workplace, in their own homes, every single day.
APA Reference
White, K. (2011, June 1). Mental Illness and Other People's Standards, HealthyPlace. Retrieved on 2019, September 16 from https://www.healthyplace.com/blogs/treatinganxiety/2011/06/other-peoples-standards-acceptance-anxiety-and-guilt
Author: Kate White