Maybe I'm Not Lazy: Maybe I'm Just Ill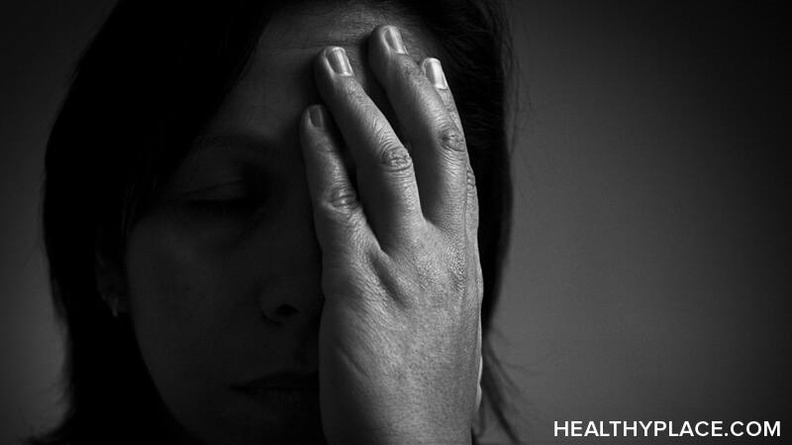 Back when I was living with my best friend in college, I just couldn't manage a lot of basic life activities. And you know it was the little stuff - doing the dishes, getting up off the couch more than once a day. Yeah, even I thought it was weird. Having such trouble with things as easy as taking care of myself, my home, my needs.
Long after I'd moved out, I realized that seeming laziness (as in it seems lazy to someone else) is a really big red flag in terms of my mental state. It's shameful for me and I felt stupid, but for a long time I just, well, couldn't. Too depressed, dissociated, afraid and out of it.
Despite how cool my friend was, I still felt horrid about being a lazy, useless bum. Guilt doesn't help when what I needed to understand (and sometimes still need to remind myself) is that it's the depression, the trauma, the anxiety and life stuff, and not a blame thing.
Get Motivated When Your Illness Makes You Seem Lazy
Visualization Exercises
Like, even if I couldn't take a shower or change my clothes that day, I would imagine doing that stuff . . . and then the steps towards it, the baby steps you need to take to get there, started to make sense again. Guess it gets your brain into prep mode.
I would break down the steps that each thing required: Make it so that even if I just approached the stack of dirty dishes, even that was a step in the right direction. And I'd say to myself, okay, tomorrow if I can I will wash one. See how that feels.
And if that felt like too much, that was okay too, but it was a tiny step closer to getting back my sense of ableness, of motivation.
Mental health is complicated. So is finding your way out -- all this stuff we go through, it's really complicated, confusing, hard. So setting myself small, manageable type goals really worked.
And I have this acronym thing that helps me a bunch when depressed -
H.A.L.T. -- Are you Hungry, Angry, Lonely, or Tired?
If so, address those first because if it's one of those things going on, on top of whatever else, then it's gonna be almost impossible for me to address the 'real' mental health issue(s) until it's sorted. Also, I tend to feel a whole lot more balanced after I've done just that much self-care and it's generally way easier to find a bit more focus, not get quite so lost.
Body-Mind Awareness
I find part of lack of motivation is also not being able to be particularly present for long enough to complete even the thought of an action. So I practice in my head what I want to do, build up a little intent at a time. Then from intent, you can get to do.
Even if all I can do that day is make a cup of tea, I pour all my focus into that one task: Into the small steps that go into it. The more I did that, the clearer the task became - sort of crystallizes in the mind as a much more real thing. A thing you can do, even amongst all the other things you can't.
APA Reference
White, K. (2010, November 30). Maybe I'm Not Lazy: Maybe I'm Just Ill, HealthyPlace. Retrieved on 2019, June 19 from https://www.healthyplace.com/blogs/treatinganxiety/2010/11/maybe-im-not-lazy-maybe-im-just-ill
Author: Kate White
Hi J,

At which point I'd say, find a new therapist. One that can offer the empathy you've every right to receive. "Just do it" has never been a particularly helpful phrase for me. It isn't therapy. It's an advertising slogan. I dunno, I'm a bit baffled by therapists who insist their clients can use a one size fits all healing kit to change their lives.

Yes, everyone has a tough time sometimes. Sure. And it's nice if that's offered as just a way to say hey, you're not alone in this. But if it's offered up as if it's somehow a solution, that's probably less helpful.

Anyway, I hope you can find the help you've been looking for! Keep at it. Finding the right therapist can be a really trying process.
hi julie,

oh yeah, that is a serious load to be carrying. single motherhood is just plain tough even without all the issues you've described. do you have a therapist at present? if so, could you talk to them about how you're feeling, find some options? and if not (i'm guessing not), perhaps you could call around and see if there'd be anyone who works on a sliding scale, and would be OK with working with you when the kids are in school, who might be available to help relieve a little of that pressure you're working so hard to contain?

i'm not sure where you live so i can't say for sure (and i wish i wasn't so jet-lagged answering this... if i can i will come back with a more detailed answer later) but my first thought, off the top of my head, is that perhaps there are women's advocacy services or occupational therapy services you could apply for? they are usually based within mental health outreach programs (public and private) or with state services. if there's a lifeline type thing in your area, you can always call them and they often know what types of services are available in your area --
because even if you don't think that option of going somewhere to sleep and think is available for you, there probably are options where at least someone could come in and help you with things around the house for a couple of hours here and there. maybe just give you a small break. (i had someone like that for a while. it helped. even just that little bit of talking to someone about how to manage things a tiny bit better helped)

there are also a bunch of online support groups you could join, if you'd like a space to say more about what's going on for you - that could be helpful. isn't always so easy though, i realize.

also, you could email The Samaritans because they are available 24/7 to help folks think through as many options as possible -- and they really know their stuff, and it sounds like you're in that phase where it can get to be a crisis thing relatively easily so if there's anybody you could let a little out with, that'd be a good thing, i reckon.

is there any family you could call to take the kids for a day? a friend, perhaps? probably you have thought of that already but i'm just throwing ideas out there for you, just in case.

any space in the day, or things you can do that feel in the least bit soothing/comforting/fun/OK for you, yourself, that you can find, it's OK to let yourself have those things. creative things are great, too.

journal what's going on for you if you can, or maybe listen to your favourite music, get a massage (even if it means having the kids there for it, if that's something you can afford. i know budgets are tight this time of year, for most of us)...

none of these things are a fix in and of themselves, of course. really they're just suggestions that may help you feel a tiny bit more stable, more OK, less depleted and exhausted and stuck -
and from there it can often start to seem more manageable (the things that really just don't/can't feel manageable right now, that is).

i understand how dark it can be. i really do. and i'll be thinking of you!

take good care
Kate
Leave a reply