Living With People Who Don't Understand Your Anxiety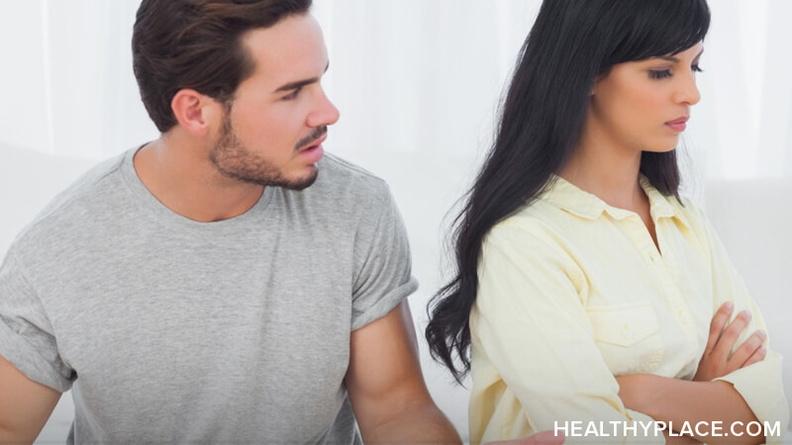 Many of us live with people who don't understand our anxiety. About 18% of American adults live with an anxiety disorder.1 There are millions more all over the world who also have anxiety, which means that a lot of us live with people who don't understand our anxiety. Whether it's roommates, parents, spouses, or children, you may be living with people who don't understand (Lack of Understanding of Mental Illness). Here are some thoughts on how to cope better in that situation.
My Experience Living With People Who Don't Understand Anxiety
I currently live with my parents. Yes, that's right. I'm turning 50 next year, and I've lived at home the past two years. I went through a hellish experience a couple of years ago where I was dealing with the end of a relationship, plus struggling with my various addiction problems. My life basically disintegrated, and I was forced, by circumstance, to live with people who, though sympathetic, don't understand my issues with anxiety.
But, I consider myself lucky. Many others are living with people who not only don't understand anxiety, but are hostile towards it. A great number of people with anxiety disorder are in living situations where they are shamed, mocked, and forced to survive mental health stigma on a regular basis. Thank God I am not in a situation like that.
Tips for Living With People Who Don't Understand Your Anxiety
Don't take their lack of understanding personally. -- Can people without a mental illness understand us at all? I think most people don't understand anxiety because they've never experienced it firsthand. Like being in love, having depression, or parenting children, anxiety and panic disorder can't really be understood unless you've been through them yourself. Try remembering that the next time someone doesn't understand your anxiety. It helps make it less personal (How To Stop Taking Things Personally).
Gauge their empathy levels. -- There's a difference between not understanding and simply not caring. Just because someone doesn't understand doesn't necessarily mean they don't care. Try limited sharing about your anxiety to see which of the people you live with are worthy of being trusted with that information.
Set interpersonal boundaries. -- Among other things, setting functional boundaries lets us keep certain people out of certain parts of our lives. This is an important skill to have if you're living with people who don't understand your anxiety.
Spend time with people who do understand anxiety. -- The most important tip I can give about living with people who don't understand anxiety is to spend as much time as possible around people who do understand. I see getting support for anxiety as a survival skill -- a crucial part of how to create an emergency anxiety toolkit. It's our skills that make living with anxiety possible, and getting support from people who really do understand anxiety is the most important skill there is.
It's not easy to live with people who don't understand your anxiety. Unfortunately, it's simply a reality for a lot of us. It's the reality of my situation, too, at least for the time being. For now, the only solution I see is to keep practicing my anxiety skills until such time as I can live on my own again, which is a whole other can of worms. Thankfully, there are anxiety skills to cope with that, too.
Source
1 Any Anxiety Disorder Among Adults. (n.d.). Retrieved September 17, 2015.
You can find Greg on his website, Twitter, Google+, Pinterest, and Facebook.