Quieting the Inner Critic in Complex PTSD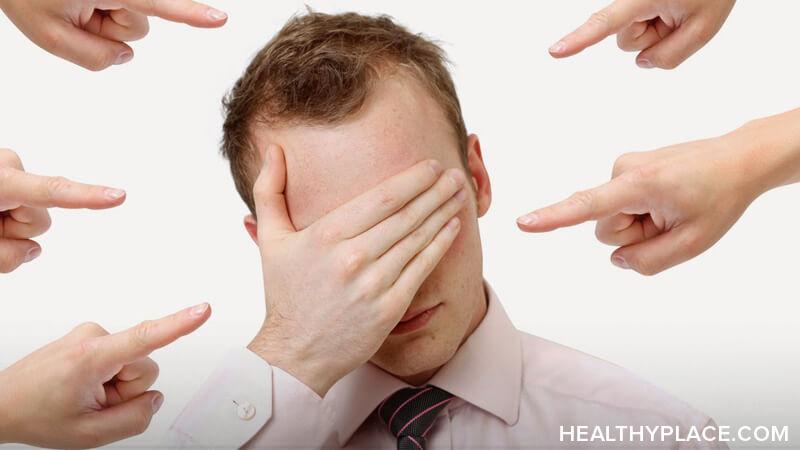 One of the greatest challenges of complex posttraumatic stress disorder (PTSD) is quieting the inner critic. The critic develops as a result of a neglectful or abusive home in which caregivers do not provide a sense of safe attachment in the child. Many children in this situation will enact perfectionist mode, believing if they could just be good enough or do things well enough, they can prove their worth and earn parental love. However, over time, as perfectionism fails to create the bond the child so desperately needs, anxiety and sadness build in the child.
As anxiety grows due to failed attempts at perfection, the inner critic finds its voice. The child begins to search for all of the ways he or she is flawed, becomes hyper self-critical and takes on the blame of the parent's lack of affection. The critic can become even worse when the abusive environment includes constant berating about the child's stupidity or worthlessness.
Eventually, the child believes emphatically that he or she is inherently faulty. Still needing parental love, a cycle begins of perfectionism to win over the parents followed by severe self-criticism. As perfection continues to fail, over time, perceived imperfection becomes deeply attached to fear and shame.
How the Inner Critic of Complex PTSD Causes Emotional Flashbacks
My childhood was filled with people who were wounded people themselves and therefore completely unable to provide me with a sense of safety and love. I took the perfectionist route, which not only didn't make my family treat me better but instead resulted in ridicule or physical harm. Eventually, I connected doing good with being very bad, but I just continued to work harder at perfection to prove my worth. 
Now, I have a very present inner critic. For a long time, I shamed myself for every little or big mistake, which would result in me making choices that were not healthy because I was angry at myself for what I felt was me not being good enough. I still struggle to ignore my inner critic at times. It loves to tell me how worthless and imperfect I am, which leads to me emotionally flashing back to the days when I felt that way all of the time. Once my inner critic takes charge of my thinking, I can spiral quickly into depression and anxiety. 
Silence Your Inner Critic to Manage Complex PTSD
Because your inner critic is so closely tied to the feelings of worthlessness you had as a child, it's important to stop it as soon as possible. One of the best defenses against the inner critic is to fight back with positive thoughts. If you can move quickly to identify the inner critic thought and replace it with a new positive one, you can head off a spiral down into an emotional flashback. 
Take note of situations in which your inner critic most often comes out. For me, it almost always happens if I'm taking a class because school was where I always tried the hardest to prove my worth. Even if I were to receive 99 percent on a paper, I would instantly start beating myself up over the missed point that kept me from receiving a perfect score. That little one point has caused my inner critic to lead me down into emotional flashbacks so badly that I quit a class, believing I had no right to participate.
Now, whether it's a class or anything else in life, I do my best to fight the critic and give myself credit for the part that I did right. This helps the abused little girl in me to feel it's ok to not be perfect.
Sometimes, it can be difficult to find anything positive when the inner critic has already sent you into a flashback. To be prepared for such situations, take time to create a list of some of your positive qualities and accomplishments, no matter how small.  This list can act as a constant reminder to the adult you that you are a worthy individual, helping you battle the emotional flashback. As you learn to interrupt your inner critic, you'll begin to be on your own side and teach the child within you to know that he or she has value. 
APA Reference
Powell, T. (2019, February 14). Quieting the Inner Critic in Complex PTSD, HealthyPlace. Retrieved on 2023, December 10 from https://www.healthyplace.com/blogs/traumaptsdblog/2019/2/quieting-the-inner-critic-in-complex-ptsd
Author: Traci Powell
Hi Traci, thank you for your post. I can relate to the inner-critic absolutely. Mine tortures me each time I take much needed alone time, which a desperately need as an introvert. It leaves me feeling selfish and horrible, which prevents me from using my time alone the way I want to.
I can relate! Both to needing the introvert time and for feeling selfish, but sometimes it feels selfish to NOT take the time I need because the downtime gives me time to reset so I can be the best version of myself when I'm not alone.
This article was so helpful to me. Thank you so so much. I do artistic journalling, where I can also write down feelings and experiences. I cant wait to start a page where I list my positive qualities.
Thank you for your kind words Patrick.
Leave a reply