An Example of Self-Care: Leaving 'Trauma! a PTSD Blog'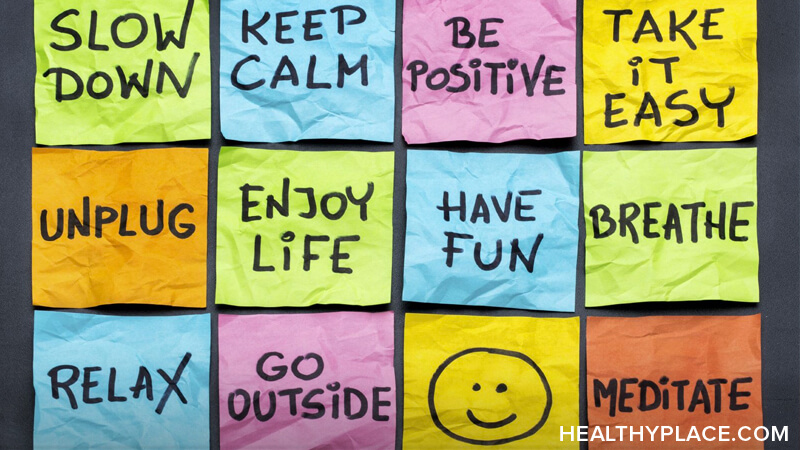 Here's my self-care example: The time has come for me to honor my self-care and say farewell to Trauma! A PTSD Blog. It's an honor to write for HealthyPlace, and I will miss it. However, my posttraumatic stress disorder (PTSD) symptoms tend to flare-up when I place too many expectations on myself, and that is where I find myself today. So, I'll leave you with a healthy self-care example of honoring a need to cut back on obligations.
Self-Care Example Set from Leaving 'Trauma! A PTSD Blog'
Part of successfully managing PTSD symptoms requires actively monitoring your levels of anxiety, fatigue, and depression in order to proactively reduce the symptoms before they become full-blown. I've learned from experience that ignoring mild symptoms can lead to major problems. The idea that plowing through for a while will improve things has never worked for me. Usually, my reasons for wanting to continue on with something, despite how frazzled I become, stem from a sense of obligation, guilt, or ego. That's not what we should be doing to ourselves.
Do you have obligation upon obligation? Do you have a need to please everyone? Do you give yourself permission to make the changes you need to feel better? Most of us would answer "yes, yes, and no." That's not particularly healthy.
Give yourself permission to back up. Know when to take time to regroup. Maintaining your mental health is your greatest responsibility. Without it, everything else you do will suffer. You might have short-term successes but the long-term consequences are not worth the price.
I wish all of you well. I'll still be adding to my personal blog and I'm sure I'll come back around to publishing articles when the time is right. Until then, take care of yourselves, you deserve it.
APA Reference
Hollowood, T. (2018, July 4). An Example of Self-Care: Leaving 'Trauma! a PTSD Blog', HealthyPlace. Retrieved on 2023, December 1 from https://www.healthyplace.com/blogs/traumaptsdblog/2018/7/an-example-of-self-care-leaving-trauma-a-ptsd-blog
Author: Tia Hollowood
Good suggestion, really to be followed
Leave a reply