Mental Health Stigma Can Affect Schooling or Career Training
Some people don't realize it, but mental health stigma can affect those in school or career training. This stigma, which affects people with mental health issues from elementary to post-secondary training, not only hurts the person involved when it happens, it can create barriers that keep the person from finding the right job, making a living, and having what he or she deserves--a full and productive life. Mental health stigma is almost always unfounded; for example, when people think of schizophrenia as having links to violent crime, and it is also extremely unfair to the person who is being stigmatised in the classroom. Don't let mental health stigma stop your career training or schooling.
Stigma Happens During School or Training in Many Ways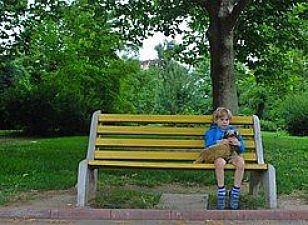 In my own younger years, I can recall other students mocking me and making fun of the fact that I was depressed all the time. Not only did their cutting words hurt when they were said, after elementary school and into junior high, I cut back on activities I loved like football and basketball because I feared more teasing and didn't feel I was worthy enough to represent my school. I withdrew into a world of video games and army toys. I wonder if my parents hadn't found an organization like they did in putting me into Air Cadets if I may have tried to end my own life at some point. Air Cadets gave me a purpose, gave me a new hope, not to mention friends who saw past my surface flaws.
Career Training Mental Health Stigma Forced a Change in My Life
I was letting my life slip away, spending each day reading or watching television, sitting and smoking cigarettes and drinking coffee in a poor mental and physical state. I decided I needed to change, and I started by signing up for correspondence courses which were difficult, but rewarding. Then, I got funding to attend adult high school and I pushed myself and earned a diploma. I found that when going to school with adults, people understood, empathized and often shared with me that they themselves had not only had mental illnesses and mental health issues they dealt with, almost all of the people I became good friends with had family members who dealt with everything from attention-deficit/hyperactivity disorder (ADHD) to Alzheimer's. In this schooling environment, mental health stigma wasn't an issue.
Years later, I decided a high school diploma wasn't enough and so, with the help of my local library, I was able to enroll in free courses that taught me computer skills and creative writing skills that made me into a writer and journalist. The important thing was that I had to keep trying to get an education, even if I had mental health problems that kept me from attending school. I had to start over from the bottom and try again. As a result I suffer less from depression, I have friends and a lot of reasons to live my life to the fullest, I take my medications as prescribed, and I have a much better income than when I was in a poor mental health state and living an unhealthy lifestyle.
Don't Let Mental Health Stigma Affect Your Schooling or Career Training
The record shows that people with mental health issues can accomplish anything they set their mind to. When I was first diagnosed, I had no hope; then later in my life, I heard about two women who were psychiatrists who suffered from schizophrenia. Then I saw the movie A Beautiful Mind with Russel Crowe in it where he played the famous mathematician John Nash. All at once, when I saw that movie, I knew that I could contribute to this world, I didn't have to be just a client at a mental health clinic.
Now I have edited entire magazines, spoken in front of huge audiences, taught classes in a University and published 10 books. All of these things done after I used to think that bipolar disorder and schizoaffective disorder made me useless to society and that I had no hope of a real career. In the end mental health stigma didn't stop my school or career training and I'm thankful for it.
APA Reference
Gregersen, L. (2016, September 11). Mental Health Stigma Can Affect Schooling or Career Training, HealthyPlace. Retrieved on 2023, October 4 from https://www.healthyplace.com/blogs/survivingmentalhealthstigma/2016/09/when-mental-health-stigma-affects-your-schooling-or-career-training
Author: Leif Gregersen
This is such a beautiful story. I am so glad this man kept going. I have bipolar disorder one, and I struggle many days just to feel like I am worth breathing air. I came from a family where abuse was common, so I have low self-esteem, and often feel like I don't have much to offer to the world. I take my meds, see my therapist, eat well, regulate my sleep, don't drink, and am very active in my recovery. But I still struggle with living life on life's terms (yes, I'm an Al-anon-er as well). I wish I could accomplish more in my life, but I've had to accept that my illness is disruptive enough to keep me from earning a degree. This has shattered a dearly held dream from a very early age, because when I was little I just assumed I would get a college education. I am still devastated from this, but I am slowly learning to accept this as my reality, and try to find meaning in a smaller capacity. I work with special needs kids, as well as mentally ill ones, and it is my passion to be as good and helpful and supportive to these little one's as I possibly can, because I know how they feel. Having a disability has made me sensitive to the moods and needs of those who aren't able to understand life in the same way "normal" folks do. So I pour my heart into my work as a special needs para. It isn't the career I envisioned for myself, but I hope that in some small way I will make a difference to someone who hurts like I do.
Leave a reply