About Andrea Paquette, Author, Surviving Mental Health Stigma Blog
Greetings From The Bipolar Babe - Your Fellow Stigma Stomper
Hello, my name is Andrea Paquette and I am known as the Bipolar Babe in the mental health community. My website is www.bipolarbabe.com and my mandate is to stomp out stigma. Having been diagnosed with bipolar disorder at the age of twenty-six, I know what it means to face stigma internally and externally. It is my desire to share my personal experiences of living with bipolar and explore how I have dealt with stigma throughout my life for the past 11 years. I am genuine and honest, as if you were a close friend of mine. I promise to share all stories candidly, and I hope you will be my friend soon in this wonderful online community.
A Glimpse of a Stigmatized History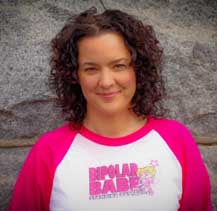 You are probably wondering what I mean by stating that I have faced internal and external stigma. Upon diagnosis, I was not initially stigmatized and I did not know what to expect from others in regards to my situation. However, as time passed, I was faced with people kicking me out of my own home and confiscating my key to having 'friends' abandon me upon discovering that I had a mental illness. I have been ridiculed by new roommates and an ex-boyfriend who exploited my illness threatening to have me committed to the psych ward on a weekly basis.(Stigma and Discrimination: The Effect of Stigma)
I have also been internally stigmatized (self-stigma), which was a direct result from my external experiences with the people in my life over the years. I was barely able to look at myself in the mirror without shame and guilt emitting from my horrid image. Over the years, I have learned to grow fonder of that image, but weight gain from medication has toppled my BMI recently and the dread of seeing myself seems to have lingered in some disappointing way. However, I continue to fight against this negative and stigmatized perception of myself.
Why Write About Stigma?
I am both privileged and honored to be chosen to write this blog about my experiences with stigma because I feel it is a vitally important topic. Having a mental illness often means that you have been stigmatized at some point in your life or that you certainly will be. I hope to provide encouragement in my blogs to help you overcome the negative effects that self-stigma and stigma can have on you, and perhaps remind myself along the way that I, too, am worthy, loved, and appreciated by many. We often need to be told such things and I am here to do just that.
I thank you for taking the time to read my first blog today and look forward to connecting with you all in the future. Remember a mental illness is not who you are, it is simply what you have. It was only when I had this realization that I was able to deal with the stigma that was bestowed upon me. I am not completely free of its clutches, but I certainly am tackling it head on.
You can also connect with Andrea on Google+, Facebook, Twitter, and at BipolarBabe.com.
APA Reference
Paquette, A. (2014, April 27). About Andrea Paquette, Author, Surviving Mental Health Stigma Blog, HealthyPlace. Retrieved on 2019, July 18 from https://www.healthyplace.com/blogs/survivingmentalhealthstigma/2014/04/about-andrea-paquette
Author: Andrea Paquette