The Stigma of Seeking Mental Health Help and Treatment
'I need mental health help.'
When you are suffering from a mental illness, these are often the three most difficult words to say. But the real question is 'why?'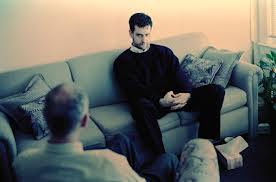 We don't hesitate to ask for help when the transmission on our car isn't working. We don't hesitate to ask for help when there is a leak in our ceiling. And we don't hesitate to ask for help when we experience some sort of physical symptom. So why is it so difficult to ask for mental health help?
Asking for Help is Not Admitting to Being Weak
I believe the answer lays in stigma, but not the societal kind. After all, since doctor's and therapists appointments are confidential, why would you be worried about anyone finding out? Therefore, it must come down to a mistaken belief that we share that 'we must be able to handle this on our own and it is a signal of weakness to ask for help.'
When psychiatry gained popularity in the 1970's there was a great deal of stigma attached to seeing a therapist. People thought that those who went to therapy must be 'crazy' or 'a few screws loose.' But in the year 2013, people from all walks of life seek therapy. Some for relationship problems, some for addictions, some for social anxiety and some for depression. You wouldn't think of someone seeing a therapist for a relationship issue to be 'crazy' so why would anyone think you were 'crazy' for seeking help for a different malady?
Self-Imposed Stigma
My belief is, that they probably won't, unless you give them good enough reason to think so.
So much of this supposed stigma lies in our own thoughts and beliefs about the issue at hand. If you think you are weak for seeking therapy, then you are going to automatically think that others have the same view. If you think you are 'lesser than' for asking for help, then you will act in a way to make others think the same. It is a dangerous self-fulfilling prophecy.
I know in my life, people no longer stigmatized against me after I stopped allowing it to happen. Once I learned to confidently say that 'yes, I'm in therapy. It has changed my life. I would recommend it to anyone,' they quickly lose their stigmatizing steam. But if I acted ashamed of being in therapy, surely people would stigmatize against me.
If You Aren't Helping My Life, Then Why Are You Here?
Of course, there are always people who are going to be mean, no matter what you say. But then you need to ask yourself the question 'why are they even a part of my life?' If someone isn't helping your life, then they don't deserve a part in it.
Chris Curry's website is here. Chris is also on Google+, Twitter and Facebook.
APA Reference
Curry, C. (2013, June 25). The Stigma of Seeking Mental Health Help and Treatment, HealthyPlace. Retrieved on 2019, August 24 from https://www.healthyplace.com/blogs/survivingmentalhealthstigma/2013/06/the-stigma-of-seeking-help
Author: Chris Curry