Feeling Compassion for Eating Disorder Sufferers and Survivors
I recently found myself on the road for work, traveling and connecting with a lot of people and, therefore, creating wonderful memories with them. When I had a quiet moment to myself, while waiting at the airport, I came across an article written by a celebrity. The article was her first-hand account of a long battle with her eating disorder. Of course, I felt compelled to read it once I got through the first few lines and realized what it was about. At some point in my reading though, the description of the self-harm this woman had engaged in became too graphic for me and something quite unusual happened in terms of my reaction to it. After reading one particular paragraph, I quickly shut down my tablet and put it away in my bag in a matter of seconds. Simply put, I had been deeply disturbed by what I'd just read and something in me snapped. The words that came to mind before I'd stopped reading were, "Wow, I would never do that," followed by, "Wait, I've been there. I know what it feels like." At once, I found myself both thinking that what I'd read about this person's behaviour was disturbing, yet at the same time, I realized I'd been that person at some point in my life.
Feeling Compassion Helps Me Maintain My Eating Disorder Recovery
Upon making sense of my reaction, I calmed down. Immediately, I felt my heart fill up with immense compassion for the author or anyone else currently suffering from, or who'd ever suffered from, an eating disorder. Immediately, I recognized how easy it is to judge someone else's story, even if I have experienced a variation of the same patterns in my own battle against a mental illness. More importantly though, I realized that my reaction also meant that this part of my life and struggle is over: I would never binge and purge again the way I used to. I simply can't picture feeling compelled to do so and choosing to engage in that kind of behaviour again. What I also do know, is that in order to achieve this, I have to make an everyday choice to reframe negative thoughts about body image when they enter my mind.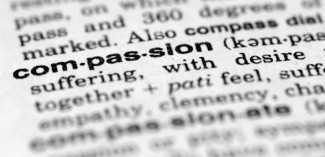 It would be easy to feel smug about recovery. It would be easy to say I'm "above" falling back into old habits - that I'm too well now that I've been recovering for the last six years. That's the trap I can't fall into; that is where I'm currently at in my journey to recovery.
Making Sense of My Feelings is Necessary in My Eating Disorder Recovery
Eating disorder recovery is a lifelong battle, because even now that I'm done with the self-harm, I still have to keep in mind that if I ever were to let negative thinking get the best of me and decide not use the tools I've developed over the years to manage and control triggers, or if I stopped surrounding myself with the right people in my life to maintain my recovery, I might be in trouble.
I always end up drawing the same conclusion: I know I deserve better in life than what my eating disorder taught me to believe I deserved. I know I deserve recovery. As much as recovery was always within my reach, being recovered is a feeling I carry with me wherever I go, and though my former history with an eating disorder is very present in my mind on a daily basis, I'm not heading back to the place I once found myself in.
What about you, and your journey to recovery? Do you ever find yourself reading or hearing about another person's struggle with their eating disorder? What does it make you think of?
You can also connect with Patricia Lemoine on Google+, Twitter, Facebook, and Linkedin.
APA Reference
Lemoine, P. (2014, May 27). Feeling Compassion for Eating Disorder Sufferers and Survivors, HealthyPlace. Retrieved on 2023, December 11 from https://www.healthyplace.com/blogs/survivinged/2014/05/feeling-compassion-for-eating-disorder-sufferers-and-survivors
Author: Patricia Lemoine