Being Mindful in Bulimia Recovery
Every day, I make small choices which greatly impact the maintenance of my bulimia recovery. One of these choices starts with thinking ahead in the morning on the meals I plan to have throughout the day; while another is being mindful of the inner dialogue I have about my self-image and how it relates to my eating habits.
Being Mindful Can Prevent a Bulimia Relapse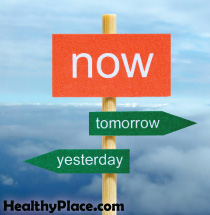 Still, sometimes, I'll feel like restricting if I'm stressed out or not feeling good about myself for a number of reasons. In those times, it's the coping skills I've developed that get me through. Part of those coping skills, include understanding the cause of my emotions and how they relate to my former mental illness, bulimia. This is why I'm almost always confident I will not relapse.
However, I consider it important to be mindful or my mood and keeping it in check; especially when I start to feel somewhat smug about maintaining recovery. When that happens, I get back to the basics and remind myself it's easy to slip back into bad eating habits, poor body image, and low self-esteem.
In this video, I share some of my tips to get through tough times at the table or even before I get there; because really, it all starts in the mind. I hope you find it helpful! As usual, feel free to leave some comments below. I love reading them and connecting with you that way.
You can also connect with Patricia Lemoine on Google +, Twitter, Facebook, and Linkedin.
APA Reference
Lemoine, P. (2013, November 5). Being Mindful in Bulimia Recovery, HealthyPlace. Retrieved on 2023, December 1 from https://www.healthyplace.com/blogs/survivinged/2013/11/being-mindful-in-bulimia-recovery
Author: Patricia Lemoine