NEDA Week 2011: It's Time to Talk About It
National Eating Disorders Awareness Week 2011 starts this Sunday. This year's theme is "It's Time to Talk About It."
Talking about it means dispelling the myths surrounding eating disorders. Anorexia nervosa is not just an illness of upper middle-class and wealthy adolescent females. Bulimia nervosa is a deadly illness even if the person suffering from it is at a normal weight. Binge eating isn't just eating an extra cookie or two.
Eating disorders are real illnesses that can kill.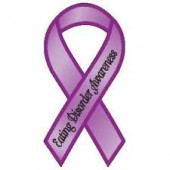 Take any group of people. They can be black, white, Native American, or any other ethnicity. They can be male and female. They can be young and old. I guarantee you that within that group will be at least two or three people who suffer from an eating disorder.
I confess that I never thought about men having anorexia nervosa until I was admitted to Rogers Memorial Hospital's eating disorders program in 2008. There were four males and three females in the patient population. All of us but one patient was diagnosed with anorexia. This was my first inpatient hospitalization for my eating disorder, and I had thought that every patient would be young and female.
But I was wrong. Not only were there more males, I was not even the oldest although I was forty-three. I looked at these emaciated males and did not understand how they became anorexic. Of course, I was very malnourished at the time and wasn't thinking very clearly about anything. I really didn't understand how I became anorexic, and I still didn't believe I had a life-threatening disorder. But I still remained baffled by the fact that men, too, could develop anorexia or another eating disorder.
I have learned a lot since then. I keep a personal blog, and I have met other males who struggle with anorexia, bulimia or binge eating disorder.
Then there is the idea that anorexia is the disease of the young and the rich. This is perpetuated by the media and its plethora of images of young, white female celebrities who have or have had anorexia.
But I am not young nor am I rich. I come from a working class background. I developed my eating disorder when I was in my early forties. I remember once telling my eating disorders psychiatrist that I couldn't possibly have anorexia because I didn't fit the "profile." He just rolled his eyes at me and said that I was definitely anorexic and needed treatment.
Since I started treatment in 2008, I have met people with eating disorders who come from such diverse cultures as Native American to Pakistani. I have seen a seventy-six-year-old woman suffering from anorexia at my doctor's office. I have met a twelve-year-old girl who needed a feeding tube and had been fighting anorexia for since she was ten. I have several middle-age friends who battle binge eating disorder. People with eating disorders are a diverse group.
So why is it important to talk about it? I believe talking about it, shedding light on what is often hidden from the general public, is the first step toward the eventual elimination of eating disorders. That is our ultimate goal: "Until eating disorders are no more."
Because I will stress: Eating disorders can kill. Many people have died of eating disorders. I hope through awareness and education that no one else has to suffer or die of an eating disorder.
For more information on next week's NEDA activities, visit the National Eating Disorders Association website.
APA Reference
Gambrel, A. (2011, February 18). NEDA Week 2011: It's Time to Talk About It, HealthyPlace. Retrieved on 2023, September 25 from https://www.healthyplace.com/blogs/survivinged/2011/02/neda-week-2011-its-time-to-talk-about-it
Author: Angela E. Gambrel