About Jessica Hudgens, Author of the Surviving ED Blog
I'm Jess. I'm twenty seven. I love to take jumping pictures. I have more books than my bookcase can hold, all organized by genre. I sing along to Broadway show tunes while I work. I graduated with a bachelor's degree in Psychology and History and I'm in the process of applying to graduate schools. I have huge heart for people with special needs and mental illnesses.
Oh, and I'm recovering from Anorexia Nervosa.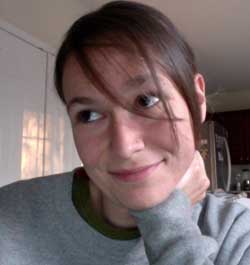 I struggled with an eating disorder, undiagnosed and untreated, from ages 14 to 24. My eating disorder became out of control when I was 24 and though I was still deeply in denial, there was no denying the diagnostic code 307.1 written on all of my paperwork at doctor's offices. I was in recovery for a while, then relapsed. Then eating disorder residential treatment center, then relapsed. Then partial hospitalization, then relapse. Another stint in partial hospitalization, followed by a relapse that nearly killed me. Four months in a hospital and residential facility. And now…recovering.
I'm not recovered -- far from it. The eating disorder recovery process is long and hard and painful and I am still very much in the midst of it. But I AM recovering. Day by day, bite by bite. I know that full recovery is possible, because I know people who have done it. I won't settle for anything less. I hope you won't either.
I don't promise to be perfect. I don't promise that I will make huge recovery victories every day. But I promise this: I will be honest. Because that's the only way to recover.
Whether you have an eating disorder or know someone with an eating disorder, I hope this little corner of the web helps you find peace and hope. If you know someone with an eating disorder, I hope you can begin to understand how they are suffering and how you can best support them. If you have an eating disorder, I hope you find new perspective and begin to believe that a full recovery is possible for you, too.
Video: Why I'm Writing About Surviving Eating Disorders
Jess can also be found on Google+, Facebook and Twitter.
(P.S. My articles will be appearing every Thursday, starting Dec. 27, 2012)
APA Reference
Hudgens, J. (2012, December 16). About Jessica Hudgens, Author of the Surviving ED Blog, HealthyPlace. Retrieved on 2019, July 23 from https://www.healthyplace.com/blogs/survivinged/2012/12/about-jessica-hudgens
Author: Jessica Hudgens