Hope for Eating Disorder Recovery
Do you believe there is hope for recovery from your eating disorder? Or do you believe the best you can hope for is management of your eating disorder symptoms?
I believe there is hope. I believe that one day, I will be free.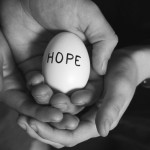 The Inherent Hopelessness of Eating Disorders
There is an underlying current of hopelessness in all eating disorders. I don't mean this to say that those with eating disorders should feel hopeless, but instead that these illnesses create hopelessness within.
My world was very dark when I was enmeshed in anorexia. I woke up each day praying that I would die. From a heart attack. From malnutrition. From suicide.
It didn't matter. I just wanted the pain to stop.
However, death from anorexia is often a slow process. One of my friends struggled for about sixteen years before dying from complications of anorexia in November.
I think of one of my friends who struggles with binge eating disorder. She is happy. She does have a fulfilling life. But she also suffers with obesity-related health problems. She is still seeking seeking relief from her eating disorder.
I think another one of my friends said it best when she described herself as a "happy sad person." She is joyous and kind and caring . . . and she also is sad and anxious and struggling to find recovery from anorexia.
The Dream of Eating Disorder Recovery
Although I often prayed that I would die from anorexia or a related cause, a tiny flame of hope flickered within my heart after I met my current eating disorders psychiatrist in August 2008. He firmly believes that full recovery from eating disorders is possible.
However, the light of hope often burned low and threatened to be snuffed out. I would turn to restrictive eating and self-harm in order to combat anxiety and depression. The voice of self-hatred would flare up and threaten to consume me.
I found out that some people don't believe in full recovery from eating disorders.
I almost bought into that. Recently. I started to doubt that recovery for me existed. I thought perhaps the best I could hope for was to manage my symptoms.
It is perhaps not so strange that as I once again began to doubt that recovery is possible, I started falling into old eating disorder thinking patterns.
That I was fat. That I needed to lose weight. That I eat too much. That . . .
It wasn't long before I found myself looking at "thinspo" blogs. A warning bell went off in my head, attempting to drown out the siren call of size zero.
I was losing hope.
Then, this morning, I thought to myself, There are more important things in life then being a size zero. Friends. Family. Freedom. Books and learning and growing as a human being.
Life. Hope returned. I could breath again.
APA Reference
Gambrel, A. (2012, April 30). Hope for Eating Disorder Recovery, HealthyPlace. Retrieved on 2022, August 13 from https://www.healthyplace.com/blogs/survivinged/2012/04/hope-for-eating-disorder-recovery
Author: Angela E. Gambrel
I needed to read this. As I did tears filled my eyes. Finally something coming out. I've been in treatment for 2 years now for my eating disorder. I've lost hope. Doubting if full recovery is possible. If it is for me. I quit because I was sick of fighting this battle that I don't know if I will ever win. I've lost hope. I need it back, but I don't know how or where. I just want to know if it is possible. Or am I just another statistic?
My brother had anorexia and it was hard on him and the family. Growing up with him I felt there was nothing I could do to help, nor did I really understand why he wouldn't eat. I know he struggled for years with hopelessness. I am just now finding your website and it touched me to know that people who are dealing with this illness are finding hope. Terry has recovered finally but I still find comfort in knowing other people are getting through it. I found another survivor who has a comforting website Get Busy Thriving for anyone who wants inspiration.
Hope for the best, I always move with this thought. This post is quite motivational and sharing useful information. Keep it up.
We are a support, information and motivation site for 11-18 year olds. We love following your posts. We believe full recovery for Eating Disorders is possible - we have faith in your recovery and send you our wishes and hopes for a full recovery. We have seen people beat anorexia after years and live happy lives and we wish this for you!
Once you choose hope, anything's possible. ~Christopher Reeve
Leave a reply