Your Emerging Self: The Beauty of Anorexia Recovery
The road to eating disorder recovery has been a long and difficult journey for me. I often have felt lost in the fog of anorexia, unable to relate to my husband or other people. I have struggled, at times, to even think when I was in my worst restrictive periods. Often, I would wake up and wish I had died in my sleep. I was that tired of fighting anorexia.
Today, I feel triumphant. I reached my healthy weight this week, and my doctor says I am ready to move onto the next step of recovery: peeling off the layers of anorexia and discovering my true self.
Anorexia Recovery and Emotional Freedom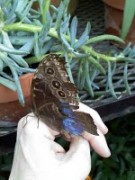 It feels like I have been a caterpillar for years, and I am just now slowly emerging as a butterfly. I am not yet ready to completely fly free, but I am fluttering my wings to test them and eventually, one day I will take off and not look back.
I have several friends who have recovered from anorexia, bulimia, or binge eating disorder and each one describes recovery differently, and yet at the same time, as freeing.
That is how I am starting to feel — free. I haven't been a shining example of someone who wanted anorexia recovery for the past several years. I often ignored my doctor's advice, and even a NG feeding tube in February and a six-week stint at a partial hospitalization program did not shake me from my ambivalence about recovering from anorexia. At some point, my thinking began to shift and I decided I would most likely remain anorexic the rest of my life.
Recovering From Anorexia Comes in Stages
Slowly I decided I wanted to live again.
For a while, recovery was just hard work with little payoff. I had to eat many calories and gain weight — exactly the two things someone with anorexia does not want to do.
However, during these past few weeks, I have noticed some changes. I can think clearer and write better. It is easier to have conversations with my husband about real things, not my eating disorder. (We talk quite frequently and are hopeful for reconciliation.) My anxiety and depression has lessened significantly. People with anorexia and other eating disorders most likely also experience both of these illnesses.
I am beginning to feel free. Free from the tyranny of the scale and weight. Free from counting calories and restricting. Free to pursue things I like and enjoy the relationships in my life.
Free to emerge as myself. That is the beauty of anorexia recovery.
APA Reference
Gambrel, A. (2011, January 28). Your Emerging Self: The Beauty of Anorexia Recovery, HealthyPlace. Retrieved on 2023, November 28 from https://www.healthyplace.com/blogs/survivinged/2011/01/your-emerging-self-the-beauty-of-recovery
Author: Angela E. Gambrel