Summer's End With Your Special Needs Child
Summer's end is always bittersweet for me. It is probably my favorite time of the year. I still carrying the excitement for the warm weather, vacations and happy bliss that comes with summertime. So just as Bob laments back-to-school time, I feel a little sad when the end of summer comes.
Another Summer Bites the Dust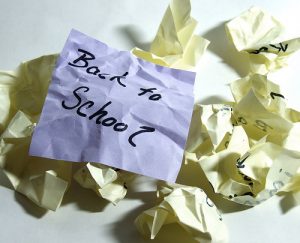 With the end of summer comes the preparation and preoccupation with the back-to-school frenzy. Supplies, uniforms (Bob's in a private school) and schedules. So here are some tips to ensure a great end of summer with your special needs child and bring on a happy start to the school year.
Plan a final trip
Whether it is a picnic or beach trip, it can be a great closure to summer. Last year, Bob and I went to Coney Island's Luna Park with my best friend, Michelle (who happens to be my biggest cheerleader). It was a couple of weeks after Labor Day and the school year hadn't kicked into high gear yet. It was so peaceful and reminded me of the slower pace of the summer. Bob and I enjoyed the rides and then a long stroll up and down the beach. We found treasures and took fun pictures of everything around us. It was a great memory to make.
Encourage your child to finish summer homework
Bob gets summer homework every year (so did I). And over the last couple of years, I've learned how to space out homework time throughout the summer so that Bob doesn't have too many projects at the end. As of this writing, Bob has two articles to read and two book reports to write. Since he still has several days left (and his father is helping me), Bob will be able to complete the assignments without too much pressure.
Shop for supplies
If your child's school provides a supply list, go out and shop with your special needs child. Allow him or her to choose a theme for the supplies (ie favorite characters) or find plain supplies that can be decorated as fun art project. This will help your child build excitement for the first day of school and go in feeling confident.
Reset the routine
Bob was in two programs this summer, so his routine did not change much. Other than wearing regular clothes and taking field trips out, it has been the same. But, if your special needs child has been sleeping in and staying up late, now is the time to switch back to the routine. I find that keeping Bob's summer schedule similar to his school year schedule has helped him transition easier.
Set some goals for the year
Talk to your child about a goal he or she would like to achieve by the end of the school year. I wrote about Bob's goal last year and hope to help him set a goal for this year. Bob was so confident and proud of himself after meeting his goal. Going into the year with a goal can really motivate your special needs child.
Make sure to have fun often
Even with school starting, you can still do fun activities. Plan for fun weekend events or even after-school activities to keep your special needs child engaged beyond summer's end.
Parents - what does the end of summer mean to you?
APA Reference
Zalamar, H. (2013, September 5). Summer's End With Your Special Needs Child, HealthyPlace. Retrieved on 2020, December 5 from https://www.healthyplace.com/blogs/parentingchildwithmentalillness/2013/09/summers-end-with-your-special-needs-child
Author: Heiddi Zalamar, LMHC, MA