Taking Care of Myself Is The Best Way To Care for My Family
Last year on my birthday, I became very ill with Strep Throat. I only agreed to go to the ER when I began shivering with a high fever, believing my ear was about to explode. As they wheeled me in for a CT scan, I started wondering, how on earth could I have let myself get this sick?
Since my bipolar 1 disorder diagnosis at 21, I've practiced the art of ignoring my own needs. If addressing my needs didn't fit into my environment, I numbed out. I refused to listen to the needs of my body and soul, even if it meant I was ignoring symptoms of my mental illness.
Ignoring My Own Needs Only Hurt My Family
Having bipolar disorder seemed like enough of a burden for my family. I didn't want to attract attention to myself by actually addressing my symptoms and nurturing my low self- esteem (Common Signs of Low Self Esteem).
I suffered the effects of my numbing out for the entire summer following my June birthday in the ER. After ten days on steroids to keep my throat from closing, I felt possessed by a steroid-induced, paranoid, manic rage. I was even convinced that my husband was trying to fatten me up by adding excess peanut butter to the smoothies he prepared for me. I was so angry that I started throwing things at him (How to Handle Your Bipolar Relative's Anger).
I realized right then, as he stared at me in disbelief, that my numbing out wasn't just causing me extra pain. It was wreaking havoc on my entire life. I was reaking havoc on my family.
So, I decided to stop it.
Paying Attention To My Own Needs Has Improved My Health
When I actually started to listen to my body, I realized that I had been ignoring chronic pain for years (Mental Illness Means Physical Pain Too). I made an appointment with an acupuncturist. I started getting regular massages and budgeting time and money for self-care.
I added essential oils to my nightly bubble baths instead of numbing myself with another glass of wine (You Can Practice Self-Care on a Budget).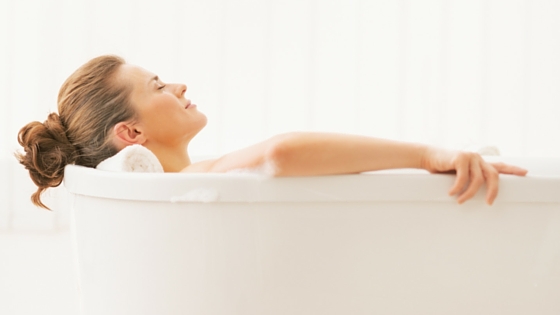 I asked for help cleaning my house and taking care of my kids.
I decided not to attend social gatherings where I felt compelled to use alcohol to numb out.
I even started going on regular dates with my husband and actually having fun.
As I have made these changes, my chronic pain has vastly diminished. I am healthier and more productive now than I have ever been.
Taking Care of Myself Means I Have More To Give My Family
I've also noticed that my marriage has improved. Because I'm taking care of myself, because I'm filling up my own body and soul with good things, I am encouraging my husband to do so as well. For the first time in ages, he feels free to tend to himself. He feels free to go to a movie with the guys, or meet a friend for lunch (Taking Care of the Caregiver). He's moving out of the role of caretaker that he's performed so dutifully. Our marriage is finally becoming one of equals, fifteen years after my diagnosis.
I'm not numb anymore. If I have a need, I address it. Because I am no longer running on empty, I have so much more to give my family.
Connect with Taylor on Facebook, Twitter, Pinterest, Google+, and her blog.
APA Reference
Arthur, T. (2016, January 27). Taking Care of Myself Is The Best Way To Care for My Family, HealthyPlace. Retrieved on 2023, December 5 from https://www.healthyplace.com/blogs/mentalillnessinthefamily/2016/01/taking-care-of-myself-is-the-best-way-to-care-for-my-family
Author: Taylor Arthur
To feel good a person must be happy about themselves and life in general. If not, it can be a misery.
Great advice I just spent two months in and out of the hospital for bipolar and that was my hardest thing just actually concentrating on myself
Leave a reply