Living with Schizophrenia: Can Empathy Return?
Like a film of cloudiness that filters the sunlight on a hazy day, my son Ben's schizophrenia obscures some of the qualities that make him so dear. Without schizophrenia treatment, his abilities to connect, care, feel joy and share love seem almost impossible to see. With treatment, they are closer to the surface – but the 25% of him that is still obscured is sometimes heartbreaking, no matter how grateful we are that he is functional and mostly present. The presence of these clouds is lighter then, more like a haze than the thick formations when he is fully symptomatic. Still, Ben's best qualities often seem dulled by that haze -and I miss the open, joyful child I used to know.
But sometimes, even the haze breaks – for an amazing moment – and I get a visit from Ben's best self. Yesterday, I got a glimpse of his empathy, one of the qualities that get obscured as a negative symptom of schizophrenia.
It happened because of a tin of lip balm and it gave me a moment of joy and hope.
Why We Must Keep Developing New Schizophrenia Treatments
[caption id="attachment_1542" align="alignleft" width="170" caption="Evidence of Empathy"]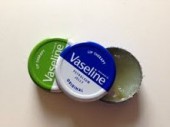 [/caption]
After a close call two months ago, Ben is back in treatment and back at work. I drive him to and from his job, but otherwise it's all on him. Yesterday, on the way home, we were listening to the radio (Ben flipping stations every 30 seconds or so, of course), and I reached for a tin of lip balm I keep in the car. Because of the heat wave, some of the balm had melted and the tin was therefore basically sealed shut. With only one hand, it was impossible to open. So I gave up.
Without a word, Ben reached over and took the tin, opened it, and held it out to me so I could use it.
That simple, helpful action brought tears to my eyes.
Why? Because it showed that Ben was actually noticing me, and a problem I was dealing with. I did not have to tell him, ask him, remind him. He simply noticed it and helped me out, as if it were the most natural thing to do.
This is why I hope for schizophrenia treatments that keep getting better: so we can have more moments like this. So more families can have their loved ones back. Not 75% back, but 100%. Empathy, joy, enthusiasm, cognition, connection … these things can still be hidden by schizophrenia's clouds and we want them back again.
Isn't Empathy Natural?
Yes, for most of us, it is. But, when living with schizophrenia, one can never take empathy for granted. In Ben's case, since the first symptoms began at age 15, his world has been all about him – with whatever his internal world adds to that self-focus. For him to actually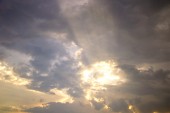 notice that I might need some help? Stunning – in a good way. I think I've gotten so used to the absence of that simple human gesture that I was emotionally floored when it actually happened yesterday, so simply and naturally. It touched me in ways I hadn't expected, and I've savored that moment maybe more than I should…but it gave me hope, reassurance, and a reminder of the person Ben still is, under those clouds.
Once again, thanks for the ordinary miracles. I will hold onto that moment and enjoy reliving it whenever I need to – until the next one. Moments like these help us hold on when things get rough.
Does it mean that Ben's recovery from schizophrenia is progressing? Well, sure, maybe. I hope so. No guarantees. The "reasonable expectation and high gratitude" attitude remains the secret to happiness.
But, this morning, I was eating some bing cherries and Ben noticed the pits and stems in a napkin at my place. Without a word, he picked up the napkin and threw it away for me. Another moment to treasure. I'll take it – who knows when we'll need it again?
APA Reference
Kaye, R. (2013, July 19). Living with Schizophrenia: Can Empathy Return?, HealthyPlace. Retrieved on 2019, July 18 from https://www.healthyplace.com/blogs/mentalillnessinthefamily/2013/07/living-with-schizophrenia-can-empathy-return
Author: Randye Kaye