Siblings of Mentally Ill Speak Out: It's Hard for Them Too
My daughter Ali and her new husband Marc were part of the audience at the September book-launch event for Ben Behind His Voices - sitting right next to Ben, I might add. He was a surprise guest that night and nothing could have surprised me more. I had been concerned about Ben's reactions to the night, especially the excerpts I read out loud. Therefore, we had talked about his feelings the night before and had reached a game plan together regarding his possible emotional reactions. All went well, thank goodness.
But, see? Here, once again, I have turned the conversation to Ben's needs.
This post is about Ali, his little sister - and for all the siblings whose grief and adjustments too often get the short shrift.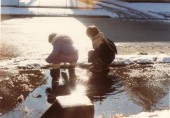 So - my point about that night? During the Q & A, one audience member shared that she was most moved by an excerpt from one of Ali's letters to Ben, written back in 2000 before we had a diagnosis to help guide us out of the woods. Here is part of what Ali wrote, eleven years ago (she was 15 years old at the time):
"Please let me be one of the reasons you keep trying...I'll love you no matter what but please don't make any decisions you'll regret - or that will stop you from attaining your goals. I love you. Your sister, Ali."
Ali had her big brother, Ben, for the first 12 years of her life, until the changes in him began to spin out of the ordinary. Now, she has her brother back - but as more of a little bro. That's okay. We'll take it. There was a time we hoped for more. There was also a time we knew we might have to settle for much less. Such is the path of siblings dealing with the mental illness of their brother or sister. Their pain goes unacknowledged way too often.
[caption id="attachment_419" align="alignleft" width="150" caption="at the book launch"]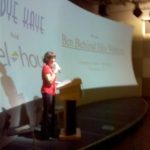 [/caption]
We are lucky, I often think, in that Ben's illness developed after he and Ali had experienced years together as siblings without the unwelcome mental illness visitor. HealthyPlace's "Life with Bob" blogger, Angela McClanahan, is raising a child whose mental illness symptoms began much earlier in life than my Ben's.
I recently came across a quarterly blog from Victoria, a parent who had read my book and wanted to add Ben Behind His Voices on her quarterly blog as a resource. I checked out her site, "A Mother's Grace" and found her writing touching and the feelings all too familiar. Of particular emotional weight was a poem, written by her daughter Bella, about her love for her brother Joseph, who struggles with voices. With Victoria and Bella's permission, I share it with you here. Bella, age 12, speaks for many of us.Thank you for touching our hearts, Bella.
Reality and Fantasy

Your mind
is locked in a continuous battle between reality and fantasy.
It twists images into something abnormal.
Sees things only you can see.
Reality and Fantasy are bound together by a rigid rope.
You are struggling to cut through it and break free.
You have conversations with invisible people.
Are they real?
You think so.
Doctors boost up your medication...
350 milligrams
450 milligrams
650 milligrams
Will they ever stop?
Your heart
is kind
loving
and warm.
It can brighten up a room.
Your smile shines---
is big
and makes me laugh.
I love it when you smile.
You are my brother
and I love you,
that is reality.

Your sister,
Bella
APA Reference
Kaye, R. (2011, November 7). Siblings of Mentally Ill Speak Out: It's Hard for Them Too, HealthyPlace. Retrieved on 2022, September 29 from https://www.healthyplace.com/blogs/mentalillnessinthefamily/2011/11/siblings-speak-out-its-hard-for-them-too
Author: Randye Kaye
Hello Randye ,
Thanks for sharing my blog and my sweet Bella's words. I still cry when I read it! Here is the link for A Mother's Grace www.amothersgrace.blogspot.com
Blessings
Victoria
Leave a reply