How Teachers Shape Student Mental Health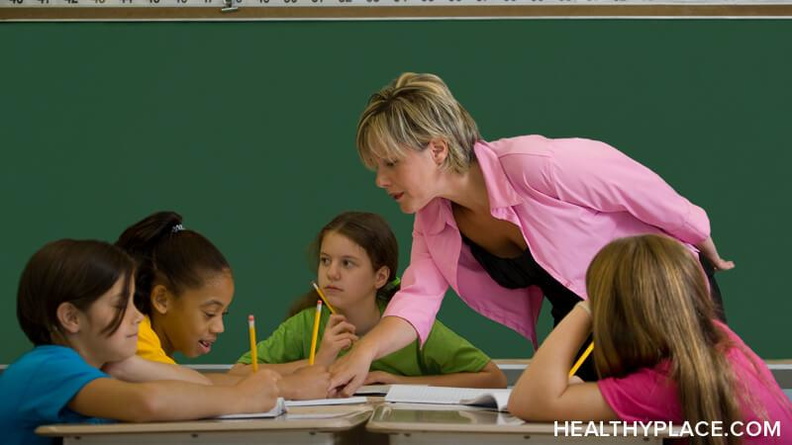 Teachers shape student mental health because they're often the first adult a student reaches for when they're in emotional pain. But teachers don't have the power to help individual students with their mental health (as per school policy and the teacher's educational background). But it's time to improve the educational system and acknowledge the important role teachers play in their students' mental health.
Student Mental Health and the Teacher-Student Relationship
Dealing with students' mental health issues is not part of a teacher's job description, nor is it his or her responsibility. Educators don't receive formal mental health training, which, to an extent, is understandable. The educator's job is to teach, not counsel. Both public school teachers and university professors are required to refer students with mental health concerns to on-campus counseling services. They are not formally allowed to discuss the students' mental health or provide support or assistance.
This is a double-edged sword -- while it acknowledges the educator's inability to provide formal treatment and shifts that responsibility to the appropriate professional, it sends a different message to the student. Not only does it disrespect the student's choice to open up, but it also assumes the student's admission doesn't affect the educator's own mental health.
How Educators Perceive Their Role in Student Mental Health
School policy doesn't change the fact that many students feel more comfortable opening up about their mental health to their teachers than school counselors. "Often, we're the first adults who treat students as adults, which can be empowering and encouraging," said Nikki Puckey, senior lecturer in language and linguistics and program leader for English language studies at the University of Winchester, in a July interview with the author.
Puckey's students have confided in her about many mental health issues, including eating disorders, self-harm, chronic mental illness, divorce, and family deaths, among others. Puckey says:
Student mental health is becoming more and more prominent in my job. Year-on-year I'm having to spend more time supporting students pastorally myself, working with Student Services and Registry and bringing it up in meetings.
She added that she aims to be there for her students whenever and however they might need her.
Considering that many educators refer to their students as their "kids," it's no surprise that they develop personal relationships with them. In a July interview with the author, Sean Barnette, associate professor of English at Lander University, said:
I do genuinely care for my students, and I'm proud to be a relatively stable and caring (if helpless) presence for them because they don't always have that. I remind myself that my presence, my listening and caring, is often what students appreciate.
We Need to Treat Mental Illness Like Physical Illness at School
David Red, instructor of Physics at Saint John's River State College, summed up the flawed policies in a July interview with the author.
Let's say a student suffered a physical injury in my lab. I should help in the immediate short term, applying a bandage or CPR, and then the student should be taken to a true medical professional for better assistance. I think the policy regarding mental health is set up somewhat with this analogy: I am not trained and should not be the one to treat mental health problems.

But there is a flaw in this analogy I think. I would be shocked if a student with a broken leg said, 'I won't get in that ambulance,' but it is pretty plausible to me that a student won't actually go get help in a referral situation and you really can't force them to. When a student chooses to tell their professor about something inside them, that is partially based on their relationship with that professor.
Final Thoughts on the Teacher's Role Shaping Student Mental Health
As we established in The Future of Mental Health Education, the education system is a bureaucracy, one which consistently places money and rankings ahead of the students' and educators' needs. Even if educators can't provide professional treatment, they can provide kindness and compassion, neither of which requires any special training or qualifications. Any school policy that discourages them from doing so certainly doesn't serve students' educational, much less mental health, needs.
We must equip our educators with the tools and resources to provide short-term support that might encourage students to seek formal treatment. We must also provide mental health services to our educators, and stop pretending that they are robotic and unaffected by their students' mental health.
What We Can Do to Help Student Mental Health
In the video, I discuss how the existing policies harm our students and teachers and offer a solution to change it.

APA Reference
Lee-Smith, M. (2017, July 12). How Teachers Shape Student Mental Health, HealthyPlace. Retrieved on 2023, September 28 from https://www.healthyplace.com/blogs/mentalhealthforthedigitalgeneration/2017/07/how-teachers-shape-student-mental-health
Author: Mel Lee-Smith
This is such a great post and totally agree they should treat mental illness like physical illness! Mental health has more recently been addressed the way it should be and brought up to the standard where workers are actually getting time off for their mental health which is phenomenal, however we teach kids at a young age so easily that it isn't a big deal, but catching a cold is. Thanks for sharing!
I completely agree, Charlotte. If policies regarding mental health can change in the workplace, they can -- and should -- change in schools. Thank you for sharing your thoughts.
Leave a reply