The Future of Mental Health Education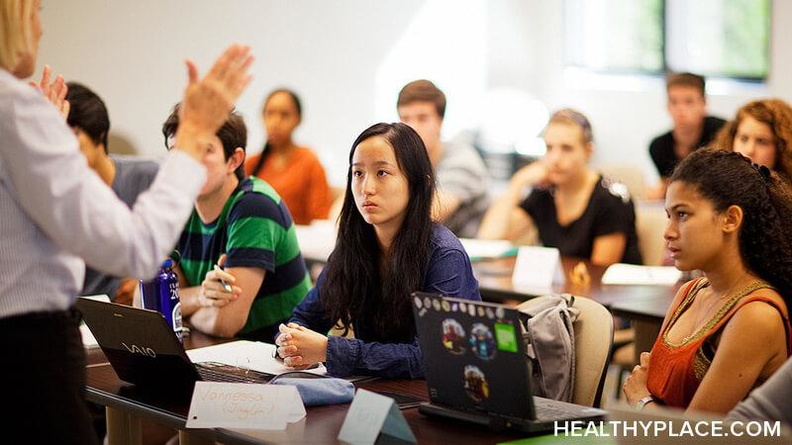 The future of mental health education is, unsurprisingly, a popular topic here at HealthyPlace. That's because it's largely absent from the national curriculum, even though nearly 20% of children show signs of mental illness each year. 1 Approximately 60% of those children don't receive mental health treatment. The future of mental health education is important.
Mental Health Education in School: An Absence We Shouldn't Overlook
Blaming schools for not doing enough is easy, but it's not that simple. The modern education system is akin to a bureaucracy. This system is best summed up in a 1967 paper titled Bureaucratic Organization and Educational Change: 2
"The traditional organization is often more concerned with production than with what should be produced. Therefore, identification with educational needs is often lost in organizational management; children have served organizational needs more than their educational needs have been served."
(Bold added.)
Forty years later, this imbalance still exists and is further compounded by federal education funding. Even though American public schools are already underfunded,3 the U.S. Department of Education will cut $9 billion from the federal education budget in 2018, a reduction of 13%.4
But evidence shows that implementing mental health education will actually save money in the long run. The Seattle Social Development Project estimated that schools with a mental health education program can help students avoid severe social problems associated with mental illness while providing a benefit of nearly $10,000 per student.5
The Good News about Mental Health Education
The Center for Disease Control (CDC) has implemented a Health Education Curriculum Analysis Tool (HECAT) for assessing the quality of mental health education in the United States.6 The HECAT outlines the key components of a complete mental health education: conflict prevention and management, impulse control, relationship maintenance, and stress management, among others. This outline starts in kindergarten and continues until 12th grade (Discuss Mental Illness and Suicide with College Students).
On paper, this sounds great. However, schools are not required to complete the HECAT to receive federal funding; it is entirely optional. That means mental health education often isn't a priority for schools that need additional funding. So far, the CDC doesn't provide information on how many schools complete the HECAT each year, which makes it difficult to gauge how many schools in America provide mental health education.
Despite that, the number of schools that offer mental health services is rising. Thanks to the Affordable Care Act, more than 2,000 schools across the country7 now offer mental health services to more than two million students. As of 2009, the number of schools employing a mental health professional had doubled since 1999.8
Robert W Coleman Elementary School in Baltimore recently went viral for offering meditation instead of detention for "unruly" students. The school also provides the Holistic Me After-School Program, which teaches children meditation, yoga, mindful breathing, and conflict management. According to a fourth-grade student enrolled in the program, "Meditation calms me down and stuff."
Mental Health Education and My Story
One of my former professors once said, "We can only view the world through the lens of our own experience."
Naturally, when I talk about the lack of mental health education, I can't help but think about how it's affected me.
I self-harmed throughout high school. At first, I convinced myself it was just a phase. By the time senior year rolled around, I sensed there was something more to it, that perhaps there was something wrong with me (How to Talk to Your College Student about Mental Illness).
Two months after I started university, I had a mental breakdown. I admitted myself to the hospital and was referred to an outpatient psychiatrist. She diagnosed me with borderline personality disorder. Had mental health education been offered at my school, I might have recognized the signs of mental illness and received diagnosis and treatment much earlier.
My story is just one of more than two million each year. I was just one of more than 1.3 million students who didn't receive help or treatment because we didn't know what to look for.
Final Thoughts on Mental Health Education
Although mental health education hasn't been widely implemented yet, things are looking up. The CDC has created a framework for mental health education, and the number of schools offering mental health services is on the rise.9 However, budget cuts from the powers that be threaten the longevity of such progress. Additionally, offering mental health services isn't enough; we must make mental health education part of the curriculum. To do this, the HECAT and similar initiatives must be mandatory.
What's the bottom line? The United States is one of the wealthiest countries in the world. There is no excuse, monetary or otherwise, for failing to teach our children about mental health during their formative years.
Sources
APA Reference
Lee-Smith, M. (2017, June 28). The Future of Mental Health Education, HealthyPlace. Retrieved on 2023, December 9 from https://www.healthyplace.com/blogs/mentalhealthforthedigitalgeneration/2017/06/the-future-of-mental-health-education
Author: Mel Lee-Smith