About Hannah Blum, Author of 'Mental Health for the Digital Generation'
I am Hannah Blum, age 26, and diagnosed with bipolar disorder type two. I have also struggled with an eating disorder and the daily issues of being a woman in her mid-20s. I feel fortunate to have this opportunity to write for Mental Health for the Digital Generation here at HealthyPlace.
Hannah's Mental Health Story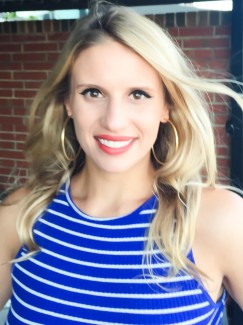 On the outside looking in, you would have seen the cliche popular girl, an athlete and a vibrant teenager with a smile that never seemed to fade; however, this was far from my reality. At the age of 17, I began to experience intense mood swings and moments of out of control emotional behavior. The episodes of emotional extremes surfaced out of occasional anxiety, so we all assumed it was teenage confusion.
The night of my senior prom, at which I was nominated for Prom Queen, was just such a moment. Minutes before I walked out of my home, I glanced at myself in the mirror, all dressed in fine glitter, and emptiness and hopelessness welled up in my reflection. I bolted into my bedroom, locked the door and did not come out for days, curled up and weeping in my prom dress. It was the start of the battle, and I refused to get help for my distorted feelings. At the age of 20, I was hospitalized for bipolar disorder type two and bulimia.
A Mental Health Journey When Young Is Worth It
The last six years have been filled with education, educating, and embracing my diagnosis, while figuring out how I am going to contribute to this great, big, beautiful world. I worked two or three jobs until finally gaining enough confidence to enroll back into college. In May 2016, I received my B.A. from North Carolina State University in Communication.
I have been a volunteer in the mental health community for many years, and needless to
say, it has been life changing. Outside of blogging and mental health advocacy, you can catch me going out to dinner with friends, traveling, reading and engaging in some type of physical activity. I love to laugh and use humor as a way to attract people's attention. I also believe laughter and love are the best forms of therapy. My life can be a bit of a roller-coaster; however, I control the speed. I prefer this ride over merely being a spectator.
Meet Hannah Blum, Mental Health Blogger for Young Adults
My goal is to help reduce the stigma of mental illness by sharing my story with others. My hope is that those affected, in return, will share their life experiences. Life without a story is like a book without pages -- empty.
Find Hannah on Twitter, Facebook, Google+, Instagram and on her blog.
APA Reference
Blum, H. (2016, July 25). About Hannah Blum, Author of 'Mental Health for the Digital Generation', HealthyPlace. Retrieved on 2019, August 18 from https://www.healthyplace.com/blogs/mentalhealthforthedigitalgeneration/2016/07/introduction-to-hannah-blum
Author: Hannah Blum