Adult ADHD is Not a Gift?
I had some time to kill between class and my train home on Friday and I spent it watching youtube videos. A waste of time, you say? Nay! I watched videos about Adult ADHD and one in particular by Dr. Russell Barkley about the fact that Adult ADHD is NOT a gift. But, Dr. Barkley, we've been told for so long that ADHD isn't only a bunch of junk that makes it hard for us to focus, but it's something that helps us to be more creative and really good and different things. What is the meaning of this?First off, watch the video. It feels somewhat angry to me, but it's because I'm not his intended audience. Dr. Barkley is speaking to some Canadians that work with those who have ADHD, not physical therapy students from Maryland. Do check it out:

Now, I could be grumpy about what the good Doctor has to say. We could be angry about what he has to say. He does make a good point, though, and here it is: we are NOT ADHD Adults, we are Adults with ADHD.
Let's say it again: we are NOT ADHD Adults, we are Adults with ADHD.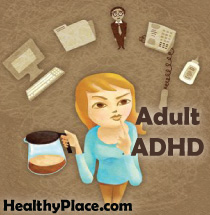 What's the difference? The former says that we are our ADHD and the latter says that it's a what we have and, therefore, a part of who we are. Dr. Barkley mentions famous adults with ADHD and states that we cannot hold their ADHD responsible for their famous-ness (I want to say greatness here, but can we definitively say that being a famous musician equates to having greatness???). There are traits inherent to these famous adults that are entirely unrelated to their ADHD that allowed them to be successful.
I mentioned this video to a friend and she was surprised to hear that ADHD often gets the credit for good things Adults with ADHD do. She couldn't think of anything special that ADHD gives you that is super-duper-great. I mentioned a trait that I think is commonly associated with ADHD: creativity. She followed up by rightly saying that there are many creative people who have not been diagnosed with ADHD. Seriously, how right she is!
We have ADHD; we are not ADHD. It's an important distinction to make, I think, and one that can allow us to feel even better about our accomplishments. We make our success, not our somewhat inattentive, hyperactive brains.
APA Reference
Prager, E. (2013, November 4). Adult ADHD is Not a Gift?, HealthyPlace. Retrieved on 2019, August 25 from https://www.healthyplace.com/blogs/livingwithadultadhd/2013/11/adult-adhd-is-not-a-gift
Author: Elizabeth Prager
I hear you, Carlos. It's really hard. I read this cool article recently in the NY Times, though, that made a bunch of excellent points. Our brains used to be perfect for survival. We were amazing nomads and hunters, because we can go from being hyperfocused on one thing and then onto another super quickly - and therefore, do not get eaten by giant cats. A lot of things are all about perspective :)
The perspective is shaped by a world with Buildings, cars, machines, - paper, not by a need to push some antelope over a cliff. And that is what makes this so frustrating. "Perspective doesn't erase the fact that there are bills, credit scores to maintain, women to impress, and careers to pursue. So what you're saying leaves me dissatisfied. I am however aware.
I'm sorry ADHD has made life so tough ... I hope you're been able to find a way to apply your creativity to find success.
Leave a reply