Women and Adult ADHD
Being a woman has many advantages. We can have long hair; we can have short hair. We can wear heels; we can wear tennis shoes. We can have cats; we can have dogs. We can have Adult ADHD; we can not have Adult ADHD. I'd really like to talk about the benefits of having cats versus dogs (I'm a cat person big time), but let's talk about the last one. It makes sense, right? This is a blog about Adult ADHD after all ... let's talk about being a woman with Adult ADHD.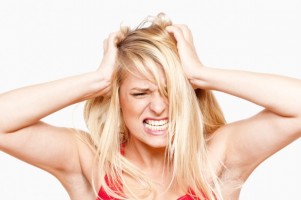 The first thing that comes to my mind when I think about being a woman with Adult ADHD is how long it took me to be diagnosed. I've read a lot on this subject and one thing that's always stuck out to me is that young girl with ADHD don't often look like little boys with ADHD. We don't necessarily run around in school or blurt out answers without raising our hands. The typical little girl with ADHD is shy, quiet and able to hide her inattention with good behavior. This is one big reason why we don't get diagnosed until college or beyond. Professionals are not trained to look for issue in children with rather good behavior - the sticky wheel gets the oil.
The second thing I think of - and this is the one that I think of most often - is that we will invariably have one week a month (and this can stretch to two weeks depending on your normal cycle) where our ADHD symptoms wreak more havoc than the other weeks of the month. Yes, I'm talking about PMS.
I like to think I have a good mind - I'm quick with a joke and fast to learn new information. Most of the time. There is one week or so a month where my brain lags behind and I've got to wait for it to catch up. I find studying harder and reading harder. I find focusing on conversations more difficult. In truth, I find all the tasks that are affected by my ADHD more difficult. So, what do we do to combat it?
We certainly can't just wait for menopause, because I'm sure that will bring its own challenges along with it. I rely on my wife during my PMS to be a constant support, who reminds me that my brain will return to fully functional just like it always does. And, I rely on my doctor to help me to tweak my medication for that time during my cycle. It's true that you just might have to take a higher dose of stimulants during "that time of the month."
Being a woman with ADHD presents some challenges for sure, but don't forget that a woman's ability to have a cat or dog can also help! Please share some of your strategies for your most difficult times!
APA Reference
Prager, E. (2013, July 1). Women and Adult ADHD, HealthyPlace. Retrieved on 2019, September 22 from https://www.healthyplace.com/blogs/livingwithadultadhd/2013/07/women-and-adult-adhd
Author: Elizabeth Prager
Hiya Elizabeth, I got diagnosed quite by chance in college. I was talking to my therapist at the time about how reading is super frustrating for me - I forget what I read in one sentence as soon as I've read the next. Something clicked in her brain and it changed my life. I suggest making an appointment with a psychologist or clinical social worker. Adult ADHD is a clinical diagnosis, so you do not need to go through all the testing (so expensive!) unless you need to take something like the GRE and would like to request extra time. I never got in trouble at school either and I got good grades - in the 1980's and 1990's, it was sort of thought you had to be bouncing off the walls and sort of dumb to have ADHD. That's just not true. Good luck!
Hi Deb, I'm sorry to hear that school was like that for you. I can definitely relate - by the end of high school I was in AP English, but only after I spend 2 years of grade school in what we called "Sped" (special education). It was really hard to be "othered" by not being in the traditional classroom. I hope things have gotten better for you since school and that you feel okay with adult ADHD, if that's your current diagnosis.
Always glad to be of help, Terri :)
Leave a reply