Most Heavy Drinkers Are Not Alcohol Dependent
Last month, the Center for Disease Control and Prevention (CDC) released the results of a study of American drinking habits. I was surprised to read the findings. The biggest two takeaways were: one-in-three adult Americans drink heavily and 90 percent of Americans who drink heavily are not alcohol dependent, aka addicted to alcohol. Let's break down what that actually means.
One-in-Three Americans is a Heavy Drinker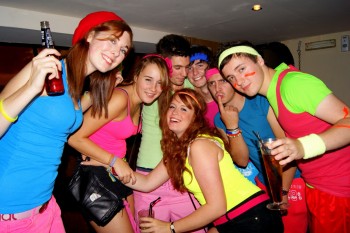 According to the CDC survey administrators, heavy drinking is defined by eight or more drinks per week for women and 15 or more drinks per week for men within the past 30 days. I was amazed at how few drinks it took to be considered a heavy drinker. A woman who has two drinks a day four days out of the week would be considered an excessive drinker, as would a man who had two drinks on weekdays and three on the weekends. (Take the alcoholism screening test for problem drinking.)
The study also measured binge drinking -- five or more drinks on one occasion for men, four or more for women. For most demographic groups, the prevalence of alcohol dependence was similar among heavy drinkers and binge drinkers, except among respondents ages 18 to 24. In that age group, alcohol dependence was higher among binge drinkers than heavy drinkers. Alcohol dependence was measured using criteria from the Diagnostic and Statistical Manual of Mental Disorders-IV (DSM-IV).
The fact that so many Americans drink to excess is frightening. Especially when you consider the report's statements that excessive alcohol consumption leads to 88,000 deaths annually and cost the United States $223.5 billion in 2006. On the other hand, if there is a silver lining in this report it is that nine-out-of-ten excessive drinkers are not alcohol dependent.
Heavy Drinker or Alcoholic?
The book Alcoholics Anonymous, the foundational text of 12-step programs, describes varying types of drinkers. In this book, the "continuous hard drinker" describes the category just short of alcoholic. This is a person who drinks excessively, experiences negative consequences, and whose health may even suffer as a result of alcohol consumption. But the difference between the hard drinker and the alcoholic is that given a good enough reason, the hard drinker can stop. The alcoholic, according to Alcoholics Anonymous (AA) thinking, has lost all ability to control his or her drinking.
We all know those hard drinkers. Some people who party so hard you think they'll never straighten up. And then they have a baby or acquire some other responsibility and, amazingly, they step up to the plate and amend their hard-partying ways. I know people in my own life for whom the jury is still out on this. I see that they abuse substances and other aspects of their lives suffer as a result, but I wonder, could they stop if faced with sufficient enough reason?
My Dependence on Alcohol
In my case, I met the criteria for alcohol dependence, and nothing seemed a good enough reason to stop. I botched opportunities that were extremely important to me because of my drinking. Doctors and mental health specialists repeatedly stressed that I would die from drinking. I believed them; I didn't want to die, and yet I continued my blackout drinking. I believe I was past the point (and may have been past it ever since I took my first drink) of ever drinking safely.
Fortunately, not everyone who drinks heavily has to go to the extremes I did to turn their lives around. The CDC study seems to indicate a great need exists for clinical preventive strategies and evidence-based policies for reducing excessive alcohol consumption. One such tactic could be screening for excessive alcohol use and increased education about its effects in a primary care setting.
I believe that some heavy drinkers will cross the line into dependence, some will choose to decrease their consumption and others will be lifelong hard drinkers. The problem is, it is difficult to predict who will follow which path. The best thing we can do from a public health perspective is to get people addiction treatment when they need it and education and preventive strategies to help keep people from getting to that point.
APA Reference
Lesley, K. (2014, December 8). Most Heavy Drinkers Are Not Alcohol Dependent, HealthyPlace. Retrieved on 2022, July 4 from https://www.healthyplace.com/blogs/debunkingaddiction/2014/12/most-heavy-drinkers-are-not-alcohol-dependent
Author: Kira Lesley
[…] that someone is only an alcoholic if they drink copious amounts of alcohol. This is not the case. Most heavy drinkers are not alcohol dependent. I have met many men and women in recovery from alcoholism who never blacked out, but always had a […]
I pretty much see the difference between a heavy drinker and an alcohol dependent. But often heavy drinking if not controlled leads one individual in the same situation(alcohol Dependent) where he don't want to be.
Newport Academy, thank you for your comment, glad to hear you are doing well.
Hello Bhusan Bista. Thank you for your beautiful insight. Like many other substances and activities, alcohol can obscure and detract from the rich experiences life has to offer. I believe it serves a purpose for some people but for others it is only a distraction at best and a deadly addiction at worst.
Thank you for your comment Newport Academy, I'm glad to hear you're doing well.
Andrea, thank you very much for your comment. Depending on the type of situation we grew up in, some of us are likely to think alcohol is a big part of everyone's life. But the truth is, some people do not make alcohol a big part of their lives - even if they don't have a problem with it. There certainly are many benefits to stopping excessive substance use.
Alcohol is a socially accepted substance even it harms mentally, physically and spiritually the person who use it . As well who becomes an addict the more he have to suffer from social disturbances too. So i stoped to drink n like to suggest them who think like there is nothing pleasurable thing than alcohol to get enjoy that stop drink be sober and look life is more beautiful without drinks... so lets enjoy clean n sober life....
Being an alcoholic is bad and I have gone through this bad phase myself. But fortunately I have overcome it and life feels so great once that adiction is out of your life.
I had a drinking issue too. I don't consider myself an alcoholic per se, don't believe in the term that one is identified by their "substance use-issue." I chose to stop it all together years ago. My life is so much better for it and there are so many benefits to not drinking.
-dont have to be hung over
-save $
-Avoid fake "friends"
-make sober and sound choices
-get to bring my car home after a night out
-dont have to worry about drinking and driving
-physical and mental health improve
-not negative side effects w/meds
-Etc.
Thanks for your blog, it reminds me of how positive a decision I have made in my life. xo
Leave a reply