How I Broke My Nicotine Addiction
New Year's is almost upon us. That means it's resolution time. This January 1st will mark four years since I've smoked a cigarette or consumed any other form of nicotine. Here's how I broke my nicotine addiction.
Nicotine Addiction and Recovery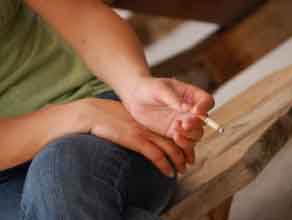 I started smoking when I quit drinking. I used it as a distraction and a social event. Smoking outside of meetings is very popular, as is taking smoke breaks at treatment centers. I started smoking because I was depressed, bored, and surrounded by smokers. I kept smoking because nicotine is highly addictive. In addition, nicotine stimulates pleasure centers in the brain. Smoking never gave me an overwhelming euphoria, but it did give me a nice little buzz at a time when I was despondent.
Nicotine Replacement Therapy Can Help Break Smoking Habits
For several months, I used nicotine lozenges and cut down my cigarette smoking to one a day. You must be careful when using nicotine replacement therapy that you don't end up taking in even more nicotine. Follow the product's instructions closely, or follow a doctor prescribed plan. Even though I was still taking in nicotine, using the lozenges helped me break the habits of smoking -- going outside on work breaks, having a cigarette after meal, smoking with coffee, etc. But eventually I realized I wanted to be free of nicotine altogether.
On New Year's Day of 2011, I realized I had a jump start on my mission to quit cigarettes and break my nicotine addiction altogether. I had stayed out late the night before, woken up late, and had not consumed nicotine in 16 hours. I seized this opportunity as a jumping off point for giving up all nicotine. It was very important to me to keep track of a health benefits of quitting smoking timeline. In addition, every time I wanted to have a cigarette I "played the tape through" in my head. I knew a cigarette would only leave me feeling defeated and not grant the relief I sought. Have you quit before? What worked? What didn't?