How to Identify and React to Addiction Triggers
Addiction triggers are people, places, or events that remind us of a reason we often used to drink or use drugs. Whether it's booze on New Years, a cigarette to relieve stress when stuck in traffic, or compulsive eating at a party to soothe social anxiety, all addicts have triggers. These memories don't necessarily cause us to drink or use, but they remind us of the elation or release we previously felt when drinking or using. This simple two-step process for identifying and reacting to addiction triggers was very helpful to me in early sobriety. (If it doesn't resonate with you, check out our other post on 5 Ways to Approach Triggering Emotions.)
How To Identify Your Addiction Triggers
Identifying your addiction triggers is really just as simple as making a list. If you've ever tried to quit an addiction before,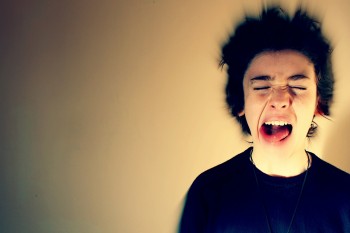 you will probably remember the moments when you gave in to the struggle. What were your reasons? When did a drink or a drug seem most necessary? Reflect on the justifications you used to decide to "just have one" drink or cigarette, etc.
When I made my first list of addiction triggers, I had never tried to quit drinking before -- but I knew exactly when I craved drinks the most:
De-stressing after work
While eating dinner
At a barbeque
At a baseball game
Before going out with friends
Friday and Saturday nights
Valentine's Day
When overtired or depressed
Playing pool
Birthday parties
Weddings
When I had nothing else to do (boredom)
When driving home from work and I passed the liquor store on the corner
These were all moments when the addict side of my brain craved and justified my need for a drink. Some were dramatic moments -- full of people, expectations, and challenges, but most were mundane, daily occurrences.
Reacting to Addiction Triggers
My counselors in rehab said that being aware of my triggers was only half the battle. I also had to create plans for avoiding those situations, or methods of dealing with cravings when already in those situations. Most of the time, the solution didn't matter to them, as long as it wasn't drinking.
Look for solutions that alleviate the primary feeling behind the trigger. For instance, I discovered that talking to a friend or a therapist was very effective at relieving stress related to feeling lonely.
Try writing out the trigger, feeling, and solution in this format, like I did:
Trigger > Your Feelings > Solution
​

De-stressing after work

>

Anger, Loneliness, Fatigue

> ​

Call a friend

While eating dinner

>

Loneliness, Fatigue

> ​

Drink a fruit spritzer

At a barbeque

>

Anxiety

​ > ​

Keep a non-alcoholic drink in hand at all times

At a baseball game

>

Anger, Hunger, Thirst

>

Keep score

Before going out with friends

>

Anxiety

​ > ​

Do a game night at home

Friday and Saturday nights

>

Loneliness

> ​

Go to a movie or self-help group meeting

Valentine's Day

>

Loneliness

>​

Call a friend or family member

When overtired or depressed

>

Anger, Loneliness, Fatigue

> ​

Write in a journal or take a nap

Playing pool

>

Anxiety

> ​

Keep a non-alcoholic drink in hand at all times

Birthday parties

>

Anxiety

>

Offer to help the host

Weddings

>

Anxiety, Loneliness

> ​

Bring a sober friend as your date

When I'm bored

>

Loneliness

> ​

Pick up a new hobby: reading, painting, exercise

Passing the liquor store on my way home from work

>

Fatigue

>

Take a different route
The goal was simply to train my brain to think of new or different different solutions. This skill taught me to recognize other ways of dealing with stressful situations. We are rapidly approaching the holiday season where stress is as abundant as gifts and holiday sales. This brief exercise and this article on five ways to manage holiday stress can help you come up with healthy solutions. ​
It is okay to admit that you have addiction triggers and to identify them. Admission does not make you weaker or less capable of maintaining sobriety. In fact, it has the opposite effect. Acknowledging your addict mindset and calling attention to it takes away some of the power it holds over you. This is the basic premise of 12-step recovery programs and support groups.
In fact, the times I most desperately want a drink are the ones when it is most important for me to raise my hand and ask for help. By admitting that I crave alcohol, the grip in my chest lessens and I can begin to recognize what feelings are present and driving that desire. Only then, will I be able to step out of my addict mindset.
You can find Becky on Facebook, Twitter, Google+ and her website.
APA Reference
Doyle, B. (2014, November 20). How to Identify and React to Addiction Triggers, HealthyPlace. Retrieved on 2023, December 8 from https://www.healthyplace.com/blogs/debunkingaddiction/2014/11/how-to-identify-and-react-to-triggers
Author: Becky Doyle
[…] Winter is here but the holiday excitement and festivities are over. For me, this time of year always brings a let down and a touch of the blues (How To Deal With The Winter Blues). After all the hustle and bustle of the holiday season, I feel some some sadness getting back to the normal routine. In addition, for many of us, the short days and scarcity of sunlight bring Seasonal Affective Disorder. Whether we are in recovery from alcohol, other drugs, gambling, sex, food, or anything else, feeling sad, blue, or depressed can be a major addiction trigger. […]
[…] How To Identify And React To Addiction Triggers […]
[…] and sometimes just being around alcohol is a trigger for me. Since I am the only person who can identify and react to my triggers, I am my own best advocate for my […]
[…] foods can be addiction triggers for recovering alcoholics even if they have negligible alcohol content. Personally, I try to avoid […]
Hmm is anyone else experiencing problems with the images on this blog loading?
I'm trying to determine if its a problem on my end
or if it's the blog. Any feedback would be greatly appreciated.
Leave a reply