The Science of Social Media Addiction
Have you heard of social media addiction? In droves, we engage on social media with selfies, Likes, follows, and shares. These are actions that positively re-enforce the idea that social media tools provide us with good feelings. Like any pleasure-seeking activity, social media tools are addictive. With our society's dramatic shift toward interacting over the internet and social media tools, it is easier than ever to develop an addiction to social media. Just recently, a man was treated for an addiction to Google Glass™.
The Connection Between Social Media and Addiction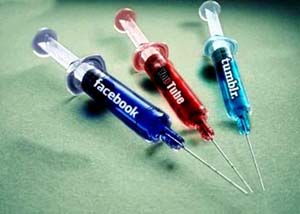 How does one become addicted to social media? If you've ever trained a dog, you're familiar with negative and positive re-enforcement. For those of you that aren't, here's the basic break-down:
Negative re-enforcement uses punishment to stop a habit.
Positive re-enforcement encourages a behavior through something enjoyable…like a treat!
Social media tools use positive re-enforcement to drive traffic on their applications.
For instance, imagine you open an app and post a picture. If you're one of the rare individuals who do not wait anxiously for comments, Likes, or shares – more power to you. You are not an addict. Individuals dealing with social media addiction obsessively check the app, waiting for the influx of "Likes" to create dopamine in their brain.
This little bit of dopamine actually creates cravings for the behavior which caused it.
The Science Behind Addiction
At face value, a little bit of dopamine may seem harmless. After all, dopamine and serotonin are naturally occurring brain chemicals that make us happy.
The difference is that dopamine can have both positive and negative effects on an individual. When we receive the anticipated reward, we feel good. When we don't receive the reward, we feel terrible until we get what we want – the reward.
Dopamine-releasing activities (drugs, sex, alcohol, gambling, shopping, social media, etc.) do not provide long-lasting happiness and positive feelings. As a recovering alcoholic, I had to adopt new serotonin-releasing habits and then maintain them while fighting the cravings. In early sobriety, some addicts need antidepressants to manage their mental health while their body adjusts to new serotonin and dopamine levels.
So, when we think we're craving more Facebook Likes, we're actually craving dopamine.
Photo courtesy of FreeVector.
You can find Becky on Facebook, Twitter, Google+ and her website.
APA Reference
Doyle, B. (2014, October 23). The Science of Social Media Addiction, HealthyPlace. Retrieved on 2023, November 29 from https://www.healthyplace.com/blogs/debunkingaddiction/2014/10/the-science-of-social-media-addiction
Author: Becky Doyle
[…] The Science of Social Media Addiction […]
[…] a hard time believing that someone could be addicted to their phone, you may find this article on The Science of Social Media Addiction very enlightening. Take a moment to genuinely consider your relationship with your phone, and […]
wonderful put up, very informative. I'm wondering
why the other experts of this sector do not realize
this. You must proceed your writing. I am sure, you've a great readers' base
already!
Leave a reply