Addiction Relapse: It's the Holiday Season!
People either getting dragged back into addiction because of the holiday spirit or not being able to say no to a drink at the office Christmas party or New Years celebration. Or maybe they're depressed because of the situation they're in and deal with it by getting back into drinking or drugging. While all these may be difficult to deal with, there are certainly ways to get through the holidays clean and sober.

Know Your Limitations
If you feel at all vulnerable and think that you may not be able to handle being around people who are drinking then you have the right to excuse yourself from the holiday gathering. As the old saying goes, "You can't save your ass and your face at the same time." It may be tough to say no to an invitation to a holiday party but when it comes down to it, what's more important. And besides, if you're relatively new to recovery then you may feel especially tempted by the fact that alcohol is so readily available.
Connect With People Who Are Clean and Sober
While the holidays can be difficult for people who are in recovery, there are places where you can find individuals who are not drinking. 12-Step fellowships such as Alcoholics Anonymous and Narcotics Anonymous typically offer a number of clean and sober alternatives to the usual drinking holiday events that take place this time of year.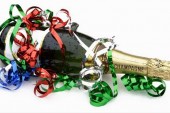 Remember That Your Recovery Comes First
Please do not forget what you've worked so hard for. No drink or drug is worth throwing away your recovery for. Usually the craving to drink or use is temporary and if you can simply get through that brief period of time you will realize that sticking to your program was worth it.
Be Grateful
The holidays can be difficult on so many levels. But it is important to consider that despite the fact that this season may involve some pain, at least we can celebrate the fact that we are clean and sober today and that is the greatest gift we could ever ask for.
In my experience I have had many holiday seasons clean and sober and I can truthfully say that they have been so much better than back in the day when I was actively using. In recovery I have never had to worry about embarrassing myself or ruining someone else's holiday. I simply know today that by practicing the principles of recovery I can experience this season of hope, peace, joy and love in the best way possible.
APA Reference
Shallowhorn, K. (2012, December 17). Addiction Relapse: It's the Holiday Season!, HealthyPlace. Retrieved on 2023, September 23 from https://www.healthyplace.com/blogs/debunkingaddiction/2012/12/addiction-relapse-its-the-holiday-season
Author: Karl Shallowhorn, MS, CASAC
Great advice, great article Karl! The Holidays can be very challenging for anyone, let alone those afflicted with addiction or emotional/mental issues.
Leave a reply