Easy Ways to Practice Self-Love on Difficult Depression Days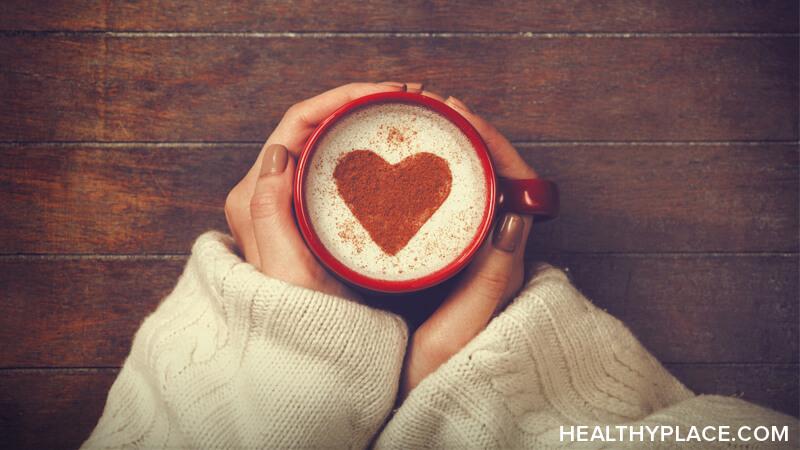 Depression makes it difficult to practice self-love, particularly on the darkest of days. When a seemingly simple activity such as getting out of bed is overwhelming, it is hard to think about practicing self-love; however, by doing small things to show ourselves love, nourishing our minds and bodies can be done.
Since February is the month in which we celebrate love, what better way than to celebrate the most important love there is? The love of ourselves. This can be challenging for those of us who battle depression, yet it is an integral part of our journey towards healing. Also, self-love does not have to be elaborate. Self-care activities can be quite simple. I've found several ways to practice self-love that are quite easy and I'd like to share them with you.
Four Ways to Practice Self-Love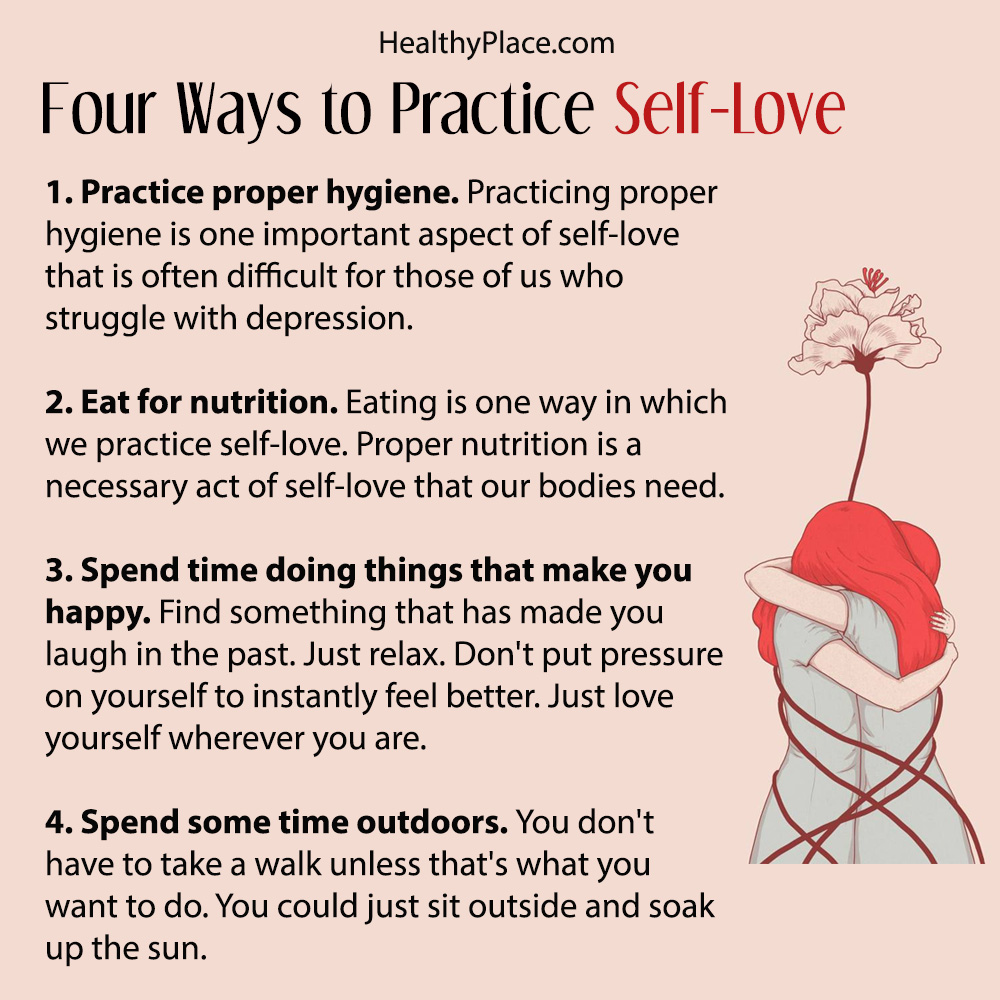 More Self-Love Ideas to Practice
Practice self-love in ways that don't overwhelm you. It can be done in small, simple ways that won't seem too daunting for those of us with depression. I encourage you to find some easy ways to love yourself that make you feel nourished and better able to cope with your depression.
More on practicing self-love when you're depressed.

APA Reference
Smith, J. (2018, February 6). Easy Ways to Practice Self-Love on Difficult Depression Days, HealthyPlace. Retrieved on 2023, October 4 from https://www.healthyplace.com/blogs/copingwithdepression/2018/02/depression-and-simple-self-love-strategies
Author: Jennifer Smith
Even though I recognize a lot I still feel bad for others too. I am getting professional help. It took a while to find the right match and te learn to trust him. He especially helps me letting me be in contact with my pain, fear, anger and gives me the space to express it. Inam used to push unpleasant feelings away. He makes me aware and tells me to take them seriously. I feel comfort when he is with me and I may be myself, vulnarable and talk about it afterwards so new helping thoughts can enter my mind instead of negative ones. I notice the tone of his voice changes when he sees my pain and gives it room. He keeps his distance sitting across me, but in those moments I feel I can share my pain instead of suffering alone. That helps me. Learning some cognitive things helps too. Seeing different options, learning to be less perfect, more human. Self care (especially food) often remains difficult, but I do look more often at what I do well. So today I did finally get up at 3pm, cancelled visiting before that, had a bite to eat outdoors, made myself walk through IKEA, am watching tv and planned awalk with tomorrow with a buddy (1st time meeting, orovided by the institution where I see my psychologist). No meds, except for my stomach & lungs momentarily. I did try to push my loneliness feelings away by eating chocolate instead of fruit & vegstables and am still down, but I also intend to shower before I go to bed and am semi satisfied. I will not listen to my negative thoughts, for they do not help me. Yes, I feel despare, but no I am not giving up. I am worth it and so are you. Reach out <3
Karin, it sounds like you are doing well. I'm glad that you have a strong support system. It also sounds like you are working hard even when it gets difficult. Keep it up! Thank you for sharing this with us. You are an encouragement. Keep going strong!
It is a struggle. Just seems to settle in hard like a fog.
Yes, it certainly feels that way some days. During those times, if you can accomplish just one thing on this list, it can help. It's so important to love ourselves on the darkest days.
Thank you for the reminder to take care of our most basic needs. On days like today I find it impossible to even look in the mirror at myself, because I've spent a solid week in bed other than letting my dog out and back inside and grabbing whatever it is that I don't have to even bother to put in a dish or warm it up b I stare in the refrigerator and all I see are things that take too long. (Too long could be a minute many times) I'm alone and never have company so I really don't care about what I look like. (I do, but not enough ti bother). I have no support from family or friends. That's hard. I've lost everyone in my life over the last several years and the ones I never imagined would' give up on me, did so in a grand fashion. If not for my dog I know I would have found a way by now. She's my everything and deserves better than me, but I love her more than anything that's always slipped through my fingers because of this awful thing I made up so that I could avoid people is what my family had decided years ago. It hurts beyond anything and I've been through a lot. It's taken all my energy to write this, and although I hope and know there will be better days, the loneliness is unbearable and I've not had a TV in 6 years now. Nobody I've told that to believed me. I guess they think I don't have cable. They don't listen and I get tired of repeating myself. There's so much pain in my heart and soul that I can't imagine a life any different now.
Nancy, I'm sorry that you are in so much pain. I am not sure if you have sought professional help, but I encourage you to do so. I want you to know that there are brighter days ahead. I'm sorry that friends and family have hurt you, but I assure you that there are other people who care and would love to be there for you. I am so glad that you wrote. I want you to find a little more of that energy and take a step toward getting help. There is a future of happiness waiting for you. Also, I just wanted to mention that I know what comfort dogs bring. I have two and they are quite therapeutic, as well as part of my family.
Leave a reply