The Relationship Between Depression and Anger
When people think of depression, they think about a character like Eeyore in Winnie the Pooh -- someone who's a bit gloomy and sad, perhaps, prone to moping about. Some even think depression is a bit hip and edgy -- an affliction of creative types like artists and writers. But the truth is, I'm afraid, a lot less romantic.
Anger Can Be a Depression Symptom
Depression symptoms aren't all tears and sadness. Sometimes it's all-consuming, white-hot rage. I don't know if I get angry at the depression itself, or whether it's more that depression makes me get angry at the world more easily. All I do know is that it's a vicious cycle -- being angry begets depression, which makes me angry.
When to Pay Attention to Anger
A lot of depression self-help books are all about overcoming anger, positive thinking, and inviting calm into your life. Those are great things, but sometimes, you do need to pay attention to what your anger is trying to tell you. Are you angry because you're stressed or irritable, or is there something in your life, or someone, that is making you angry? Are you being taken advantage of, or being treated unfairly? If so, then your anger is a warning sign that you need to deal with that situation and protect yourself (Setting Boundaries).
Confronting Your Anger Demon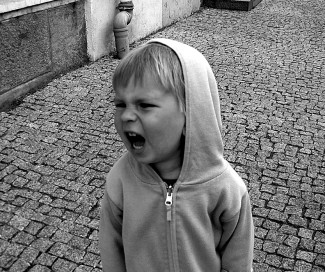 When you're coping with depression, you may have reduced tolerance for life's ordinary irritants. As I was coming home from work yesterday on the bus, there were three children shrieking and shouting at the top of their voices. Normal, high-spirited kid stuff, but because I was having a tough day, it pushed my buttons. I really struggle with loud noises, crowds and bright lights on my down days. Knowing and understanding your triggers can help to keep those anger-flares under control. Of course, avoiding triggers is one option, but for most of us, we can't avoid them completely.
I can have a little chat with the anger demon now -- I can say to him, "Hey, I know you're not liking this because you're stressed and tired and feeling down today, but we just need to deal with it for three more stops, then we can go have a coffee somewhere quiet". My anger demon is a like a toddler that's about to throw an epic tantrum -- he needs to be caught in his tracks and diverted before he raises merry hell.
Is anger one of your symptoms of depression? What are your triggers and your strategies for dealing with them?
Find Liz on Twitter, Google+ and Facebook.
Image attribution: Mindaugas Danys, used under Creative Commons license.
APA Reference
Smith, L. (2015, June 3). The Relationship Between Depression and Anger, HealthyPlace. Retrieved on 2019, September 18 from https://www.healthyplace.com/blogs/copingwithdepression/2015/06/the-relationship-between-depression-and-anger
Author: Liz Smith