The Weather Is A Sure Trigger for Depression, If You Let It
A dismal day, especially around the holidays, can be a sure trigger for depression. Here in southern Ontario (Canada), where I live, we are having an ice storm. It's been freezing rain and ice pellets for over 24 hours and boy... is it ever dismal. But, even though winter can be so depressing, I've decided that I'm not going to let this cold, wet, treacherous weather trigger my depression or dampen my holiday spirit.
Feeling Grateful Can Keep Depression Triggers At Bay
I'm going to list all the reason's I have to be grateful in an effort to keep myself well-balanced in these days leading up to Christmas.
As the infamous David Letterman would say, "It's time for our top ten!" In my case, my top ten reasons why I am grateful, right here, right now, in this moment.
The Top Ten Things I Am Grateful For
No. 10 : For the most part, the storm has subsided.
No. 9 : Though thousands of people are without power, we are not among them.
No. 8 : Even if the power does go out, I am fortunate enough to have warm blankets, food and water at my fingertips.
No. 7 : The ice has coated the snow on the ground, thus ensuring a white Christmas (very important to some of us who grew up with snow at Christmas).
No. 6 : More snow is coming in a day or so, galvanizing the whole white Christmas thing!
No. 5 : I'm all done my Christmas shopping so I can stay in my house all warm and cozy.
No. 4 : My husband is, this minute, frying me up a mushroom, onion and cheese omelette.
No. 3 : The lights on the Christmas tree brighten the room beautifully.
[caption id="attachment_1643" align="alignleft" width="208" caption="My dog Cannelle is helping me write my blog."]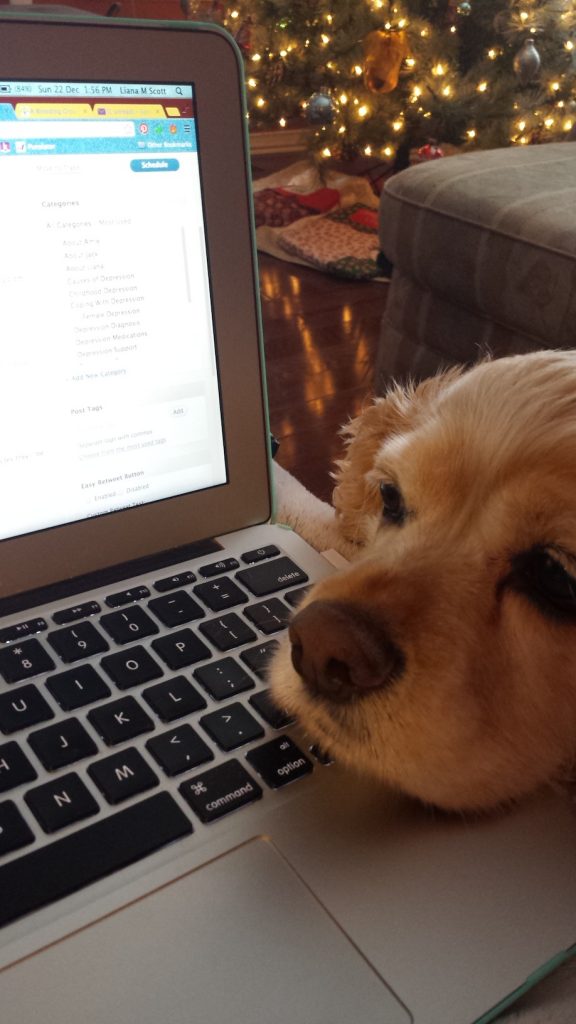 [/caption]
No. 2 : My husband, my son, my dogs and I are all together, safe and sound.
And the number 1 reason I am grateful, right here, right now, in this moment...
... thinking up and writing down 10 reasons for why I am grateful has helped me turn this dismal day into a day of blessings and wonder.
Depression Triggers and the Holidays
For someone with depression, there are many depression triggers around the holidays. It doesn't take much.
Try, if you can, to write down some of the things you are grateful for. Small or big. Writing it down is an important step. Don't just think about them, write them down.
From my family to yours, may this holiday season be a lighter, brighter one.
APA Reference
Scott, L. (2013, December 22). The Weather Is A Sure Trigger for Depression, If You Let It, HealthyPlace. Retrieved on 2023, October 1 from https://www.healthyplace.com/blogs/copingwithdepression/2013/12/depression-trigger-if-you-let-it
Author: Liana M. Scott
Thanks, Judy. Happy holidays to you and yours.
Cannelle is so precious. Happy Holidays.
Leave a reply