4 Ways to Manage Anxiety at School or Work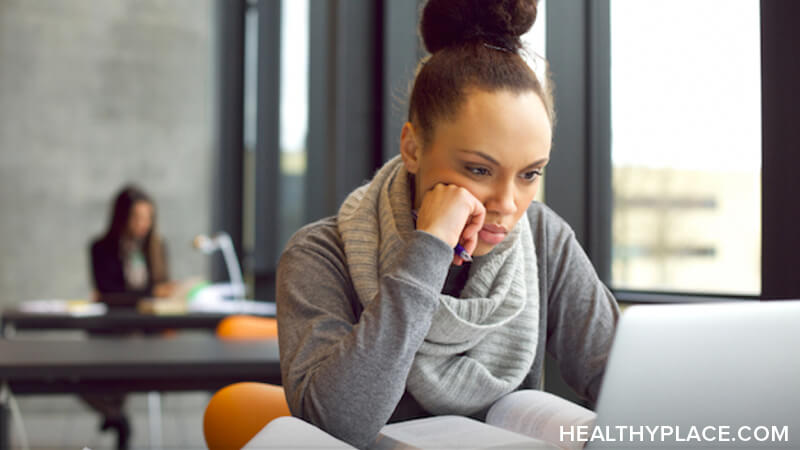 Anxiety can make going to school or work a challenge that seems insurmountable. Anxiety has a way of ruining your school or work day before it starts. From the moment you wake--assuming, that is, that anxiety let you sleep--anxiety creates problems. Worries and imagined scenarios usurp all thoughts and can even make you feel physically ill. It makes sense to want to stay in bed rather than face another awful day of anxiety at school and work, but going where you need to go doesn't have to be a problem with these four strategies. 
4 Ways to Manage Anxiety at School or Work
You can take charge and live your life rather than being paralyzed by anxiety. Try one or more of these strategies to get to school or work and even enjoy the experience. 
Break it up. Work anxiety and school anxiety are overwhelming, even crushing, and can loom large. Breaking up this chunk of entire-day anxiety into smaller, more manageable pieces can help you live in the moments of your day. What can you do during each class or each segment of the work day to feel a little less anxious? This is a step-by-step process to reduce anxiety in each part of your day and eventually even your entire time at school or work. 
Find support. For someone with anxiety, "support" means any person, object, picture, or space that reduces anxious stress and creates a feeling of calm. Connecting with a trusted person can be valuable. If you have social anxiety and other people worsen your anxiety, support can come from a comfort object kept on your desk or in a pocket such as a picture of a loved one, pet, or favorite place, or anything else that is calming. These inanimate objects are supportive because they serve the same purpose as a person: to distract your thoughts and connect with someone or something that isn't related to your anxiety.  
Create a schedule for your day, every day. A sense of predictability often reduces anxiety because it removes some of the unknown that is inherent at work or school. Go beyond a simple schedule or calendar and make it an anxiety-beating tool. Make your own personalized schedule in a notebook that includes inspirational images and meaningful quotes. Paste these images onto the pages, or if you're artistic (and even if you're not), draw your own. Handwrite quotes, or print them from a computer. When your anxiety spikes, open this notebook and concentrate on an image or quote. Breathe slowly and deeply, and visualize yourself at peace. When your anxiety has gone down a notch or two, return to your work at hand. 
Control your personal space. A significant portion of school anxiety and work anxiety comes from a lack of control. There are many aspects of school and work that are out of our control. That won't change, but you can control certain aspects of your day, including your personal space. Whether you have an entire office or none at all, a big locker or only a backpack you haul around, make what is yours, yours. Personalize it, make it inspiring and comforting, and know that you have a tangible piece of yourself and things you love with you at all times. This control helps reduce anxiety. 
Managing anxiety and school or work allows you to keep going even when anxiety tries to keep you home in bed. These four techniques work in the moment and over time to help reduce school anxiety and work anxiety. 
More Ways to Manage School or Work Anxiety
There are more strategies than just these four, of course, including the one I discuss in the below video. I invite you to tune in to hear how looking at your big picture helps you manage school and work despite anxiety.
APA Reference
Peterson, T. (2018, August 30). 4 Ways to Manage Anxiety at School or Work , HealthyPlace. Retrieved on 2023, September 30 from https://www.healthyplace.com/blogs/anxiety-schmanxiety/2018/8/4-ways-to-manage-anxiety-at-school-or-work
Author: Tanya J. Peterson, MS, NCC, DAIS