Do Your Life Goals Accept Anxiety? Here's Why They Should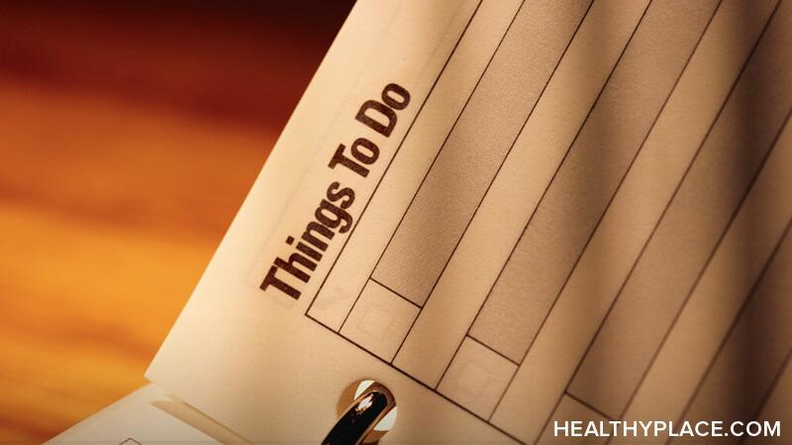 Most people are unlikely to create life-goals that accept anxiety because anxiety can be unbearable physically, mentally, and emotionally. Chances are, you'd prefer your life to be anxiety-free. Of course you would; that's a very natural thing to want, especially if living with anxiety has you feeling overwhelmed, stressed and exhausted. Creating life goals is an important component to accepting anxiety, but living anxiety-free isn't an effective part of life goals. It's okay if your life goals accept anxiety. Here's why.
Accept Anxiety When Making Life Goals
Anxiety is a force that can be strong enough to derail even the very strong men and women among us (Overwhelmed by Stress and Anxiety? How to Deal with It). Anxiety takes over thoughts, feelings, and emotions, and it interferes in our behaviors, relationships, jobs, and more. Because of this, it's easy to feel stuck. Anxiety can make us feel hopeless, as if we are and forever will be under anxiety's control. This is an awful experience, so it makes sense to want to be anxiety-free.
One of the most authentic, long-lasting way out of the hopelessness caused when anxiety knocks us off our course is to purposefully create life goals. Life goals involve our hopes, dreams, and plans for what we want our life to be like. They're our vision for ourselves and our life in general. It is when we shape the direction and quality of our lives that we transcend anxiety, or rise above it.
When we place our focus and our energy on fighting against our anxiety so we can live anxiety-free, we keep ourselves derailed. Our time and attention, our thoughts and feelings and behaviors, are on anxiety and the struggle we have with it. We know what we don't want: anxiety. And we know what we want: to be anxiety-free. However, that doesn't truly help us envision what our quality life really is or can be. What we each need is a clear vision of our life goals, what we want our quality life to be like.
Tips to Accept Anxiety As You Create Life Goals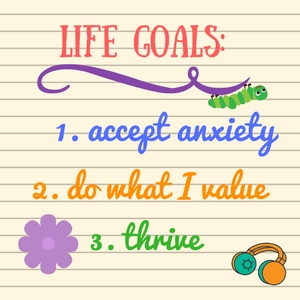 When anxiety has us stuck, it can be challenging to break free from thinking about anxiety and all of its effects on our bodies, minds, and lives. These tips can help you do just that:
Life goals have different components. Think of your self, what you want to be like. Think of your dreams and hopes. Think of the types of relationships you want.
Be like an unpolluted natural lake: deep and clear. Dig deep. What, specifically, do you want your life to be like? And what does it really mean? For example, "I want to help others," is rather vague, but "I want to work/volunteer at my local mental health center as a support group leader," gives you depth of meaning and something clear to work toward.
Base your life goals on your values. What is important to you? What do you want more of in your life?
Where Does Accepting Anxiety Fit in your Life Goals?
Notice that the above tips are all positive. That is, they focus on what you do want rather than what you don't want. Of course you don't want anxiety. So don't even write the word into your plans and goals.
It's impossible to go through life anxiety-free. Rather than struggling with it, we're better off transcending it. The anxiety is there, we're just rising up over the top of it and thus not being derailed.
Acceptance and commitment therapy is an approach to mental health and wellbeing that, among other things, teaches that the key to transcending problems, even anxiety disorders, is to accept that they're there, a part of life. When we can accept anxiety's presence, we stop fighting it. It's there, but it's in the background.
Once we learn to accept anxiety, its power in our lives diminishes. This acceptance and transcendence works when we have meaningful life goals and move in the direction of what we value.1 We accept that anxiety is there and break free from it.
With acceptance as part of your mental health recovery plan you can work to transcend anxiety. It's not wrong to want to be anxiety-free. Just don't make "I want to live completely without anxiety" one of your goals, one of your focal points. You can do things though, like writing your story, that will bring you close to being anxiety free (Live an Anxiety-Free Life: Write Your Story).
When you create a life plan that, rather than trying to be anxiety-free, accepts its presence, you can create a quality life that transcends anxiety.
Resource
1Peterson, T.J. (2016) Break free: Acceptance and commitment therapy in 3 Steps – A workbook for overcoming self-doubt and embracing life. Berkeley, CA: Althea Press.
Let's connect. I blog here. Find me on Facebook, Twitter, LinkedIn, Instagram, and Pinterest. My self-help book and four mental health novels, including one about severe anxiety disorders, are here.
APA Reference
Peterson, T. (2017, February 17). Do Your Life Goals Accept Anxiety? Here's Why They Should, HealthyPlace. Retrieved on 2023, March 30 from https://www.healthyplace.com/blogs/anxiety-schmanxiety/2017/02/do-your-life-goals-accept-anxiety-or-are-they-anxiety-free
Author: Tanya J. Peterson, MS, NCC, DAIS